Parish Newsletter
SUNDAY 2nd JUNE: SEVENTH SUNDAY OF EASTER (YEAR C)
Liturgical
Acts 7, 55-60; Psalm 96; Apocalypse 22, 12-20; John 17, 20-26
Saturday 6.00 pm: Rowton Methodists: Anne Rita Timothy (Anniversary)
Sunday 9.00 am: St Werburgh's: Jane Potter (1st Anniversary)
Sunday 10.45 am: St Werburgh's: Fr Neill Robb's First Mass: Intentions of Fr Neill and Family
Sunday 6.00 pm: St Werburgh's: Trudy Axon (5th Anniversary)
Sunday 6.00 pm: Vicars Cross URC: Praise and Worship Hour led by St Werburgh's Music Group
Monday 3rd June: St Charles Lwanga and Companions: Acts 19, 1-8; Psalm 67; John 16, 29-33
12.15 pm: St Werburgh's: Mary Kiernan (L.D.)
1.05 pm: University Chapel: University Mass – All Welcome
Tuesday 4th June: Ferial: Acts 20, 17-27; Psalm 67; John 17, 1-11
12.15 pm: St Werburgh's: Kevin Hackett (L.D., London)
Wednesday 5th June: St Boniface: Acts 20, 28-38; Psalm 67; John 17, 11-19
12.15 pm: St Werburgh's: Betty O'Kane (L.D., Cumbria)
Thursday 6th June: Ferial: Acts 22,30 – 23,11; Psalm 15; John 17, 20-26
12.15 pm: St Werburgh's: Maureen Ann Birukowska (2nd Anniversary)
7.30 pm: Latchford Baptists, Warrington: "Thy Kingdom Come" Ecumenical Service
Friday 7th June: Ferial: Acts 25, 13-21; Psalm 102; John 21, 15-19
11.00 am – 12.00 noon: St Werburgh's: Exposition of the Blessed Sacrament
12.15 pm: St Werburgh's: Wendy Jones (78th Anniversary)
Saturday 8th June: Ferial: Acts 28, 16-31; Psalm 10; John 21, 20-25
10.00 am – 11.00 am: St Werburgh's: Confessions
12.00 noon: St Werburgh's: Wedding Service for Matthew Tilling and Emma Corcoran
6.00 pm: Rowton Methodists: Gerardina Vitelli
SUNDAY 9th JUNE: PENTECOST SUNDAY (YEAR C)
Acts 2, 1-11; Psalm 103; I Corinthians 12, 3-13; John 20, 19-23
Saturday 6.00 pm: Rowton Methodists: Gerardina Vitelli
Sunday 9.00 am: St Werburgh's: Alex Barnes
Sunday 10.45 am: St Werburgh's: John Burns (L.D., Grantham)
Sunday 12.30 pm: St Werburgh's: Baptism of Rory Billy Clinch
Sunday 1.00 pm: St Werburgh's: Baptism of Leonardo Killick
Sunday 5.00 pm: St Peter's at the Cross, Chester: "The Kingdom Come" Ecumenical Service
Sunday 6.00 pm: St Werburgh's: Intentions of Dan and Anya Ahmad
Prayer Intentions
Your prayers are asked for the following who are sick: Stuart Clark, Keith Hayes, Sheila Winder, Heather Lannin, James Catterson, Ruth O'Kane, Henri Diacono, James Donovan, Garth Stocking and Kevin Maguire; and for all the sick of the Parish; and for those who have died recently, especially Marian's daughter Kate, Mandy Pritchard, Jean Asher and Vicky Boultbee; and for those whose anniversaries occur about this time: Henry Friend, Winnie Micklethwaite, Tony Whelligan, Frederick Morton, Peter Pickering, James Burke, Margaret McKeegan, Mary Harris, Agnes Moore, Kath McAlea, Des Sloan, William Macauley, Michael Banks, Brenda Wallace, Joseph McCoy and Kevin Scanlan. May they all Rest in Peace.
Parish events
Deacon Neill's Priestly Ordination Last Friday
Friday 31st May was the big day, and many congratulations to Fr Neill on his Priestly Ordination. It was good to welcome Bishop Mark, as always, many other Priests and Deacons, and many members of Neill's family and friends from different chapters of his life. A huge thanks to everyone for all the hard work they put it to this wonderful Ceremony: musicians, altar servers, bookleters, everyone. It was a team effort and produced a memorable evening in the life of the Parish. (Special thanks to the Bishop's Cake Maker: he says it is the main reason he likes coming to St Werburgh's!)
Fr Neill's First Mass: Sunday 2nd at 10.45
Afterwards, he'll be available for the traditional New Priest's Blessing, for those who'd wish to receive it.
Next First Friday Recital: John Hoskings
Friday 7th June at 7.30 pm sees the welcome return of our old friend John, for another of his first-class Organ Recitals. His programme includes well-known pieces by Mendelssohn, Handel, Duruflé and Vierne, as well as a lesser-known work by Sir Walter Alcock, and two pieces composed by John himself. Alcock had the interesting distinction of being the Organist at Westminster Abbey for three Coronations – Edward VII (1902), George V (1911) and George VI (1937). 
 "The Kingdom Come" – Ascension to Pentecost
This began three years as a Church of England initiative, but has grown remarkably in the time since to embrace all churches, as we pray in these ten days for our own communities and for our Country. There are events everywhere, as the churches come together in prayer: in Chester, we are meeting at the Cross, outside St Peter's, at 5.00 pm on Pentecost Sunday. See you all there!
CathSoc Summer Term
Thanks, Geoff, for a super Canal Tour & Supper last Sunday. Tonight, the End of Year Chinese Supper. See you all, students, for Freshers' Fair in September!
Review Meetings for all on the Readers' Rota
Please sign up for ONE of them. Failure to do so will mean you no longer wish to be on the Readers' Rota.
Tuesday 4th June: 7.00 pm
Wednesday 5th June: 10.00 am
Wednesday 19th June: 7.00 pm
Friday 21st June: 2.00 pm
SVP Theatre Night 7.30 12th June - Outside Edge
Richard Harris's cricketing comedy at the Gladstone Theatre Port Sunlight. Tickets at £9 will be on sale after Masses on w/e 18/19th  and 25/26th May, or by contacting svpchester@gmail.com. Proceeds to SVP District Holiday Home in Talacre. Tickets still available from Stephen Perry, (07775 781 204),  via the SVP website, svpchester@gmail.com, or on the door.
Vicars Cross URC – "Sunday at Six"
On Sunday 2nd June at 6.00 pm St Werburgh's Music Group will again be leading an ecumenical Praise and Worship hour at Vicars Cross United Reformed Church on Green Lane – all welcome. Well known Hymns and some new ones. Tea and cake afterwards!
District SVP Holiday Home
The brochure circulated at all Masses details what is on offer at Talacre Beach which has been supported so generously by St Werburgh's parishioners. There are two weeks available: weeks beginning 22nd June and 19th October. If there is anyone you think would benefit from a holiday in beautiful North Wales, please contact Stephen Perry: 07775-781-204.
Catholic Enquiry Course
Next Sunday, Pentecost, 10.45, four of the recent CEC will come into the Catholic Church. Please keep them and their families in your prayers.
St Werburgh's SVP Annual Report
This report itemises how the donations we have received throughout the year have been spent, providing vital support for the work undertaken by the SVP in our parish. Without these donations, our ability to help those in need would be restricted. Thank you for your continued amazing generosity.
First Thursday Hospital Mass
Thursday 6th June at 12.15 pm in the Countess of Chester Hospital Chapel. This is for patients, outpatients, staff, families and friends, and the wellbeing of our hospitals, including the Bowmere. All are welcome.
New Day by Day and Sacred Heart Mags
Now on the News-stand - £1 each.
Canal Heritage Evening Walk – Tuesday 18th June
Maximum of 30, exploring the City Centre canal system and basin, with Psalm Singing afterwards in Telford's Warehouse. Booking will open on Sunday 2nd June at 9.00 am – first come, first served!
Last Week's Newspapers Now Arrived…
Sorry – they weren't delivered until this week (!), so two weeks' editions on the News Stand, last and this.
Mental Health Group Meets on Monday at 7.00 pm
Do come and join us, if you have any interest in Mental Health issues, either personally or with someone you know. Everyone warmly welcome.
Photo of the Week: Fr Andrew McGeever's Grave
In Overleigh Cemetery, not far from Canon Chambers. He was ordained Priest here in St Werburgh's in May 1905, one of a pair of Priest Brothers. Do have a look at Ann Marie and John Curtis' fascinating display board near the Sacristy on Ordinations in St Werburgh's. What a lot we've had!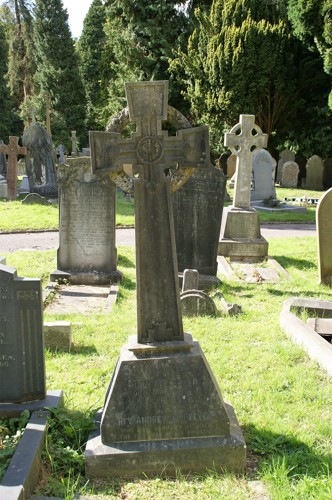 National Catholic Uni Chaplains Conference
This takes place every year in June, for all the Catholic Chaplains from the 120 or so Universities in England and Wales. It's quite a gathering, and I go to represent Chester. Fascinating to see the huge diversity between the Big Beasties – London, Manchester, Oxford, Cambridge – with large purpose-built Chaplaincy buildings, and many Priests, Sisters and Lay Assistants working full-time there. And then there are the minnows, like Chester, with just the nearest PP who forgot to say no… Huge diversity, but one common aim, helping these young adults at such a formative stage in their spiritual lives. This year, it's Monday 10th – Wednesday 12th June, in Leeds.