Parish Newsletter
SUNDAY 4th AUGUST: EIGHTEENTH SUNDAY IN ORDINARY TIME (YEAR C)
Liturgical
Ecclesiastes 1, 2-23; Psalm 89; Colossians 3, 1-11; Luke 12, 13-21
Saturday 6.00 pm: Rowton Methodists: Anthony Harrison (20th Anniversary)
Sunday 9.00 am: St Werburgh's: Janice Cartwright (2nd Anniversary)
Sunday 10.45 am: St Werburgh's: Denis Twohig (Anniversary)
Sunday 12.30 pm: St Werburgh's: Baptism of Daniela Maskrey Rosales
Sunday 6.00 pm: St Werburgh's: Kathleen Wiley (L.D., Cardiff)
Monday 5th August: Ferial: Numbers 11, 4-15; Psalm 80; Matthew 14, 13-21
12.15 pm: St Werburgh's: Thomas Dunne
Tuesday 6th August: The Transfiguration: Daniel 7, 9-14; Psalm 96; Luke 9, 28-36
12.15 pm: St Werburgh's: Special Intention
Wednesday 7th August: Ferial: Numbers 13,1 – 14,35; Psalm 105; Matthew 15, 21-28
11.00 am: Grosvenor Manor NH, Heath Lane: Service for Residents
12.15 pm: St Werburgh's: Intentions of Jean Hewson and family
Thursday 8th August: St Dominic: Numbers 20, 1-13; Psalm 94; Matthew 16, 13-23
12.15 pm: St Werburgh's: Intentions of DH
Friday 9th August: St Teresa Benedicta of the Cross: Hosea 2, 16-22; Psalm 44; Matthew 25, 1-13
11.00 am – 12.00 noon: St Werburgh's: Exposition of the Blessed Sacrament
12.15 pm: St Werburgh's: Holy Souls
Saturday 10th August: St Lawrence: II Corinthians 9, 6-10; Psalm 111; John 21, 24-26
10.30 am – 12.00 noon: St Werburgh's: Confessions
1.00 pm: St Werburgh's: Wedding Service for Sam Budd and Harriet Bosustow
6.00 pm: Rowton Methodists: Gerardina Vitelli
SUNDAY 11th AUGUST: NINETEENTH SUNDAY IN ORDINARY TIME (YEAR C)
Wisdom 18, 6-9; Psalm 32; Hebrews 11, 1-19; Luke 12, 32-48
Saturday 6.00 pm: Rowton Methodists: Gerardina Vitelli
Sunday 9.00 am: St Werburgh's: Eugene Barkley (L.D., Co Donegal)
Sunday 10.45 am: St Werburgh's: Ann and Sean Murphy Golden Wedding Thanksgiving
Sunday 12.30 pm: St Werburgh's: Baptism of Noah Christopher Grace
Sunday 6.00 pm: St Werburgh's: Rachael Andrews
Prayer Intentions
Your prayers are asked for the following who are sick: Jean Hewson, Stuart Clark, Keith Hayes, Sheila Winder, Heather Lannin, James Catterson, Joe and Ruth O'Kane, Henri Diacono, James Donovan, Garth Stocking and Kevin Maguire; and for all the sick of the Parish; and for those who have died recently, especially Fred Colley; and for those whose anniversaries occur about this time: Cathryn Gornall, Baby Joseph Wilcock, Samuel Marshall, Phyllis Webb, Joseph Mealor, Vera Delaney, John Mayers, John Rogers, Bernard Manfredi-Lewis, Howard Godfrey, Janice Cartwright, Frederick Whelan, James Bruder and Kathleen Harker. May they all Rest in Peace.
Parish events
The Dog Days of August
No such thing as a quiet month in the Werbies! But we try to keep August meetings-free and allow all our amazing army of volunteers a bit of a rest. So, if it's non-urgent bizz, folks, can it wait till September? Much appreciated!
Notice Found Inside a French Church
We love the pictures you send in of churches you come across on your travels: one parishioner found this notice inside a Church in France she visited recently: "En entrant dans cette église, il est possible que vous entendiez l'appel de Dieu. Par contre, il n'est pas susceptible de vous contacter par téléphone. Merci d'avoir éteint votre téléphone. Si vous souhaitez parler à Dieu, entrez, choisissez un endroit tranquille et parle lui. Si vous souhaitez le voir, envoyez-lui un SMS en conduisant." (Translation at foot of page)
2020 Mass Diary Now Open for Bookings
Many thanks to everyone for sending in their 2020 Dates – the new Mass Diary is looking pretty full already! Please keep sending them in if you have special dates you want commemorated and Masses said.
Our Mission Together Appeal Minor Works List
The excellent progress goes on, thanks to some wonderful parishioners. Michael has started on the Dining Room chairs, stripping one down and giving us a Quotation for all eleven. He's found four possible fabrics for the re-covering, and they're on the Notice Board at the back for you to place a tick against the one you like best! Peter has found some beautiful antique cast iron railings, which can be used for our bespoke Handrails for the Front Door of the House; and John has started work on the Dining Room Table and Church Kneelers. We can't thank them enough for their work and dedication. 
Alzheimer's Charity Marathon Hike
Ruth will be available at all Masses today, Sunday 4th August, to collect any further sponsorships or donations.
Train Rides to Crewe, Liverpool, Leeds…
Clearly several rail buffs out there! How about a Werbies Railway Club? Anyone fancy the Halton Curve ride to Liverpool on Tuesday evening 13th August, drink in the tiled pub, Dr Duncan's (thirsty work, train spotting), perhaps Chinese Supper at Tso's next door and the train back? List at back of church if you'd like to!
(See Letter of the Week below).
Altar Servers Update
We are delighted that a good group of our Servers and Parents will be attending the National Altar Servers Mass in Liverpool Metropolitan Cathedral on 21st September, first time it's been held outside of London.
In September we will be bidding farewell to Nicholas and Pranika from the 9.00 am team as they hopefully begin their University courses.
As always it is great to welcome back Kris and Tom to the 10.45 team from their University studies in London and Edinburgh.
October Bible Month – 2020 Bible Year
The Bishops of England and Wales have designated 2020 as "The Year of the Bible". We're getting ready by holding a Chester-wide ecumenical "Month of the Bible" in October. A huge number of events going on – brochure coming out soon!
Major Project: Remodelling Front of Church
The major part of our Parish Share on the Diocesan Appeal is going on the remodelling of the front of church, a project we initiated three years ago but which had to go on the back burner once the Great War Plaque became our principal focus. Looking at the front of church, we have five aims in mind:
Removing the unsightly railings, gates and flags, replacing them with something more sympathetic;
Creating a level patio area as you leave church, as far as the existing railings, and then steps down;
Remodelling the Disabled Entrance so that it is impossible for parked cars to block the way in;
Repairing the bulging retaining wall under the existing railings, which could give way at any time;
Installing floodlights for the front of church.
The Diocese has appointed a new Architect, and he is very keen on coming to meet you all in September to discuss his detailed plans with us all.
Letter of the Week
Dear FP. Somewhat amused by your promotion of the Halton curve link. I think you should be joining Transport for Wales' marketing department. My house backs onto the railway line and I am usually awoken around 05.40 hrs by the first Manchester train and then the first mid-Cheshire, Halton curve and Leeds trains pass through. Thereafter it is impossible to get back to sleep. Sincerely yours, Grumpy of Pipers Ash. PS: Alas, I'm unable to join the trip to Liverpool as will be doing my voluntary job on the Ffestiniog and Welsh Highland Railway as a train guard.
'First Friday' Recital – Paul Carr, Organist
Stunning recital from Paul last Friday – many thanks indeed! The next one, Friday 6th September, is Cellist Urszula Krukowska-Byzdra. Make a note!
Syd's and FP's Holiday Dates This Summer
Syd is on holiday until Sunday 11th August. Muggins will be away Tuesday 20th August to Thursday 5th September. Milano – non vedo l'ora!
Photo of the Week: Santa Croce, Florence
One of the most amazing churches in an amazing city. Badly damaged by the catastrophic floods of 1966, now lovingly restored. Immortalised in E.M. Forster's A Room with a View. It claims to be the burial place of Michelangelo, Dante, Galileo, Machiavelli and Rossini. But in Italy, that's the equivalent of "Queen Elizabeth slept here"!
Grazie mille, Melanie!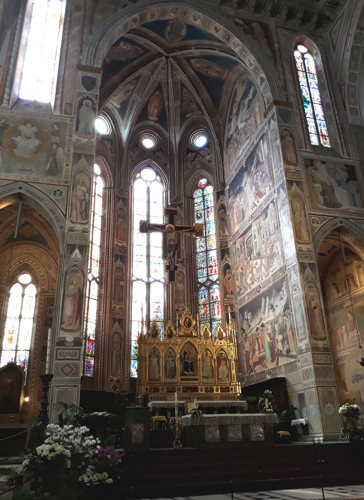 Translation of French Church Notice
"It is possible that on entering this church, you may hear the Call of God. On the other hand, it is not likely that he will contact you by phone. Thank you for turning yours off. If you would like to talk to God, come in, choose a quiet place, and talk to him. If you would like to see him, send him a text while driving."