Parish Newsletter
SUNDAY 8th SEPTEMBER: TWENTY-THIRD SUNDAY IN ORDINARY TIME (YEAR C)
Liturgical
Wisdom 9, 13-18; Psalm 89; Philemon 9-17; Luke 14, 25-33
Saturday 6.00 pm: Rowton Methodists: Mario and Gerardina Vitelli
Sunday 9.00 am: St Werburgh's: Special Intention (JA)
Sunday 10.45 am: St Werburgh's: Jim and Margaret Catterson 56th Wedding Anniversary
Sunday 12.30 pm: St Werburgh's: Baptism of Matilda Isabelle Smith
Sunday 1.00 pm: St Werburgh's: Baptism of Jonah Jensen Field
Sunday 6.00 pm: St Werburgh's: Margaret Whittle (6th Anniversary)
Monday 9th September: Ferial: Colossians 1,24 – 2,3; Psalm 61; Luke 6, 6-11
12.15 pm: St Werburgh's: Joseph Russell (7th Anniversary)
1.05 pm: University Chapel: University Mass – All Welcome!
Tuesday 10th September: Ferial: Colossians 2, 6-15; Psalm 144; Luke 6, 12-19
7.30 am: St Werburgh's: John and Vera Clyne
10.00 am: Primary School: Start of Year Mass
9.45 am, 11.00 am and 12.00 noon: High School: Start of Year Masses
12.45 pm: St Werburgh's: Funeral Service for David Robert Battersby, late of Hayes Park
7.00 pm: St Werburgh's: Confirmation Class One
Wednesday 11th September: Ferial: Colossians 3, 1-11; Psalm 144; Luke 6, 20-26
12.15 pm: St Werburgh's: Jason Barnes (L.D.)
Thursday 12th September: Ferial: Colossians 3, 12-17; Psalm 150; Luke 6, 27-38
12.15 pm: St Werburgh's: Julia Gerrard (L.D.)
Friday 13th September: St John Chrysostom: I Timothy 1, 1-14; Psalm 15; Luke 6, 39-42
11.00 am – 12.00 noon: St Werburgh's: Exposition of the Blessed Sacrament
12.15 pm: St Werburgh's: Patrick McKeown (1st Anniversary)
2.00 pm: Blacon: Funeral Service for Sarah Whiles, late of Connah's Quay
Saturday 14th September: Exaltation of the Cross: Numbers 21, 4-9; Psalm 77; John 3, 13-17
10.30 am – 12.00 noon: St Werburgh's: Confessions
12.00 noon: St Werburgh's: Baptisms of Lucia Elizabeth Davies and Leo Nathan Hands
2.30 pm: St Werburgh's: Nuptial Mass for James Liley and Ellie Waite
6.00 pm: Rowton Methodists:  David Gray (1st Anniversary)
SUNDAY 15th SEPTEMBER: TWENTY-FOURTH SUNDAY IN ORDINARY TIME (YEAR C)
Exodus 32, 7-14; Psalm 50; I Timothy 1, 12-17; Luke 15, 1-32
Saturday 6.00 pm: Rowton Methodists: David Gray (1st Anniversary)
Sunday 9.00 am: St Werburgh's: Intentions of H
Sunday 10.45 am: St Werburgh's: David Woodbury (Birthday Remembrance)
Sunday 12.30 pm: St Werburgh's: Baptism of Esme Veitch
Sunday 1.00 pm: St Werburgh's: Baptism of Ava Rose Reddy
Sunday 6.00 pm: St Werburgh's: Mavis Hopper (L.D., Nuneaton)
Prayer Intentions
Your prayers are asked for the following who are sick: Stuart Clark, Keith Hayes, Sheila Winder, Heather Lannin, James Catterson, Joe and Ruth O'Kane, Henri Diacono, James Donovan, Garth Stocking and Kevin Maguire; and for all the sick of the Parish; and for those who have died recently, especially David Robert Battersby, Sarah Whiles and Alan Harrison; and for those whose anniversaries occur about this time: John Cooper, Phyllis Dean, Margaret Yardley, Hannah Connolly, Marie De Monte, Doreen Bartlem, Edgar Griffin, Thomas Hudson, Dot Carr, Sheila Tudor, Michael Power, Gillian Yeoman, Beryl Dean, Vida Barbet and Jean Molony. May they all Rest in Peace. 
Parish events
Confirmation – 19th November 2019
Class One is Tuesday week, 10th Sept, 7.00 pm in Church. See you all there!
Parish Diary Now Arrived!
An enormous labour, collecting together all the dates and events in the Parish and area for the next twelve months. Please don't say you didn't know when anything was happening!! Huge thanks to Syd and Denise for this. Please make sure you take your copy with you today.  
Arrangements While I'm Away
'Mille grazie' (as they in German) to everyone for minding the shop so well while I was away: to Frs Colin and Neill for the weekend and weekday Masses; to Syd, for his usual excellent admin over the last fortnight, and to everyone who played their part. Thanks, team!
Old Photos of Front of Church?
The architect would love to see any photos of this era that show what that flat paved area originally looked like. Keep'em coming in!
First Holy Communions for 2019-20
For children in Year Three or above in September. Preparation Classes for children attending Non-Catholic Primary Schools: please contact Fr Paul by phone or email before 5th  September, if you would like your child to prepare for their First Holy Communion. Our Classes and Preparation Books are normally geared to children in Year Three, so if you have an older child, please contact us to discuss. A good number of names have come in so far – any last ones definitely this week, please, and we will publish a list of names received next week.  
APF Red Box Mission Collection
Bernie will be available at the 9.00 am, 10.45 am and 6.00 pm Masses on Sunday 6th October to collect any red boxes ready for emptying. Thanks very much!
Next Meeting of the Readers Group
After the break, our next meeting will be on Monday September 16th September at 7.00 pm in the Presbytery for about an hour, to look at the Sunday readings for the next month.   All very welcome, whether readers or not.
Christian Aid Coffee Morning
Saturday 14th September 10.30 – 12.30 pm at the United Reform Church, Hoole Road.   Cakes are needed. Contact Marie (311374) if you can help.
SVP: Mass for the Elderly and Housebound
Sunday 22nd September, 2.30 pm in the Primary School. Transport provided. For further info, contact Stephen Perry on 07775 851 204.
Heritage Open Days – September
As usual St Werburgh's opens its doors to visitors 10.00 am – 4.00 pm Friday 13th – Sunday 15th September.  We'll need two Welcomers / Stewards available for each hour that the church is open. Sign-up sheet at the back of church. A brochure with full details of all Chester Heritage Open Day Buildings now out.
October Bible Month in Chester
The brochures have now arrived, so do please take a copy today. You will see that the whole month is full of events in so many different churches and venues to explore the Bible. Here in St Werburgh's, we will have a Bible Exhibition, and the church open every day 10.00- 1.00 pm for visitors. In addition, FP will be giving three talks on the Bible, open to everyone:
Wednesday 2nd October: 7.30 pm: "From Suspicion to Enthusiasm: The Catholic Church's attitude to Bible Translation through the ages"
Wednesday 9th October: 7.30 pm: "What were the Original Bible Languages, Hebrew and Greek, and original Texts, and what do we mean by calling the Bible 'Inspired' and 'The Word of God'?"
Wednesday 16th October: 7.30 pm: A Practical Workshop on Translating the Bible Ourselves
Day Out Welsh Highland and Ffestiniog Railways
Thank you so much for your "expressions of interest" – 48 received!! So, this trip is definitely on. Unfortunately, both projected dates in October are already booked, and the season finishes in November. So, we are now looking to make a booking for May of next year, when the Booking Season opens in January. Watch this space, folks, for the trip of a lifetime!
Parish Council Meeting on Wednesday
We'll be looking at the Minor Works List and the Major Project, updating ourselves on Child Protection and Health & Safety, having our usual financial update, and everything else that needs monitoring month by month. If you have any items you would like discussed, please let FP or any Council Member know.
Photo of the Week: World Day of Prayer
Another lovely photo from the World Day of Prayer held here in St Werburgh's on 1st March this year. Each year focuses on a different country, and this year it was Slovenia. Can you recognise the very fetching Slovenian lady in the photograph?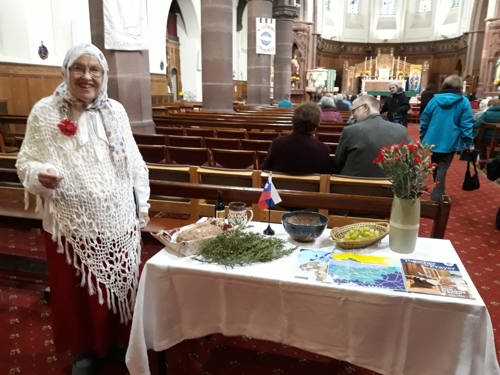 Milan – August 2019
What an amazing city! Strongly recommended if you have never been. A selection of pictures on the noticeboard (not mine, I hasten to say!). There are the sights you know about in advance, the Cathedral in pink-white marble, the stunning Sforza Palace, the Pinacoteca Brera, possibly the finest collection of religious art in Europe. Then there are the surprises: that extraordinary Central Station, one of the most striking examples of Fascist Architecture in Italy, and, an amazing find, the Cimitero Monumentale, the enormous Victorian Cemetery, with the best sculptors and artists commissioned by each family to make their graves as beautiful as possible, and celebrate the power of death in such an unrestrained and uninhibited style. Unforgettable. Plus, the two Holy of Holies, La Scala for those who love opera and San Siro for those who don't. The tiny Airbnb apartment was great, and a superb base for exploring the area. And some wonderful trips on those fantastic (and very cheap) Italian trains: to Bergamo and Lake Como (both an hour away and €5), Mantua (two hours away, and only €11) and Bologna, three hours by train for a princely €16. And temperatures never out of the mid-30's…