Parish Newsletter
SUNDAY 2nd FEBRUARY: FEAST OF ST WERBURGH: PRESENTATION OF THE LORD (YEAR A)
Liturgical
SUNDAY 2nd FEBRUARY: FEAST OF ST WERBURGH: PRESENTATION OF THE LORD (YEAR A)
Malachi 3, 1-4; Psalm 23; Hebrews 2, 14-18; Luke 2, 22-40
Saturday 6.00 pm: Rowton Methodists: Terence Maughan
Sunday 9.00 am: St Werburgh's: Jean Hewson (Birthday Remembrance)
Sunday 10.45 am: St Werburgh's: Intentions of Kerry Woodbury
Sunday 12.30 pm: St Werburgh's: Baptism of Harry Jack Law
Sunday 6.00 pm: St Werburgh's: Rachael Andrews
Monday 3rd February: Ferial: II Samuel 15,13 – 16,13; Psalm 3; Mark 5, 1-20
10.30 am: St Werburgh's: Requiem Mass for Kathleen O'Brien, late of Aldford
12.15 pm: St Werburgh's: Intentions of K.S.
1.05 pm: University Chapel: University Mass – All Welcome!

Tuesday 4th February: Ferial: II Samuel 18,9 – 19,3; Psalm 85; Mark 5, 21-43
10.00 am: Primary School: Mass for the Feast of St Werburgh
1.00 pm: St Werburgh's: Requiem Mass for Gioacchino Izzo, late of Arkle Court
Wednesday 5th February: St Werburgh: II Samuel 24, 2-17; Psalm 31; Mark 6, 1-6
12.15 pm: St Werburgh's: Agnes and Edward Scanlan (Anniversaries)
Thursday 6th February: St Paul Miki & Companions: I Kings 2, 1-12; Psalm 1 Chron; Mark 6, 7-13
12.15 pm: St Werburgh's: Trudy Blake (L.D. Limerick)
Friday 7th February: Ferial: Ecclesiasticus 47, 2-11; Psalm 17; Mark 6, 14-29
11.00 am – 12.00 noon: St Werburgh's: Exposition of the Blessed Sacrament
12.15 pm: St Werburgh's: Intentions of Hannah Moore
Saturday 8th February: Ferial: I Kings 3, 4-13; Psalm 118; Mark 6, 30-34
10.30 am – 12.00 noon: St Werburgh's: Confessions
6.00 pm: Rowton Methodists: Gerardina Vitelli (Anniversary & Birthday Remembrance)

SUNDAY 9th FEBRUARY: FIFTH SUNDAY IN ORDINARY TIME (YEAR A)
Isaiah 58, 7-10; Psalm 111; I Corinthians 2. 1-5; Matthew 5, 13-16
Saturday 6.00 pm: Rowton Methodists: Gerardina Vitelli (Anniversary & Birthday Remembrance)
Sunday 9.00 am: St Werburgh's: Vincent Lea (Anniversary 1997)
Sunday 10.45 am: St Werburgh's: Peter Anwin (Anniversary)
Sunday 6.00 pm: St Werburgh's: J.G. (Gordon) Nichols
Prayer Intentions
Your prayers are asked for the following who are sick: Kerry Woodbury, Tina Johnson, Laura Chadwick, Elisabeth, Stuart Clark, Keith Hayes, Sheila Winder, James Catterson, Joe and Ruth O'Kane, Henri Diacono, James Donovan, Garth Stocking and Kevin Maguire; and for all the sick of the Parish; and for those who have died recently, especially Kathleen O'Brien, Beryl Deacon, Kenneth Jervis, John Ruane and Gioacchino Izzo; and for those whose anniversaries occur about this time: Vincent Lea, Jean Williams, Emily Cunniff, Patrick Langham, Tom Jennings, John Fazey, Caroline Schofield, Tommy Wallace, Thomas Lloyd, Joseph Melia, Barbara Sanby, Patrick Cawley, Anne Harding, Mary Knight, Nessie Hughes, Gary Leslie, Joan Carter, Pat Kenyon, Tommy Ratchford, Frederick Tilston, Stanley Moore, Patricia Hollins, Chris Mulchrone, Jeremy Cracknell, Joyce Cureton, Patricia Thomas, Margaret Smith, Barbara Woods, Ray Astbury, Mary Hughes, Alec Dignon, Jim Hannon, Ray Harper and Walter Donnelly. May They All Rest in Peace.
Parish events
St Werburgh's Feast-Day and Parish Social
Today, Sunday, we celebrate our Patronal Feast. On Wednesday, we invite the other Chester Parishes to join us for 12.15 pm Mass, and refreshments afterwards. Friday 7th is our Parish Social down in the Club at 7.0 pm. Free tickets, for your buffet and first drink. They're going fast: 60 gone already, and we're limited to 100. So, make sure you get yours today!
Candle Fires in Church
There was another small fire in church last Sunday evening, caused by one of the Penny Candles – the tall thin ones – falling on the floor and igniting the carpet. Thanks to CathSoc's alertness, it was immediately extinguished. This is the second such fire in recent months – the last was 10th November – so we must act. We have decided to do away with the Penny Candles altogether, and just use the tea-light form of Votive Candle. Candle-stands are currently being converted, and soon all the Stands will have the small brass cups on them for the tea-lights. PLEASE: never take the wax tea light out of the tin foil holder, and PLEASE only place one tea-light in any one cup. If you see any cases of this, please blow them out!
Retired Priests' Fund – Second Collection
Last weekend was the annual collection for the Retired Priests - Not too late to contribute!
Next Countess Hospital Mass
The next regular "First Thursday" Hospital Mass will be Thursday 6th February at 12.15 pm in the Hospital Chapel. This is for patients, outpatients, staff, families and friends, including Bowmere. All warmly welcome.
Altar Servers' News
We are delighted that 14 of our Servers took part in a Ten Pin Bowling Alley Competition at Cheshire Oaks along with a similar number from St Columba's on Saturday 1st February.
Lourdes by Across Jumbulance
Chester Across Group is off to Lourdes again from Thursday 7th to Saturday 16th May. Travel is overland by Jumbulance, with seven beds on board. Franciscan Brother John Cavanagh is Chaplain. Cost including a kitty and insurance is £950 but nurses pay half price. For further information visit http://www.across.org.uk or Facebook Liverpool & Chester Across or contact Tony Murphy 07881-656-974 or email tonymurphyefc2002@yahoo.co.uk
Back of Church Wall Boxes Totals for 2020
CAFOD: £287
Chester Aid to the Homeless (CATH): £499
RTU - Reaching the Unreached: £663
Hospice of the Good Shepherd: £1,599
Many thanks everyone for your great generosity!
CathSoc Tonight – Ghost Walk in Chester
Students, if you have ever screamed, prepare to scream tonight. Leaving Church at 7.00 pm.
Post-Confirmation Pizza Last Tuesday
Thanks everyone for a super evening together.
Walsingham Pilgrimage 27th - 30th April 2020
A few vacancies remain on this year's parish pilgrimage to Our Lady's Shrine at Walsingham. The cost (assuming a group of 50) will be £203.00 per person including coach travel, accommodation and meals in Walsingham, and gratuities. En-suite accommodation may be available at premium of £45.00. For a booking form please contact either Carol Galvin at St Columba's office (01244 624019) or Eileen Irwin at St Theresa's office (01244 371660). The pilgrimage is open to the parishes of our Deanery and further afield. A non-refundable deposit of £20.00 is required with the booking.
Liturgy Group Meeting on Wednesday 7.00 pm
We'll be reviewing Advent and Christmas, planning for Lent and also looking at our Sunday Hymn List. Over the three-year cycle, with three hymns at each Sunday morning Mass, we could potentially sing 450 hymns. We actually sing about 150, which is good, but plenty of room for new ones, or old ones we're not presently including. Any suggestions?
Repository Re-Opens Today!
With our popular sale of pre-loved (second hand??) piety objects. Some wonderful old relics, and that's just Bernice and Paula!!! (Steady on!)
Anne Teague, R.I.P.
Anne's family have been overwhelmed by the extraordinary kindness shown by St Werburgh's since her death and would like to thank you for your many Mass Cards, letter and expressions of condolence.
Year of the Word Diocesan Spring Talks
The same talk is given in three different locations:
Talk 1. Fr Nick Kern on Vatican II's Dei Verbum
Sun Feb 16th Sacred Heart and St Peter's, Baguley 19:00-20:30 (registration 18:30)
Wed Feb 19th St Columba's, Chester 19:00-20:30 (registration 18:30)
Sat Feb 22nd Shrewsbury Cathedral 11:00-12:30 (registration 10:30)
First Sacraments Parish Group
Next meeting for parents and children is at 6.30 pm on Tuesday 11th February in the parish house. The children will receive their new preparation books.
Spanish Books Looking for a Good Home
15-20 children's books (up to about age 9) in Spanish. Are there are any Spanish speaking families in the parish who might appreciate these books?
Renewing Our Communities – Thursday Evening
Many thanks to Zosia for coming with me, and for our very extensive debrief in La Fattoria afterwards…
Parish Council – Minor Works List and Day Chapel
Excellent meeting on Wednesday, reviewing, among other items, our Minor Works List, which is almost complete, and our thinking about use of the Day Chapel. Full Reports to Parish coming soon.
Photo of the Week: St Mary's Bosworth Hall Park
In Leicestershire, a remarkable Victorian Church, built two years before St Werburgh's. Thanks, John!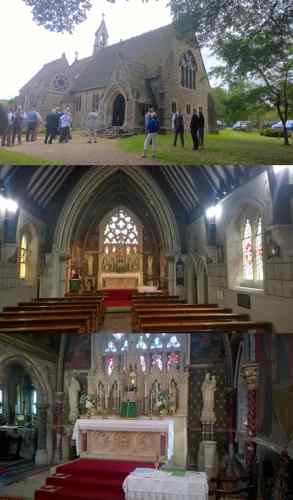 And finally:
What do you call a rooster that writes novels? Charles Chickens. (Thanks, Etienne!)