Parish Newsletter
SUNDAY 6th SEPTEMBER: TWENTY-THIRD SUNDAY IN ORDINARY TIME (YEAR A)
Liturgical
Ezekiel 33, 7-9; Psalm 94; Romans 13, 8-10; Matthew 18, 15-20
9.00 am: St Werburgh's: Mae Kay
10.00 am: St Werburgh's: Intentions of Frances Raczka (Birmingham)
11.00 am: St Werburgh's: Anna Roberts (L.D.)
12.00 noon: St Werburgh's: Joseph Smith (L.D.)

Monday 7th September: Ferial: I Corinthians 5, 1-8; Psalm 5; Luke 6, 6-11
Fr Paul's Private Mass Intention today: Eileen Carney

Tuesday 8th September: Birthday of Our Lady: Micah 5, 1-4; Psalm 12; Matthew 1, 1-16
Fr Paul's Private Mass Intention today: Holy Souls

Wednesday 9th September: Ferial: I Corinthians 7, 25-31; Psalm 44; Luke 6, 20-26
Fr Paul's Private Mass Intention today: Johnny Regan

Thursday 10th September: Ferial: I Corinthians 8, 1-13; Psalm 138; Luke 6, 27-38
Fr Paul's Private Mass Intention today: John and Vera Clyne

Friday 11th September: Ferial: I Corinthians 9, 16-27; Psalm 83; Luke 6, 39-42
Fr Paul's Private Mass Intention today: All Victims of 9/11/2001

Saturday 12th September: Ferial: I Corinthians 10, 14-22; Psalm 115; Luke 6, 43-49
St Werburgh's: 2.30 pm: Wedding Service for Beth Lloyd and James Mathias
Fr Paul's Private Mass Intention today: Tony Mara (1st Anniversary

SUNDAY 13th SEPTEMBER: TWENTY-FOURTH SUNDAY IN ORDINARY TIME (YEAR A)
Ecclesiasticus 27,30 - 28,7; Psalm 102; Romans 14, 7-9; Matthew 18, 21-35
9.00 am: St Werburgh's: Patrick McKeown (2nd Anniversary)
10.00 am: St Werburgh's: Bernie Booth (Birthday Remembrance)
11.00 am: St Werburgh's: John Molloy (L.D.)
12.00 noon: St Werburgh's: Mike and Margaret Hart Diamond Wedding Anniversary Thanksgiving
1.30 pm: St Werburgh's: Baptism of Carmen Lucia Dicaprio
Prayer intentions
John McMahon, Nathalie Gresty, Pauline Hackett, Kerry Woodbury, Laura Chadwick, Elisabeth, Stuart Clark, Keith Hayes, Sheila Winder, Joe and Ruth O'Kane, Henri Diacono, Garth Stocking and Kevin Maguire; and for all the sick of the Parish; and for those who have died recently, especially Janet Banks, Michael Paziuk, Les Owens Jnr and Colin Watson; and for those whose anniversaries occur about this time: John Cooper, Phyllis Dean, Margaret Yardley, Hannah Connolly, Marie De Monte, Doreen Bartlem, Edgar Griffin, Thomas Hudson, Dot Carr, Sheila Tudor, Michael Power, Gillian Yeoman, Beryl Dean, Vida Barbet, Jean Molony, Tony Mara and Matty Bannaghan. May They All Rest in the Peace and Light of the Risen Lord Jesus.
Parish events
Open for Sunday Morning Mass - Now with Bubbles!
Numbers continuing to rise every week, which is so encouraging:
Week One: 147
Week Two: 198
Week Three: 201
Week Four: 215
Week Five: 232
Week Six: 243
Week Seven: 257 (Last Week)
This is about 64% of our "normal" Sunday Morning Mass congregation, so people are obviously feeling more confident about coming back to Mass reassured by all our safety measures put in place. Thanks, everyone - and thanks Taskforce, Cleaners and Stewards especially, We couldn't do it without you!
Redemptorist Newsletters Back Again Today!
Delighted we are able to start using our popular Redemptorist Newsletters again this weekend which give you all the Readings and Prayers and some useful devotional reading on the front page. But please take them away with you at the end, as nothing can be left in church between Masses.
Masks and Receiving Holy Communion
Our advice to you is that you either remove the mask or slip it beneath your chin while you are in the queue coming up to Communion. Then, after you have reverently received Communion, you can replace the mask. We noticed last week some of you trying to juggle, especially if you also had a handbag or something else in your hands. We hope our advice helps you not to juggle too much at the same time!
Six New Stewards/Cleaners Have Wolunteered!
Six good'uns have indeed come forward - Pat and Ann Quinn, Ben Preston, Meg Ahmad, Gillian Roe and Madeleine Morrin. Thanks, everyone, and welcome on to the Sunday Morning Rota!
Car Parking Sunday Mornings: Priority for Stewards
Please DON'T try to park at church if you are coming for one of the four Sunday Morning Masses. Blue Badges: you can park on the main road, as usual.
Fridge, Fridge-Freezer and Microwave Oven
All looking for a good home! In excellent condition and entirely free - but, if you'd like to make a donation to St Werburgh's, we wouldn't exactly stop you! If you're interested in any or all of these items, or would like to see them, please let FP know.
First Holy Communions: This Year and Next
Louise and I do want to stress you haven't been forgotten. If you are the 19/20 cohort, you certainly don't need to do the programme again. We will hold your First Holy Communion Ceremonies just as soon as it's practicable, given that many of you have families wanting to come from abroad for these wonderful days in our youngsters' lives. For the 20/21 cohort, we are already discussing the right time to start gathering names for May 2021. It's under active discussion, so please watch this space if you have a child in Year 3 or above in September not in our Catholic Primary School. All information will be posted both here and on FP's Daily blog.
Well done, our Schools!
About 90% back last week: congratters, one and all!
Bishop Mark: Vocations and House of Discernment
Thank you for your continuing prayer and encouragement of new vocations to the Priesthood. Amid all the complexities of lockdown it has been difficult to make plans for the men beginning discernment at the Cathedral. At times we wondered whether there would be a discernment year for 2020/2021. Happily, two men have already been able to begin their time of discernment in these past couple of months and a third man will come to Shrewsbury next month. One applicant has decided to delay his discernment amid the uncertainties of this time and two men have expressed the desire to come to the Cathedral later in the Autumn. I wish to thank Father Edmund Montgomery for all his painstaking work in facilitating this discernment year. Please keep all the men discerning with us in prayer.
Welcome Back from Hols!
Yesterday, Friday, is the day I would have been coming back from Italy. But no, I'm not getting twitter and bisted about it. (He lied). What makes you think that?
Mass Intentions for 2021: Thanks!
Eight of you have already sent in your Mass Intentions for next year. Delighted to say there are no clashes, and all your names are safely entered for your dates.
Chester University and CathSoc
Very good Zoom CathSoc committee meeting in the week. Students will be returning to Chester, many coming for the first time, and we want to give them as authentic a student experience as current Covid-19 regulations allow. We normally meet on a Sunday Evening after 6.00 pm Mass; no 6.00 pm Mass at present, so we'll need to work round that one. They start coming back on the weekend of 19/20 September, so we've drawn up an outline Programme for Sundays in the first half of term:
20th Sept: Walk to 12.00 Mass from the Uni, and Lunch
27th September: Prayer and Praise, and Icebreaker Session
4th October: Walls Walk and Psalm Singing in the Boathouse
11th October: Debate Night
18th October: Joint Meeting with the Islamic Society
25th October: Meet the Wrinklies
1st November: Start of Half-Term - Cake and Catch-Up
8th November: End of Half-Term - Cake and Catch-Up
Can ALL of us give them a tremendous welcome a fortnight today? If you see someone who's obviously a student and looking a bit lost, SAY HELLO!!!!
Lovely Apartment for Sale in Handbridge
A very spacious two-bedroom apartment for sale by one of our Werbies in a beautiful part of Queens Park, just near the Meadows and a short walk over the Suspension Bridge into town. Very attractive rear garden, garage and ample parking. It's the bottom half of a two-storey house and is an absolute snip at £275,000. No, before you start asking, I haven't gone into the Estate Agent Business! But there are special reasons for giving this one a bit of a push. If interested or you'd like to know more, see FP, and I'll put you in touch with the agents.
Photo of the Week: St John Paul II
The church in Poland where his parents married, in 1906. Thanks for sending it in, Michigan! Do you and Diane remember your wedding, blissful pre-Monster days? Keep sending them in, folks, as we love to receive them.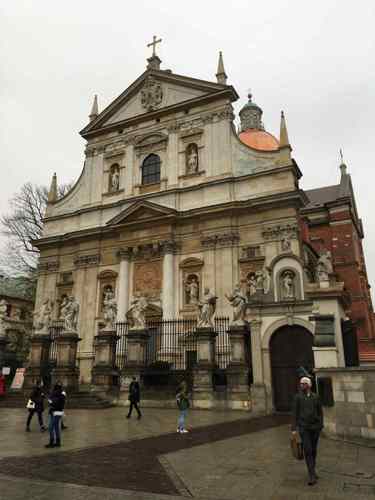 Black Saturday: 6th September 2006
Today, I don't need to remind you, is the Anniversary of Black Saturday in 2006. Black armbands will be worn.