Parish Newsletter
SUNDAY 15th NOVEMBER: 33rd SUNDAY IN ORDINARY TIME (YEAR A)
Liturgical
NEW FOUR WEEK CHURCH CLOSURES BEGINNING THURSDAY 5th NOVEMBER
As most of you will know, a new National Lockdown began on Thursday for four weeks, affecting, amongst others, Churches for Public Worship. Hopefully, we will be open again for Mass on Sunday 6th December. Meanwhile, you can find out the latest information on the website (address at top of this Newsletter) where you will also find the PP's Daily Blog, giving you daily updates. On Sunday mornings, 10.00-11.30, Fr Paul will be outside church in the same way as during the earlier lockdown, to hand out Newsletters and answer any questions.
Proverbs 31, 10-31; Psalm 127; I Thessalonians 5, 1-6; Matthew 25, 14-30
Fr Paul's Private Mass Intention today: Holy Souls List - Syd and Denise Jones

Monday 16th November: Ferial: Apocalypse 1,1 - 2,5; Psalm 1; Luke 18, 35-43
Fr Paul's Private Mass Intention today: Holy Souls List - John and Vera Clyne and family

Tuesday 17th November: Ferial: Apocalypse 3, 1-22; Psalm 14; Luke 19, 1-10
9.45 am: St Werburgh's: Funeral Service for Baby Lillian Cracknell, late of Curzon Park
12.00 noon: Sacred Heart Hawarden: Funeral Service for Laura Harris
Fr Paul's Private Mass Intention today: Holy Souls List - Alex and Pat Barnes

Wednesday 18th November: Ferial: Apocalypse 4, 1-11; Psalm 150; Luke 19, 11-28
Fr Paul's Private Mass Intention today: Holy Souls List - David and Barbara Graves' Family

Thursday 19th November: Ferial: Apocalypse 5, 1-10; Psalm 149; Luke 19, 41-44
Fr Paul's Private Mass Intention today: Holy Souls List - Gerry Tighe's Family

Friday 20th November: Ferial: Apocalypse 10, 8-11; Psalm 118; Luke 19, 45-48
10.30 am: St Werburgh's: Requiem Mass for Danny Ratchford, late of Westward Road
Fr Paul's Private Mass Intention today: Holy Souls List - Anne and Aidan Cadden's Family

Saturday 21st November: Presentation of the Blessed Virgin Mary:
Zechariah 2, 14-17; Psalm Luke 1; Matthew 12, 46-50
Fr Paul's Private Mass Intention today: Holy Souls List - Daly and Rogers' Family

SUNDAY 22nd NOVEMBER: THIRTY-FOURTH SUNDAY - CHRIST THE KING (YEAR A)
Ezekiel 34, 11-17; Psalm 22; I Corinthians 15, 20-28; Matthew 25, 31-46
2.00 - 4.00 pm: Blacon: Blessing of Graves
Fr Paul's Private Mass Intention today: Joe Brennan (L.D.) and Graham, Barlow (L.D.)
Prayer intentions
Your prayers are asked for the following who are sick: Jennifer Murphy, John McMahon, Pauline Hackett, Laura Chadwick, Elisabeth, Stuart Clark, Keith Hayes, Sheila Winder, Joe and Ruth O'Kane, Garth Stocking and Kevin Maguire; and for all the sick of the Parish; and for those who have died recently, especially Baby Lillian Cracknell, Annie Lancaster, Danny Ratchford, Laura Harris and Jean Farrell; and for those whose anniversaries occur about this time: Nevil Gooch, Thomas Burrows, Sally Stanton, Cherry Pateman, Roy Galland, Amelia Callaghan, Michael Hayward, Fred Best, Veronica Evans, Eric Tasker, John Owens, Mary Anderson, Dorothy Colley, John Doidge, Gary O'Reilly, Peter Croft, Baby Ella Louise, Tony Fields, Leigh Johnson and Mary Hatton. May They All Rest in the Peace and Light of the Risen Lord Jesus.
Parish events
November/December Mass Intentions
I believe this is the list of all Holy Souls Intentions received! A thousand apologies if you have sent your list in and it's slipped through the net. Please let me know, and it will be timetabled as soon as possible.
Sun 15th Nov: Syd and Denise Jones' Family
Mon 16th Nov: John and Vera Clyne and family
Tues 17th Nov: Alex and Pat Barnes' Family
Wed 18th Nov: David & Barbara Graves' Family
Thurs 19th Nov: Gerry Tighe's Family
Fri 20th Nov: Anne and Aidan Cadden's Family
Sat 21st Nov: Daly and Rogers Families
Sun 22nd Nov: Joe Brennan & Graham Barlow (L.D.)
Mon 23rd Nov: Gillian Roe's Family and Friends
Tues 24th Nov: Mike and Gillian Rogers' Family
Wed 25th Nov: Bernadette O'Shea's Family
Thursday 26th Nov: David and Jane Kluth's Family
Fri 27th Nov: Anne and Terry Collier's Family
Sat 28th Nov: Margaret Astbury's Family
Sun 29th Nov: Barbara Evans (L.D.)
Mon 30th Nov: Marian Curtis' Family
Tues 1st Dec: Maurice Power (Anniv)
Wed 2nd Dec: Godfrey Sproston's Family
Thurs 3rd Dec: Matty Bannaghan
Fri 4th Dec: Pam Mullen's Family
Sat 5th Dec: Consilia and Simon Black's Family
Sun 6th Dec: Catherine and Simon Neal's Family
Mon 7th Dec: McKeown and Norbury Families
Tues 8th Dec: Margaret Catterson's Family
Wed 9th Dec: Mick and Sheila Fields' Family
Thurs 10th Dec: Mike and Margaret's Hart's Family
Fri 11th Dec: Judith and Walter Done's Family
Sat 12th Dec: Celia Hickey's Family
Sun 13th Dec: Matt and Christine Lawton's Family
Mon 14th Dec: Lyn and Richard Williams' Family
Tues 15th Dec: Finn Abberton
Wed 16th Dec: John and Frances Matthias's Family
Thurs 17th Dec: John and Sarah Collins and Family
Fri 18th Dec: Keith and Helen Gornall's Family
Mon 28th Dec: Jan Howatt's Family
Wed 30th Dec: Wendy O'Brien's Family
Thurs 31st Dec: Celia Murphy's Family
Sunday Collections and Mass Offerings
During lockdown, please either post or pop through letter-box - thank you!
SVP Christmas Appeal
Second Collections have had to go by the board this year, as you can imagine. But I'd like to make an exception for the SVP Christmas Appeal. They do a superb job supporting families and housebound every Christmas, and this year it's more necessary than ever. The two lockdowns and those who've lost their jobs means this could be a bleak Christmas for many. If you want to support this Appeal, please send me your contributions via post, letterbox (or Sunday Basket when we're open again for Mass).
November: Month of the Holy Souls
Delighted we can still have our Blessing of Graves: Sunday afternoons, 2.00-4.00 pm, 22nd November at Blacon and 29th November at Overleigh.
Stories, Poems, and Music for Advent and Christmas
Trevor Dennis and Friends, St Mary-Without-the-Walls, Handbridge, Wednesday 16th December 7.30 pm. For Christian Aid. Trevor Dennis will introduce and read seven of his published stories and poems on the themes of Advent and Christmas, while Brian and Claire Heald from Wesley Church will provide some wonderful music. Reserve a place by emailing Trevor on trevordennis11@gmail.com with your name(s) and phone number, or by ringing him on 01244 638441.
Catholic High School: Sixth Form Virtual Open Event
Our Sixth Form is one of the highest achieving colleges in Cheshire with a tradition for securing excellent grades. Over the next couple of weeks, we will be having our virtual Open Event online. You'll see some of our fantastic facilities, hear about our engaging and inspiring courses and meet some of our wonderful students and staff. Our new prospectus will be available for download from our website after 20th November. Please feel free to contact the Director of Sixth Form, Mrs Letissier - letissierb@christofidelis.org.uk.
Bishops' Statement on the National Lockdown
Wednesday 4th November 2020
Today, Parliament passed into law the Regulations governing many aspects of activity in the whole of England until 2nd December. These Regulations prohibit the gathering of people for communal worship in churches and other religious buildings. Churches remain open and in use for activities other than communal worship, including personal prayer and support for those in need. Funeral Masses and funeral services may be held. Please refer to the Regulations (for places of worship see paragraph 18) and associated Guidance. Despite profound misgivings it is important that we, as responsible citizens, observe these Regulations, which have the force of law: 'Remind them to be obedient to the officials in authority; to be ready to do good at every opportunity' (Titus 3:1). We do this in solidarity with so many others on whom are being imposed restrictions which impact severely on their lives and livelihoods. It is also important to recognise that these Regulations are not an attack on religious belief. However, they do demonstrate a fundamental lack of understanding of the essential contribution made by faith communities to the well-being, resilience and health of our society.

Cardinal Vincent Nichols Archbishop Malcolm McMahon OP
President and Vice-President
Photo of the Week: Our FOUR Priests in 1932!
Dear dead days beyond recall! Canon Maurice Hayes with his three curates - Fr Irish, Fr McGinley and a youthful Fr Francis Murphy. (Today it's just Fr Muggins!) In case you're wondering where they're standing, it's just outside the back door into the Back Garden, the window on the right that of the Disabled Toilet.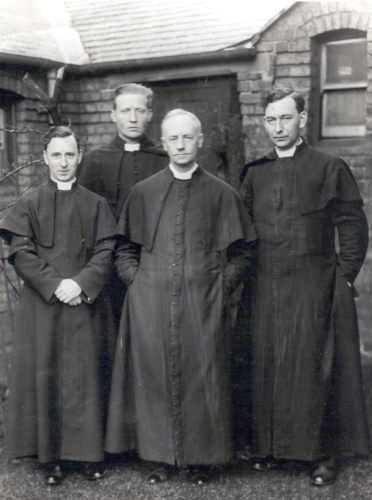 FP's Happy Hour - Sundays 10.00-11.30 am
Like last time, see you outside Church Sunday mornings! Newsletters, hot toddies, roasted chestnuts, £50 notes...