Parish Newsletter
SUNDAY 29th NOVEMBER: FIRST SUNDAY OF ADVENT (YEAR B)
Liturgical
CHURCH RE-OPENS FOR MASS NEXT SUNDAY MORNING - 6th DECEMBER
Same arrangements as before, four shorter Masses at 9.00, 10.00, 11.00 and 12.00 noon. No need to book, but please arrive at least fifteen minutes beforehand. Masks are compulsory unless you have Health Exemption. You will be seated by Stewards, and we ask you not to move around. Booking for the Christmas Masses is essential, and opens on Tuesday Morning: 4.30 pm, 6.00 pm. 8.00 pm, 9.00 pm and Midnight on Christmas Eve; 9.00 am, 10.00 am, 11.00 am and 12.00 noon Christmas Morning. Booking is online via the website or by telephone / in person, 10.00-11.00 am weekday mornings.
Isaiah 63,16 – 64,8; Psalm 79; I Corinthians 1, 3-9; Mark 13, 33-37
2.00 - 4.00 pm: Overleigh: Blessing of Graves (Old Side at 2.00 pm, New Side at 3.00 pm)
Fr Paul's Private Mass Intention today: Barbara Evans (L.D.)

Monday 30th November: St Andrew: Romans 10, 9-18; Psalm 18; Mathew 4, 18-22
Fr Paul's Private Mass Intention today: Marian Curtis's Holy Souls List

Tuesday 1st December: Ferial: Isaiah 11, 1-10; Psalm 71; Luke 10, 21-24
11.00 am: St Werburgh's: Funeral Service for Martha (Pat) Green, late of Bodmin, Cornwall
3.20 pm: Blacon: Funeral Service for Josephine (Vera) Melia
Fr Paul's Private Mass Intention today: Maurice Power (Anniversary)

Wednesday 2nd December: Ferial: Isaiah 25, 6-10; Psalm 22; Matthew 15, 29-37
Fr Paul's Private Mass Intention today: Holy Souls List - Godfrey Sproston's Family

Thursday 3rd December: St Francis Xavier: Isaiah 26, 1-6; Psalm 117; Matthew 7, 21-27
12.40 pm: Blacon: Funeral Service for Eric Green, late of Grosvenor Villas Nursing Home
Fr Paul's Private Mass Intention today: Matty Bannaghan

Friday 4th December: Ferial: Isaiah 29, 17-24; Psalm 26; Matthew 9, 27-31
10.30 am: Plymyard Cemetery, Bromborough: Funeral Service for James Reavey, late of Wrexham
Fr Paul's Private Mass Intention today: Holy Souls List - Pam Mullen's Family

Saturday 5th December: Ferial: Isaiah 30, 19-26; Psalm 146; Matthew 9,35 - 10,8
2.00 pm: St Werburgh's: Wedding Service for Kate Mathias and David Strevens
Fr Paul's Private Mass Intention today: Holy Souls List - Consilia and Simon Black's Family

SUNDAY 6th DECEMBER: SECOND SUNDAY OF ADVENT (YEAR B)
Isaiah 40, 1-11; Psalm 84; II Peter 3, 8-14; Mark 1, 1-8
9.00 am: St Werburgh's: Susannah Timothy (Anniversary)
10.00 am: St Werburgh's: Holy Souls List - Catherine and Simon Neale's Family - Austin Tighe
11.00 am: St Werburgh's: Adrian Crossley
12.00 noon: St Werburgh's: John Thompson (L.D.)
1.30 pm: St Werburgh's: Baptism of Elijah Arnold Smith
Prayer intentions
Your prayers are asked for the following who are sick: Jennifer Murphy, John McMahon, Pauline Hackett, Laura Chadwick, Elisabeth, Stuart Clark, Keith Hayes, Sheila Winder, Joe and Ruth O'Kane, Garth Stocking and Kevin Maguire; and for all the sick of the Parish; and for those who have died recently, especially Sheila Fields, Pauline Harper, Martha (Pat) Green, Vera Melia, Eric Green and James Reavey; and for those whose anniversaries occur about this time: Nancy Lugg, Patrick Kavanagh, Bernard Cunningham, Michael Hughes, Pat Wright, Ann Hanrahan, Brian Parker, Teresa Evans, Ronald Pugh, Michael Hatherall, Gordon Maidment, Mary Murphy, Noreen Kind, Mary Corr and Betty Chilton. May They All Rest in the Peace and Light of the Risen Lord Jesus.
Parish events
Booking for Christmas Masses
Christmas Eve: 4.30, 6.00, 8.00, 9.00 and Midnight
Christmas Day: 9.00, 10.0, 11.00 and 12.00 noon
Booking is ESSENTIAL
You can book online, by phone or in person
If by phone or in person, 10.00-11.00 Weekdays
BOOKING OPENS TUESDAY 1st DECEMBER
Booking Online? Please Read This First
The link is on the Parish website, top box.
'Contact Information': person making the booking.
Full details of each individual you are booking for.
If everyone in your booking is the same bubble, choose 'Bubble 1'. If they are from two Bubbles, 'Bubble 2' and so on.
You will receive a confirmation email.
Later on, we will tell you where you are sitting.
Ignore references to 'tickets'. There aren't any!
Booking by Telephone or In Person?
Please try to make it 10.00-11.00 am Weekday Mornings, when there are highly trained professional call-handlers ready to take your call. Well, a couple of parishioners anyway. If you phone up or call morning, noon and night, it will drive FP to drink. Actually, he knows the way already...
Reminders for ALL Christmas Masses
Please only come to one of the nine Masses
Face coverings are compulsory unless you have Health Exemption.
Please arrive 15/20 mins before the start time.
No parking available at church, we're afraid – the alleyway is for Stewards only.
Once seated, don't move around the church.
The toilets at church are unfortunately not open.
If you have any special mobility/wheelchair needs, please let us know.
If you are bringing a baby who will sit on a knee throughout the Mass, you do not need to book a separate seat for them.
If you need to cancel, let us know asap.
November/December Mass Intentions
Mon 30th Nov: Marian Curtis' Family
Tues 1st Dec: Maurice Power (Anniv)
Wed 2nd Dec: Godfrey Sproston's Family
Thurs 3rd Dec: Matty Bannaghan
Fri 4th Dec: Pam Mullen's Family
Sat 5th Dec: Consilia and Simon Black's Family
Sun 6th Dec: Catherine and Simon Neal's Family
Mon 7th Dec: McKeown and Norbury Families
Tues 8th Dec: Margaret Catterson's Family
Wed 9th Dec: Mick and Sheila Fields' Family
Thurs 10th Dec: Mike and Margaret's Hart's Family
Fri 11th Dec: Judith and Walter Done's Family
Sat 12th Dec: Celia Hickey's Family
Sun 13th Dec: Matt and Christine Lawton's Family
Mon 14th Dec: Lyn and Richard Williams' Family
Tues 15th Dec: Finn Abberton
Wed 16th Dec: John and Frances Matthias's Family
Thurs 17th Dec: John and Sarah Collins and Family
Fri 18th Dec: Keith and Helen Gornall's Family
Mon 28th Dec: Jan Howatt's Family
Wed 30th Dec: Wendy O'Brien's Family
Thurs 31st Dec: Celia Murphy's Family
Tues 5th Jan: Les and Eileen Owens' Family
Collections and Mass Offerings During Lockdown
Post, pop through letterbox or hand to me in person outside church, 10.00-11.30 on Sunday Mornings!
SVP Christmas Appeal: Please Don't Forget!
Second Collections have had to go by the board this year, as you can imagine. But I'd like to make an exception for the SVP. They do a superb job supporting families and housebound every Christmas, and this year it's more necessary than ever. The two lockdowns and those who've lost their jobs means this could be a bleak Christmas for many. If you want to support this Appeal, please send me your contributions via post, letterbox (or Sunday Basket when we're open again for Mass). Many thanks for all those envelopes that have come in so far!
FP's Happy Hour - Sundays 10.00-11.30 am
See you outside Church: Newsletters, hot toddies, roasted chestnuts, £50 notes, whatever... Last chance today!
November: Month of the Holy Souls
Delighted we can still have our Blessing of Graves: Sunday afternoons, 2.00-4.00 pm, 22nd November at Blacon and 29th November at Overleigh. This afternoon, I will start at the Old Side, on your right as you head towards the Roundabout. At 3.00 pm, I shall move over to the New Side, where Blackwell's and the Chapel are. I shall be wafting around, a vision of loveliness, so you just need to attract my attention by a wave, or, failing that, a well-aimed clump of soil. (You're not allowed to say "sod").
Message from Bishop Mark - Friday 27th November
The Return of the Public Celebration of Mass.
In the announcement of tier restrictions from Wednesday of next week, much of the Diocese has been placed in the Tier 2 category. I am sure it will be a source of disappointment for those areas in the north and east of the Diocese which have been placed in Tier 3. It has been good to receive reports of people's joy and anticipation for the return of the public celebration of the Mass and the Sacraments. I also received reports that bookings for the Christmas Masses have quickly filled up and the question of additional Masses are being considered in some parishes. I am fully aware we can only do what is possible at this most uncertain and anxious of Christmas celebrations. May I wish you all a blessed Advent, which happily coincides this year with the return of the public celebration of the Mass and the Sacraments on Wednesday. I hope all goes well with the re-opening of the churches for Mass and your preparations for Christmas which is now only four weeks away! Let us ask the prayers of Saint Joseph that all can be prepared and celebrated with renewed devotion,s
+ Mark Bishop of Shrewsbury
Photo of the Week: Werbies Priests in the Back Garden
Last time, it was 1932, Canon Hayes as PP with three Curates, Frs Irish, McGinley and Murphy. Fast forward to 1964. Canon Murphy is now PP, and his two Curates are Frs George Leonard and Jackie Warnock. I know many of you remember all three with great affection.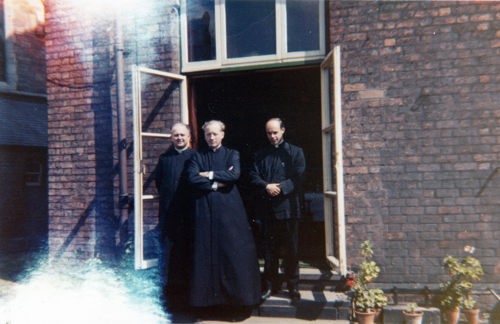 Seminarians Training Fund Second Collection
This annual Collection is for the training and formation of Priests. If you wish to Gift Aid your donation, please make your donation Online. To donate Online please go to www.dioceseofshrewsbury.org/clergy-education-and-training-fund