Parish Newsletter
SUNDAY 3rd JANUARY: SECOND SUNDAY AFTER CHRISTMAS (YEAR B)
Liturgical
Ecclesiasticus 24, 1-12; Psalm 147; Ephesians 1, 3-18; John 1, 1-18
9.00 am: St Werburgh's: Dot and Pat Williams (Anniversaries)
10.00 am: St Werburgh's: Mary Delaney (Anniversary)
11.00 am: St Werburgh's: Ryoichi Iwasaki (1st Anniversary)
12.00 noon: St Werburgh's: Bette Wilson (L.D.)

Monday 4th January: Ferial: I John 3, 7-10; Psalm 97; John 1, 35-42
Fr Paul's Private Mass Intention today: Thanksgiving for Christmas and New Year

Tuesday 5th January: Ferial: I John 3,11-21; Psalm 99; Mark 1, 45-51
11.00 am: St Werburgh's: Requiem Mass for Edward Moloney, late of Grosvenor Villas N.H.

Wednesday 6th January: Solemnity of the Epiphany of the Lord
Isaiah 60, 1-6; Psalm 71; Ephesians 3, 2-6; Matthew 2, 1-12
10.00 am: St Werburgh's Public Mass: Holy Souls List – Les and Eileen Owens

Thursday 7th January: Ferial: I John 4,19 – 5,4; Psalm 71; Luke 4, 14-22
Fr Paul's Private Mass Intention today: John and Susan Timothy

Friday 8th January: Ferial: I John 5, 5-13; Psalm 147; Luke 5, 12-16
Fr Paul's Private Mass Intention today: Helen Cadden (Anniversary)

Saturday 9th January: Ferial: I John 5, 14-21; Psalm 149; John 3, 22-30
Fr Paul's Private Mass Intention today: Intentions of Andrew and Louise

SUNDAY 10th JANUARY: THE BAPTISM OF THE LORD (YEAR B)
Isaiah 42, 1-7; Psalm 28; Acts 10, 34-38; Mark 1, 7-11
9.00 am: St Werburgh's: Anne Teague (1st Anniversary)
10.00 am: St Werburgh's: Caitlin Roe (L.D.)
11.00 am: St Werburgh's: Paul Lawton (Birthday Remembrance)
12.00 noon: St Werburgh's: Fr Keith Collins (L.D.)
Prayer intentions
Your prayers are asked for the following who are sick: Pauline Hackett, Laura Chadwick, Elisabeth, Stuart Clark, Keith Hayes, Sheila Winder, Joe and Ruth O'Kane, Garth Stocking and Kevin Maguire; and for all the sick of the Parish; and for those who have died recently, especially Malcolm Crowther, Mike Griffiths and Eddie Moloney; and for those whose anniversaries occur about this time: George Griffiths, Mary Le Gallez, Bridget Cullen, Arthur Barlow, Winifred Collins, Amelia Sanders, Richard Baxter, Williams Banks, Joan Roberts, Keith Ferguson, Patricia Pickering, Barbara McNay, Neil Roddy John Conroy, William Lucas, Jane Molloy, Norah Douglas, Patrick Kavanagh, Thomas Lynch, Pat Williams, William Wright, Dorothy Costello, Gordon Ierston, Anthony Cooney, Maria Przeworski, Bernard Bamford, Kathleen Kennedy, Sarah Murphy, Joseph Lohinski, Helen Moreton, Basil Patterson, Kathleen O'Connell, Bette Cummings, Lilian Catherall, Grace Moore, Celine Little, Catherine Pate, Maurice Shanley, Miep Clarke, Colin Churchill, Margaret Harris, Graham Jones, Kenneth Jervis, Gioacchino Izzo and Jim Colley.
May They All Rest in Peace.
Parish events
New Year's Day Mass
Good to see 55 of you here for Mass on Friday, dedicating our lives both personally and as a Parish to Our Lord and His Blessed Mother. More essential this year than ever before? Once again, huge thanks to the Stewards for turning out, most of them nursing dreadful hangovers, without whom we just would not be able to have Mass here in Church, as everywhere needs cleaning and sanitising afterwards. Thank you, Stewards!
Epiphany: Wednesday 6th Jan Mass at 10.00 am
Once again, thanks to the generosity of our Stewards, we are able to have a Public Mass on Wednesday for the Epiphany. Remember, everyone, that Mass Obligation was suspended when the pandemic and lockdown began, way back in March last year. But the Epiphany is such a beautiful Feast, the ending of the Twelve Days of Christmas and the "opening out" of the meaning of Christmas from that stable in Bethlehem to the whole world, that I'm sure many of you would wish to join us here for Mass on that day. 10.00 am.
Tier Four and St Werburgh's
Thanks be to God, Tier Four has not affected Public Worship on a Sunday, and we will be continuing our pattern of four half-hour Masses, 9.00, 10.00, 11.00 and 12.00 noon. No need to book, but you do need to queue up six feet apart, give us your Track and Trace details, and maintain Covid-19 regulations at all times. In terms of Baptisms, Weddings and Funerals? Baptisms: permitted, but "Rule of Six" - maximum of six people allowed to attend. Weddings: only in exceptional circumstances such as grave illness, and, again, "Rule of Six". Funerals: permitted, with a maximum of thirty people attending.
St Clare's
Fr Emeka is on his three-week annual leave, back home with his family in Nigeria, and St Werburgh's is pleased to cover for him while he is away. (Whether St Clare's are equally pleased remains to be seen...)
SVP Christmas Appeal
You supported this Appeal sensationally, easily exceeding previous years: £2,045!! I sense many of you realised that the work of the SVP was going to be even more important this Christmas than in normal years. Thank you so much. Steve, our super SVP President, writes:
SVP Christmas Appeal - your generosity this year has been overwhelming and deeply appreciated. The total came to £2,045 which is incredible, and I only wish that I could thank each and every one of you individually for your kindness. We feel a great responsibility to use your money wisely, but with no shortage of local 'needs' I can assure you that our mutual support will be very much appreciated by all those we can help. Thanks again and our best wishes for 2021. Stephen.
Well done, Steve and colleagues, and well done, Parish!
Photo of the Week: St Werburgh's 55 Years ago
First Concelebrated Mass in St Werburgh's - 1965. Another fascinating archive photo this week, the first time following the Second Vatican Council that priests were allowed to concelebrate Mass together. Before that, One Priest = One Mass, which is why you see in older religious houses, seminaries, anywhere where a number of priests lived together, a series of small altars round the side of the church. Each one said his Mass separately every day, with just a Server, and as the Mass was largely silent then, more than one Priest could say his Mass at the same time as others. Then Vatican II introduced the concept of concelebration, and here they all are, processing into St Werburgh's with the Bishop, to do just that. Fr Murphy instantly recognisable. Anyone recognise anyone else? And notice how every woman in the congregation us wearing a hat? In the immortal words of Elaine Stritch, "Does anyone - still - wear - a - HAT?" Eye-wateringly valuable prize for the first one to spot the Musical where she sings that unforgettable song. Dr Sam?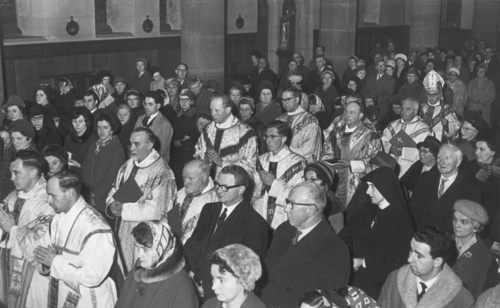 And finally: Happy New Year!
What a year 2020 was! Hard to regret its passing, though it did contain many good things as well as the struggles and challenges. I mean, without the pandemic and lockdown, you wouldn't have had the Blog, and you wouldn't have wanted to miss that, would you? (I heard that, Choir, and it was very wounding). Minnie Louise Haskin's poem "The Gate" was quoted by King George VI in his Christmas Day broadcast for 1939, a world at war for the past four months. This is its opening:
And I said to the man who stood at the gate of the year:
"Give me a light that I may tread safely into the unknown."
And he replied:
"Go out into the darkness and put your hand into the Hand of God.
That shall be to you better than light and safer than a known way."
So I went forth, and finding the Hand of God, trod gladly into the night.
And He led me towards the hills and the breaking of day in the lone East.
Those words are perfect, aren't they? May God bless you all, and all those you love, every day of 2021.
Fr Paul