Parish Newsletter
SUNDAY 17th JANUARY: SECOND SUNDAY IN ORDINARY TIME (YEAR B)
Liturgical
I Samuel 3, 3-19; Psalm 39; I Corinthians 6, 13-20; John 1, 35-42
9.00 am: St Werburgh's: Albert Norman (Birthday Remembrance) and Sheila Norman (Anniversary)
10.00 am: St Werburgh's: Thanksgiving (Sapna)
11.00 am: St Werburgh's: John Thompson, Catenian (L.D.)
12.00 noon: St Werburgh's: Barbara Evans (L.D.)

Monday 18th January: Ferial: Hebrews 5, 1-10; Psalm 109; Mark 2, 18-22
Fr Paul's Private Mass Intention today: Bill and Jane Butcher, and family

Tuesday 19th January: Ferial: Hebrews 6, 10-20; Psalm 100; Mark 2, 23-28
Fr Paul's Private Mass Intention today: Vera Clyne (Anniversary)

Wednesday 20th January: Ferial: Hebrews 7, 1-17; Psalm 109; Mark 3, 1-6
9.30 am: St Clare's: Rina Gradwell (L.D.)

Thursday 21st January: St Agnes: Hebrews 7,25 - 8,6; Psalm 39; Mark 3, 7-12
Fr Paul's Private Mass Intention today: Deceased Family Members - Nikki and Mark Perry

Friday 22nd January: Ferial: Hebrews 8, 6-13; Psalm 84; Mark 3, 13-19
12.00 noon: St Werburgh's: Requiem Mass for William Walsh, late of Allington Place

Saturday 23rd January: Ferial: Hebrews 9, 2-14; Psalm 46; Mark 3, 20-21
Fr Paul's Private Mass Intention today: Parishioners of St Werburgh's

SUNDAY 24th JANUARY: THIRD SUNDAY IN ORDINARY TIME (YEAR B)
Jonah 3, 1-10; Psalm 24; I Corinthians 7, 29-31; Mark 1, 14-20
9.00 am: St Werburgh's: Cliff and Dina Sale (Anniversaries)
10.00 am: St Werburgh's: Alex Barnes
11.00 am: St Werburgh's: Mae and Gerald Kay
12.00 noon: St Werburgh's: Private Intention
Prayer intentions
Your prayers are asked for the following who are sick: Pauline and Bill Hackett, Laura Chadwick, Elisabeth, Stuart Clark, Keith Hayes, Sheila Winder, Joe and Ruth O'Kane, Garth Stocking and Kevin Maguire; and for all the sick of the Parish; and for those who have died recently, especially Malcolm Crowther, Luke Ellis and William Walsh; and for those whose anniversaries occur about this time: James Dean, Lawrence Heaney, Kathleen Wilbraham, Arthur Turner, Georgina Barlow, Mary Daly, Phyllis Campbell, Chris Redmond, Richard Bird, Brian Wilding, Margaret Fairhurst, Agnes Scanlon, John Anson, Mae Kay, Margaret Whelan, Douglas Haswell, Annie Burrows, Evelyn Stretch, Sr Christopher, Maria Scott, Sylvia Shaw, Jeremy Newell, Margaret Bates, Ernie Moore, Muriel Wright and Violet Brown. May They All Rest in Peace.
Parish events
Lockdown Three: Churches Remain Open
In this current Lockdown, when (unlike the previous two) churches have been allowed to stay open, it's essential to emphasise two points: that everybody needs to decide for themselves if it is safe to come to Mass, and that there is no Obligation to come. I think most of us were a little surprised but very gratified that Churches were allowed to remain open for Public Worship in last week's announcement. Many of us take this as a huge vote of confidence in how well the vast majority of churches have cooperated with the Covid-19 rules and restrictions, and how conscientiously the vast majority of church-goers have followed those rules. But clearly many of you are nervous about coming to Mass, including our Stewards, and that we totally understand and support. There were appreciably fewer of you at Mass last Sunday than the week before, and we guess that trend could well continue today. When we have seen the numbers, and the numbers of Stewards who wish to stand down, we will make a decision about next Sunday. That will be communicated daily on-line, via the Blog, but if you don't have online access, do please ring us, preferably between 10.00 and 11.00 each morning, for an update.
Week of Prayer for Christian Unity
Delighted we are able to keep this going, via the ever-faithful Christleton and Waverton Churches Together. We will be meeting remotely via Zoom, at 12.00 noon each day next week, with the different churches hosting, the services based on the Churches Together in Britain and Ireland material:
Monday 18th Jan: Waverton Evangelical
Tuesday 19th Jan: St James Christleton
Wednesday 20th Jan: Methodists
Thursday 21st Jan: St Werburgh's
Friday 22nd Jan: St Peter's Waverton
Each day, there will be a short 20-25 minute service, followed by half-an-hour of social time if you'd like to stay for that. Plus, sandwiches, of course... If you would like the Zoom link and a copy of the CTBI Material, please email me and I will forward it to you. Hoping to see you all there for as many of the days as you can manage. Off now to carry on preparing the Sandwiches...
Baptisms, Weddings and Funerals?
Baptisms: permitted, but "Rule of Six" - maximum of six people allowed to attend.
Weddings: only in exceptional circumstances such as grave illness, and, again, "Rule of Six".
Funerals: permitted, with a maximum of thirty people attending.
St Clare's
Fr Emeka is on his three-week annual leave, back home with his family in Nigeria, and St Werburgh's is pleased to cover for him while he is away. (Whether St Clare's are equally pleased remains to be seen...) He is due back on 21/22 January.
New Notices Around Church
You'll see today some new laminated notices displayed in prominent places, just reminding everyone about the Covid-19 essentials: hand-sanitising as often as possible, wearing that mask properly, and keeping two metres apart.
If I can touch you, we are too close!
The really important Covid-19 Regulations can be boiled down to "Face-Hands-Space". Speaking personally, I am very happy with the way we are all observing the first two in St Werburgh's. But the third sometimes gives me the heebie-jeebies (as they say in German). We are getting far too close to one another, and I never thought I'd have to say that! Seriously, everyone: this horrible virus spreads from person to person, and the major way it does that is by physical contact. So, a new rule in St Werburgh's:
IF I CAN TOUCH YOU, THEN WE ARE TOO CLOSE.
The Baptism of the Lord: End of Christmastide
Crib figures put away, decorations taken down... Yes, Christmas is definitely behind us, and it's going to be Next Stop Lent, with Ash Wednesday falling on 17th February. As so many of us have had to link into Zoom and other online services, shall we start planning soon for an online Lent, perhaps a Stations of the Cross on Friday some time? What do the rest of you think? Any other ideas?
Magazines, Year Books, Ordos...
We haven't been able to have our usual Newsstand during Lockdowns, but the Day by Day (£1) magazines and Sacred Heart Messengers (£1.50) are both available in the porch as you leave, as well as the Diocesan Year Books and Ordos (£5 each). Don't worry if the "one-way system" makes paying difficult: just take the mags and pop the money in next week!
Photo of the Week: Confirmation 1966
Just look at that sea of faces - and that's just the girls! It made me go to the Safe and get out the Confirmation Register for that year. Bishop Eric Grasar confirmed - wait for it! - 491 youngsters on that occasion (25th September). How on earth was such a thing possible? I'd love to have any first-hand memories of that event. Some of the names that leapt out at me? Declan Barry, John Kenyon, Paul Kimpton, Brian McCann, David Park, Edmund Ronayne, Paul Sweeney, Heather, Michelle and Janette Astbury, Jane Brierley, Rachel Curtis, Denise Norman. I'm not going to ask, "Where are they now?", as I think we all know. (Whatever happened to that nice, shy little Denise Norman??)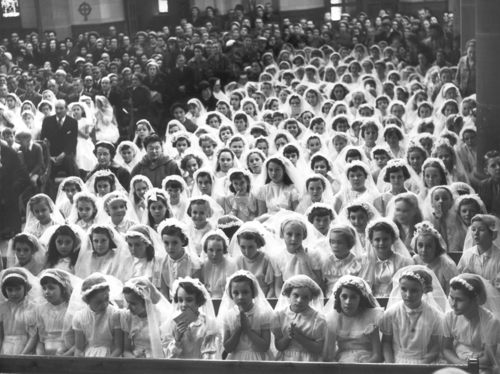 And finally: Great News on the Vocations Front
Bishop Mark writes:
The Diocese continues to see a small yet genuine springtime in vocations. This year I hope to ordain four men to the Priesthood and two to the Permanent Diaconate. The fruitful work of the Shrewsbury Discernment House has been able to continue amid the difficulties, uncertainties and restrictions of this past year. Since the summer, three men have already been able to share in this discernment and three more young men are due to begin at the start of this year when Covid restrictions allow. We also have two further applications for the Priesthood from mature men, together with one candidate accepted into training for the Permanent Diaconate; one man entering the propaedeutic programme for the Diaconate and two other applications and enquiries amid the difficult conditions of the pandemic. Thank you for your continued prayer - and for the support and encouragement for this vital work for the promotion, discernment and formation of those vocations which will provide for the service of the whole Diocese in the century ahead.
So, let's keep all those seminarians and possible seminarians in our prayers, everyone.