Parish Newsletter
SUNDAY 7th MARCH: THIRD SUNDAY OF LENT (YEAR B)
Liturgical
Exodus 20, 1-17; Psalm 18; I Corinthians 1, 22-25; John 2, 13-25
9.00 am: St Werburgh's: Jean and Geoff Hewson (Wedding Anniversary Remembrance)
10.00 am: St Werburgh's: Tom and Mary Boulton
11.00 am: St Werburgh's: Patrick Elliott (Birthday Remembrance)
12.00 noon: St Werburgh's: Anne Woodhouse (1st Anniversary)

Monday 8th March: Ferial: II Kings 5, 1-15; Psalm 41; Luke 4, 24-30
Fr Paul's Private Mass Intention today: John and Vera Clyne

Tuesday 9th March: Ferial: Daniel 3, 25-43; Psalm 24; Matthew 18, 21-35
Fr Paul's Private Mass Intention today: AG (9th Anniversary)

Wednesday 10th March: Ferial: Deuteronomy 4, 1-9; Psalm 147; Matthew 5, 17-19
4.00 pm: St Werburgh's: Reception into Church of Gino Vianello
7.00 pm: Zoom Stations of the Cross from St Werburgh's - All Welcome to Join Us
Fr Paul's Private Mass Intention today: Frank Vitelli (L.D.)

Thursday 11th March: Ferial: Jeremiah 7, 23-28; Psalm 94; Luke 11, 14-23
1.00 pm: St Werburgh's: Requiem Mass for Gino Vianello, late of Ruabon

Friday 12th March: Ferial: Hosea 14, 2-10; Psalm 80; Mark 12, 28-34
2.00 pm: Blacon: Funeral Service for Ronald Edwards, late of Kingsley Road, Boughton
Fr Paul's Private Mass Intention today: Intentions of Kim Burns

Saturday 13th March: Ferial: Hosea 5,15 – 6,6; Psalm 50; Luke 18, 9-14
Fr Paul's Private Mass Intention today: Intentions of Patrick and Alex Regan

SUNDAY 14th MARCH: FOURTH SUNDAY OF LENT - LAETARE SUNDAY (YEAR B)
II Chronicles 36, 14-23; Psalm 136; Ephesians 2, 4-10; John 3, 14-21
9.00 am: St Werburgh's: Alex Barnes
10.00 am: St Werburgh's: John Thompson, Catenian (L.D. Wrexham)
11.00 am: St Werburgh's: Peg Amy (L.D., Sydney, Australia)
12.00 noon: St Werburgh's: Louisa Miller (L.D., Rome)
Prayer intentions
Your prayers are asked for the following who are sick: John McMahon, James Convey, Pauline and Bill Hackett, Laura Chadwick, Elisabeth, Stuart Clark, Keith Hayes, Sheila Winder, Joe and Ruth O'Kane, Garth Stocking and Kevin Maguire; and for all the sick of the Parish; and for those who have died recently, especially Patrick Sullivan, Iris Pritchard, Peter Roberts, Gino Vianello. Ronald Edwards and Tony Haycock; and for those whose anniversaries occur about this time: Bill Allinson, Daniel Lunt, Carole Macintyre, May Woolrich, Leonard Creighton, Monica Page, Dennis Byrne, Peter Geoghegan, Becky Banks, Katherine Mayers, Edward Fearon, Geoff Rowley, Helen Fallon, Michael Melia, Edith Painter, Peter Dowd, Elizabeth Lydiate, June Mulcrone, Thomas Patterson, Gerard Daly, Anthony Astle, Dot Booth, John Shepherd, James Ferneyhough, Sheila Crowther, Patrick Metcalf, Christine Earle, Peter Shepherd, Tom Boulton, Margaret Maddocks and David Crawford-Williams. May They All Rest in Peace.
Parish events
Zoom Stations of the Cross Wednesdays at 7.00 pm
Starting this Wednesday, 10th March, and for the following three Wednesday evenings at that time, we will be hosting a Zoom Stations. For the first one, we will be using the actual Stations here in the church, and you will possibly be able to see them in much closer detail than you have before. The Zoom link will be available from Sunday onwards. Just email me and I will forward it to you. Everyone, Werbie and Wizziter alike, very welcome to join us.
The Covid-19 Restrictions Are Still in Place!
A timely reminder from Bishop Mark this week that nothing has changed in terms of our bread-and-butter Covid-19 Rules for Church. Please, everyone - don't start relaxing too soon!
1. The wearing of face coverings in church by the faithful (unless the person has a valid exemption from this regulation).
2. Social distancing of people within the church building.
3. Stewarding of the church premises to assist the faithful whilst in church.
4. Frequent hand cleansing, either with sanitiser or washing.
5. Suitable one-way systems in the building to prevent excessive interaction between people from different households or bubbles.
6. Good ventilation of the church building to refresh the air quality within.
7. Cleaning of the church building after each act of public worship.
8. The timely dispersing of the faithful after the acts of worship avoiding congregating in car parks or on the streets outside the church.
Holy Week and Easter 2021
Delighted that we will be able to have Public Services this year, all of them having been suspended as part of Lockdown One last year. The keynote will be simplicity: the important thing is that they're going to be celebrated here in Church.
Palm Sunday 28th March: Normal Sunday Masses
Maundy Thursday: 7.00 pm Mass of the Lord's Supper
Good Friday: 3.00 pm Liturgy of the Passion
Holy Saturday: 7.00 pm - Vigil Mass
Easter Sunday - 4th April - Normal Sunday Masses
BOOKING: You will need to book for all Masses except Palm Sunday. Booking opens on Monday 15th March, online and telephone. To welcome as many people as possible we are asking you initially to book for EITHER Maundy Thursday OR Good Friday, and for EITHER the Easter Vigil OR Easter Sunday Morning.
Co-operating with our Sunday Stewards
Many thanks, everyone! Last Sunday, not a single Steward was hit and not a single parishioner smacked. Mirabile Dictu! (As they say in German).
Primary School Governor Vacancy
We have a vacancy at a Catholic Primary up on the Wirral. If you might be interested or would like further information, do have a word with FP.
This Week's Photo of the Week: Raymondo, 2000
Do you remember where this "temporary" organ used to be, and also the Sacred Heart Statue?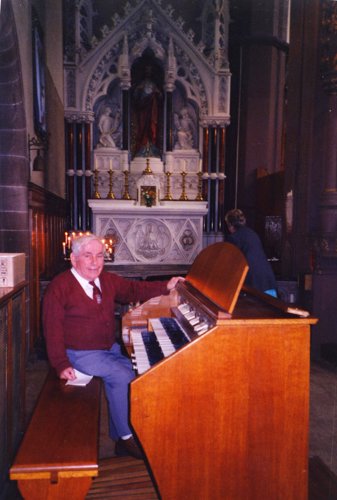 Bishop Mark Writes, Friday 5th March...
We continue to see an ever-improving picture in the public health crisis and remarkable progress in the national vaccination programme. On Monday, our schools and colleges will be fully re-opening as a first stage in the re-opening of society. I hope this return will go safely and well. It is a good moment for us to be remembering in prayer, all who are part of the great enterprise of Catholic Education in the Diocese. The public authorities are urging patience and caution in the weeks ahead so no undue relaxation will lead to new surges of infections, thereby setting back our emergence from lockdown. I am sure we will be able to fully play our part in all we are doing to maintain Covid security in our parishes and making the arrangements for the worthy and safe celebration of the Liturgy of Holy Week. Entrusting all our plans to the prayers of Saint Joseph,
+ Mark Bishop of Shrewsbury
Bishop Mark's Guidance on the Four-Stage Easing
Step One, 8th March 2021
All children and students return safely to face-to-face education. Funerals and wedding arrangements will continue as at present i.e., 30 attendees at funerals and 6 for weddings (limited to exceptional circumstances). No changes to the current restrictions on Baptisms. The 'stay at home' rule will still be in place, until 29th March 2021 and people should still work from home when possible. Maintaining social distancing, face covering, providing good ventilation indoors and continuing regular handwashing/sanitising will still be required. 29th March 2021: The rules around funerals will not change with attendees limited to 30. Weddings will still be able to proceed with 6 attendees and will no longer be limited to exceptional circumstances. Additional guidance will be provided for the safe celebration of Holy Week and Easter.
Step Two, 'no earlier than' 12th April 2021
At this point, funerals can continue to proceed with up to 30 attendees. Weddings will be able to take place with up to 15 attendees. People should continue to work from home when possible and domestic travel to be minimised. There is to be no household mixing indoors, therefore social distancing arrangements are still to be observed in church, during Mass and during private prayer.
Step Three, 'no earlier than' 17th May 2021
At this step weddings, funerals and baptisms may proceed with up to 30 attendees present. No later than this step, the Government will update its advice on social distancing between friends and families. Until then the advice on social distancing, regular hand hygiene and letting in fresh air will continue. The Government will continue to advise working from home when possible.
Step Four, 'no earlier than' 21st June 2021
The Government proposes to remove all limits on weddings, funerals and other 'life events' including baptisms (subject to the outcome of the scientific research programme). Legal limitations on social contact will be removed. Even as restrictions are lifted, it is essential that we all continue to practise 'good habits' to reduce transmission, remembering 'Hands, Face, Space'; letting in fresh air; getting a test following the first sign of symptoms and self-isolating if the test is positive.