Parish Newsletter
SUNDAY 25th APRIL: FOURTH SUNDAY OF EASTER (YEAR B)
Liturgical
Acts 4, 8-12; Psalm 117; I John 3, 1-2; John 10, 11-18
9.00 am: St Werburgh's: Alex Barnes
10.00 am: St Werburgh's: Richard Spencer (11th Anniversary)
11.00 am: St Werburgh's: Caroline Miller (3rd Anniversary - Michigan USA)
12.00 noon: St Werburgh's: Wendy Jones (80th Birthday Remembrance)

Monday 26th April: Ferial: Acts 11, 1-18; Psalm 41; John 10, 1-10
Fr Paul's Private Mass Intention today: Mary and John (Anniversary)

Tuesday 27th April: Ferial: Acts 11, 19-26; Psalm 86; John 10, 22-30
Fr Paul's Private Mass Intention today: Mary Fazey (Birthday Remembrance)

Wednesday 28th April: Ferial: Acts 12,24 - 13,5; Psalm 66; John 12, 44-50
Fr Paul's Private Mass Intention today: Pat Maguire (27th Anniversary)

Thursday 29th April: St Catherine of Siena: I John 1,5 - 2,2; Psalm 102; Matthew 11, 25-30
Fr Paul's Private Mass Intention today: Graham - Interview Intentions

Friday 30th April: Ferial: Acts 13, 26-33; Psalm 2; John 14, 1-6
2.00 pm: Blacon: Funeral Service for John Oliver Morgan, late of Reeves Road, Great Boughton
Fr Paul's Private Mass Intention today: Thanksgiving

Saturday 1st May: Ferial: Acts 13, 44-52; Psalm 97; John 14, 7-14
Fr Paul's Private Mass Intention today: Lorna Harris (7th Anniversary)

SUNDAY 2nd MAY: FIFTH SUNDAY OF EASTER (YEAR B)
Acts 9, 26-31; Psalm 21; I John 3, 18-24; John 15, 1-8
9.00 am: St Werburgh's: Bob Delap (4th Anniversary)
10.00 am: St Werburgh's: Margaret Haslam (25th Anniversary)
11.00 am: St Werburgh's: Gerry Cummins (Anniversary and Birthday Remembrance)
12.00 noon: St Werburgh's: Ray O'Brien (11th Anniversary)
Prayer intentions
Your prayers are asked for the following who are sick: John McMahon, James Convey, Pauline and Bill Hackett, Laura Chadwick, Elisabeth, Stuart Clark, Keith Hayes, Sheila Winder, Joe and Ruth O'Kane, Garth Stocking and Kevin Maguire; and for all the sick of the Parish; and for those who have died recently, especially Hugh Ash, John Oliver Morgan and Patricia McGeachin; and for those whose anniversaries occur about this time: Bridget O'Hara, Apolonia Marano, Sally Dunne, Margaret Holland, John McShane, Philomena Kenyon, Maureen Moran, Margaret Haslam, Richard Spencer, Thomas Clisham, Janina Ratomski, Alan Kilfoyle, John Martinez, Terry Walshe, John Moore, Dorothy Arcari, Daisy Moran, Catherine Watkins, Christina Maguire, Bernard Gallagher, Kathleen Pickersgill, Thomas Kidd, Margaret Price, John Spencer, Thomas Raftery, Angela Lloyd, Humphrey Broad-Davies, Henry Joyce, Cora McHugh, Bernard Dodd, Bishop Joseph Gray, Denis Duckers, Eileen Briton, Mo Massey and Paddy Scanlan. May They All Rest in Peace.
Parish events
Covid-19 Restrictions - Where Are We Up To?
Good news on the national figures for infections, hospitalizations, deaths and vaccinations, very much pointing in the right direction. But too early to start lifting restrictions here in Church. My hunch, for what it is worth, is that restrictions will be lifted gradually, stage by stage: possibly the need to Track and Trace first, then perhaps the sanitizing the church between Services. Hand sanitizing and social distancing will be with us for quite some time. But in all easing of restrictions, we will be guided by Diocesan Guidelines.
Zoom Talk Taylor's Boatyard Wednesday 12th May
Our good friend Geoff Taylor will be telling the story of his boatbuilding family, concentrating on the Chester Canal and the River Dee with some fascinating photographs and video footage. Geoff has done a number of Heritage Walks and tours for us and had more planned for this year. But Covid-19 overtook these plans, as so much else. So, a Zoom talk and tour instead! Do come and join us, 7.30 pm on Wednesday, 12th May. Contact FP for the Zoom Link, and we'll have a fascinating hour together. Finishing with a Zoom Pint in Telford's Warehouse. (We wish.)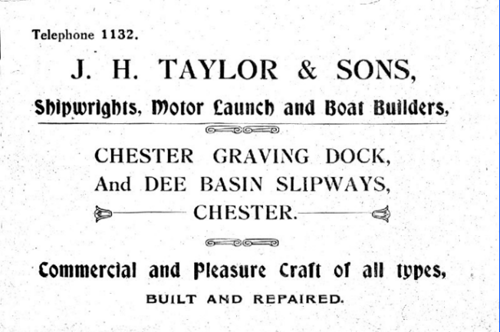 Rented Accommodation Wanted: Thanks!
Many thanks to those of you who responded to this appeal last week from Aaron from Airbus (as he now must be). "A young Catholic lad is coming up to work at Airbus at Broughton and would like to rent accommodation in the area, ideally with a Catholic family, and would like to be part of our Parish Community. (He wants to be a Werbie? The fool!) He comes Tekkie-recommended (Teccomended?), and you can't say higher than that. He's 24, single, graduate engineer, non-smoker, and can provide full references. He'd like to start early September, for six or twelve months. He'd like a bedroom and access to the kitchen: a sitting room as well would be ideal, but not essential. He'd like to cook his own meals and would need somewhere to park his small car. Anyone interested, see FP."
I've now had a second appeal, for a young Belgian lady coming to study at the University here from September to December this year. Anyone feel able to offer her something similar to Aaron from Airbus? (Brenda from Bruges? Gertie from Ghent?)
Easter "Day by Day" and Sacred Heart Messengers
On the table as you come in, £1 each. You can always pop the money in next week! Plus, Diocesan Year Books and Diocesan Ordos, if you never picked up your copies: £5 each.
"Universe" and "Catholic Times"
If you are unable to collect your paper at Mass you can now get it delivered direct to your home every week post free - it's quick and simple! just go to www.thecatholicuniverse.com or call us on 0161 820 5722 and we will arrange delivery for you.
Special offer 3 months: £25.00
Special offer 12 Months: £99.00
Digital copy 12 Months: £55.00
Or Digital copy/and hard copy for £115.00 (Easter special offer). All papers are Covid safe and packed in a sterile component.
Bishops of England and Wales Low Week Meeting
Traditionally, all the Bishops meet together twice a year, for a week in November and again after Easter (known as their "Low Week Meeting"). This year, the Covid-19 restrictions were high on their agenda, and how they have affected the life of the Catholic Church in England and Wales over the last twelve months. They issued a statement afterwards which I put on Friday's Blog. They identify three groups in particular we need to keep in mind: those who still don't feel confident enough to come back to church; those who may have got out of the habit of coming to church and may never re-join us; and those who have been positively drawn to Christ and His Church through this whole experience, possibly by the internet, and who will be looking to take that interest further. This is the relevant extract:
a) There are the fearful and weary, anxious about coming into the enclosed spaces of our churches; those who have simply lost the habit of coming to church. Personal contact, clear reassurance, and sensitive invitations will all be needed.
b) There are those who will have reassessed their pattern of life and priorities. The practice of faith within the community of the Catholic Church may not be among those priorities. A gap may have opened up, or widened, between the spiritual dimension of their lives and any communal expression of that spiritual quest. They represent a particular focus and concern for our outreach.
c) There are those whom we might describe as the 'Covid curious', those who have come into contact with the Catholic Church through our presence on the internet - a contact we may be able to develop through our continuing presence across diverse media platforms. In facing these challenges, we are endowed with veritable treasures which serve to resource and enrich us.
Do please go on the Blog for Friday to read it all.
Joining the Gift Aid Scheme
If you pay income tax, joining the Gift Aid scheme increases the value of your donations to the Parish by 25% at no extra cost to you. Interested in joining the scheme? Please contact FP or Denise Jones.
Photo of the Week: Planting the First Tree
The very beginning of the site of the new Primary School up in Lightfoot Street, as plans were under way to leave Love Street and move out to the lush suburbs of Hoole! The photo shows a group of children, parents and Sisters. Where are they all now? And is that tree is still there? As always, any information about the picture gratefully received.