Parish Newsletter
SUNDAY 2nd MAY: FIFTH SUNDAY OF EASTER (YEAR B)
Liturgical
Acts 9, 26-31; Psalm 21; I John 3, 18-24; John 15, 1-8
9.00 am: St Werburgh's: Bob Delap (4th Anniversary)
10.00 am: St Werburgh's: Margaret Haslam (25th Anniversary)
11.00 am: St Werburgh's: Gerry Cummins (Anniversary and Birthday Remembrance)
12.00 noon: St Werburgh's: Ray O'Brien (11th Anniversary)

Monday 3rd May: SS Philip and James: I Corinthians 15, 1-8; Psalm 18; John 14, 6-14
Fr Paul's Private Mass Intention today: Patrick Kinsella (L.D., Co Offaly)

Tuesday 4th May: The English Martyrs: Acts 7, 55-60; Psalm 30; Matthew 10, 17-20
1.00 pm: St Werburgh's: Requiem Mass for Hugh Ash, late of Adder Hill, Great Boughton

Wednesday 5th May: Ferial: Acts 15, 1-6; Psalm 121; John 15, 1-8
Fr Paul's Private Mass Intention today: Intentions of Jim Convey

Thursday 6th May: Ferial: Acts 15, 7-21; Psalm 95; John 15, 9-11
Fr Paul's Private Mass Intention today: AG (9th Anniversary)

Friday 7th May: Ferial: Acts 15, 22-31; Psalm 56; John 15, 12-17
10.00 am: St Werburgh's: Requiem Mass for Patricia McGeachin, late of Sefton Road, Hoole

Saturday 8th May: Ferial: Acts 16, 1-10; Psalm 99; John 15, 18-21
12.00 noon: St Werburgh's: Baptism of Claudia Salinas Caballero
Fr Paul's Private Mass Intention today: Patrick and Leanne (Leeds SVP)

SUNDAY 9th MAY: SIXTH SUNDAY OF EASTER (YEAR B)
Acts 10, 25-48; Psalm 97; I John 4, 7-10; John 15, 9-17
9.00 am: St Werburgh's: Tina Johnson (1st Anniversary)
10.00 am: St Werburgh's: Frank Vitelli (L.D.)
11.00 am: St Werburgh's: Alan Kilfoyle (9th Anniversary)
12.00 noon: St Werburgh's: For the People of Japan
Prayer intentions
Your prayers are asked for the following who are sick: John McMahon, James Convey, Pauline and Bill Hackett, Laura Chadwick, Elisabeth, Stuart Clark, Keith Hayes, Sheila Winder, Joe and Ruth O'Kane, Garth Stocking and Kevin Maguire; and for all the sick of the Parish; and for those who have died recently, especially Hugh Ash, John Oliver Morgan and Patricia McGeachin; and for those whose anniversaries occur about this time: John Clarke, Connie Parry, Eileen Donavan, Helen Moran, Albert Austin, Thomas Conboy, George Parry, Julia King, Patrick Smith, Anne Mulheirn, David Spencer, Mary Hayes, John Hannon, David Gardner, James McGowan-Scanlon, Thomas Dolan, Bill Borthwick, Anthony Costello, Benny Brookfield, Eileen Doran, Mandy Pritchard, Bernie O'Loughlin and George Shepherd. May They All Rest in Peace.
Parish events
Covid-19 Restrictions - Where Are We Up To?
The next projected easing of restrictions is scheduled for 17th May. This will be based on the monitoring of the effects of the last easing, 12th April: and all the indications are looking very promising, that the 12th April easing did not lead to any rise in infections or hospitalizations. If similarly the 17th May easings lead to no rise, then we could - repeat could - be on for a total easing by 21st June. How this will affect us here in Church will be a matter of Guidance from Bishop Mark, the Bishops' Conference of England and Wales and the Government. Watch this space, everyone! Meanwhile, why not come along to Pope Francis' call for the Rosary to pray for the end of this pandemic, every evening during May, 6.30 pm in the Front Garden? Great to see you all there!
Pope Francis's call for the Rosary During May
Pope Francis specifically calls for the praying of the Rosary across the world during the month of May. In the Holy Father's vision this worldwide chain of prayer will proceed from the Marian shrines of the world. Our own national shrine of Our Lady at Walsingham has been given a pre-eminent place following the Vatican on the first day of May. The Pontifical Council for the Promotion of New Evangelisation explains, "At the heart of the Holy Father's wish, the month of May will be dedicated to a marathon of prayer from the theme 'From the whole Church the prayer to God went up incessantly' (Acts 12:5). The initiative will involve in a special way all the Sanctuaries of the world, so that they become promoters to the faithful, families and communities of the recitation of the Rosary to invoke an end of the pandemic. Some thirty representative shrines across the world will guide the Marian prayer, which will broadcast live on the official channels of the Holy See at 18.00 (Rome time) every day. Pope Francis will initiate this prayer on May 1st and bring it to a conclusion on May 31st."
Here in St Werburgh's?
Every Evening in May at 6.30 pm in the Front Garden for 20 minutes. Starting this evening, Saturday 1st May and continuing till Monday 31st May. Come and join us! We will pray together for an end to this world-wide pandemic.
Easter "Day by Day" and Sacred Heart Messengers
On the table as you come in, £1 each. You can always pop the money in next week! Plus, Diocesan Year Books and Diocesan Ordos, if you never picked up your copies: £5 each.
Bed on Offer
Single 3 ft divan bed and mattress in good condition available free to any family who can use it. Please contact the SVP on 07775781204 or svpchester@gmail.com
Joining the Gift Aid Scheme
If you pay income tax, joining the Gift Aid scheme increases the value of your donations to the Parish by 25% at no extra cost to you. Interested in joining the scheme? Please contact FP or Denise Jones.
Zoom Talk Taylor's Boatyard
Wednesday 12th May at 7.30 pm
Our good friend Geoff Taylor will be telling the story of his boatbuilding family, concentrating on the Chester Canal and the River Dee with some fascinating photographs and video footage. Geoff has done a number of Heritage Walks and tours for us and had more planned for this year. But Covid-19 overtook these plans, as so much else. So, a Zoom talk and tour instead! Do come and join us, 7.30 pm on Tuesday, 12th May. Contact FP for the Zoom Link, and we'll have a fascinating hour together. Finishing with a Zoom Pint in Telford's Warehouse. (We wish.)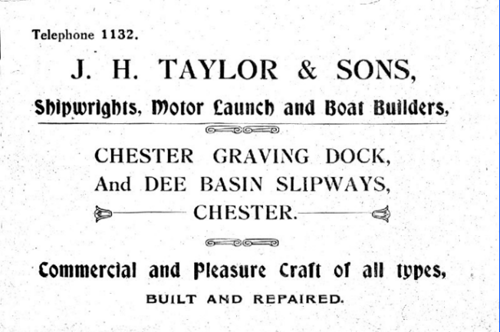 Apologies for the mistake in the date last week - it's Wednesday 12th May, not Tuesday! Olive from Orford's fault - I told her it was Wednesday...
Rented Accommodation Wanted: Thanks!
Many thanks to those of you who responded to this appeal last week from Aaron from Airbus (as he now must be). "A young Catholic lad is coming up to work at Airbus at Broughton and would like to rent accommodation in the area, ideally with a Catholic family, and would like to be part of our Parish Community. (He wants to be a Werbie? The fool!) He comes Tekkie-recommended (Teccomended?), and you can't say higher than that. He's 24, single, graduate engineer, non-smoker, and can provide full references. He'd like to start early September, for six or twelve months. He'd like a bedroom and access to the kitchen: a sitting room as well would be ideal, but not essential. He'd like to cook his own meals and would need somewhere to park his small car. Anyone interested, see FP."
I've now had a second appeal, for a young Belgian lady coming to study at the University here from September to December this year. Anyone feel able to offer her something similar to Aaron from Airbus? (Brenda from Bruges? Gertie from Ghent?)
Any more offers, anyone, before I wrap this up and go back to Aaron from Airbus and Annie from Antwerp? (Bridget from Brussels?)
Annual Financial Returns 2020-21
Sent off to the Diocese on Thursday morning. Phew! Hearty thanks to Finance Team for sweating over this one. (Well, they had nothing else to do...) Next week, I'll give you the headline figures.
Photo of the Week: Flower Festival 2003
Anyone recognise which Vestment this is (not ours!)? And that rope looks a bit lethal?? As ever, any information you can send us gratefully received.