Parish Newsletter
SUNDAY 9th MAY: SIXTH SUNDAY OF EASTER (YEAR B)
Liturgical
Acts 10, 25-48; Psalm 97; I John 4, 7-10; John 15, 9-17
9.00 am: St Werburgh's: Tina Johnson (1st Anniversary)
10.00 am: St Werburgh's: Frank Vitelli (L.D.)
11.00 am: St Werburgh's: Alan Kilfoyle (9th Anniversary)
12.00 noon: St Werburgh's: For the People of Japan

Monday 10th May: Ferial: Acts 16, 11-15; Psalm 149; John 15,26 – 16,4
11.00 am: St Werburgh's: Baptism of Bianca Esposito
Fr Paul's Private Mass Intention today: Intentions of the Hickey Family

Tuesday 11th May: Ferial: Acts 16, 22-34; Psalm 137; John 16, 5-11
Fr Paul's Private Mass Intention today: Sheila Holland (L.D.)

Wednesday 12th May: Ferial: Acts 17,22 – 18,1; Psalm 148; John 16, 12-15
Fr Paul's Private Mass Intention today: Special Intention (GS)

Thursday 13th May: THE ASCENSION OF THE LORD – HOLYDAY OF OBLIGATION
Acts 1, 1-11; Psalm 46; Ephesians 1, 17-23; Mark 16, 15-20
10.00 am: St Werburgh's: John Jardine (L.D.)
11.00 am: St Werburgh's: Intentions of Natalie Gresty

Friday 14th May: St Matthias: Acts 1, 15-26; Psalm 112; John 15, 9-17
Fr Paul's Private Mass Intention today: Intentions of O from O

Saturday 15th May: Ferial: Acts 18, 23-28; Psalm 46; John 16, 23-28
10.00 noon: St Werburgh's: Baptism of Margarita Alexandra Fita
Fr Paul's Private Mass Intention today: Special Intention (MP)

SUNDAY 16th MAY: SEVENTH SUNDAY OF EASTER (YEAR B)
Acts 1, 15-26; Psalm 102; I John 4, 11-16; John 17, 11-19
9.00 am: St Werburgh's: Brian Boardman
10.00 am: St Werburgh's: Thanksgiving for Laila Marianne
11.00 am: St Werburgh's: Geraldine Pile (L.D.)
12.00 noon: St Werburgh's: Eileen Burke (L.D., Liverpool)
Prayer intentions
Your prayers are asked for the following who are sick: John McMahon, James Convey, Pauline and Bill Hackett, Laura Chadwick, Elisabeth, Stuart Clark, Keith Hayes, Sheila Winder, Joe and Ruth O'Kane, Garth Stocking and Kevin Maguire; and for all the sick of the Parish; and for those who have died recently, especially Hugh Ash, John Olive Morgan and Patricia McGeachin; and for those whose anniversaries occur about this time: Peter Walsh, Harry Teague, Brian Boardman, Connie Clarkson, Angelo Castrichino, James Turrell, Tommy Brady, Paul Pollard, Anne Delamere, Joseph Thomas, Ben O'Brien, Tommy Phillips, Christopher Donnelly, Mary Reid, Nora Reilly, Ursula Ratchford, Gladwen Nicholson, John Roberts and John Byrne. May They All Rest in Peace.
Parish events
Thursday Next: Holyday of the Ascension
Two Masses here on that day: 10.00 am and 11.00 am. No need to book, but please arrive in plenty of time to be sure of a place, because...
Pressure at 9.00 am Mass on Sunday
Last Sunday, twelve people sadly had to be turned away because we were full for 9.00 am. Spaces at the other Masses, especially the 12.00 noon. So, if you definitely want to come to 9.00 am, you must overcome the habits of a lifetime and not arrive at the last minute!! "But we're Catholics," they cry; "We always arrive at the last minute..."
Upcoming Dates - End of Eastertide
Thursday 13th May - Ascension
Sunday 16th May - 7th Sunday of Easter
Sunday 23rd May - Pentecost
Sunday 30th May - Trinity Sunday
Sunday 6th June - Corpus Christi
Sunday 13th June - 11th Sunday in Ordinary Time
Covid-19 Restrictions - Monday, 17th May
The next projected easing of restrictions is scheduled for 17th May. How this will affect us here in Church will be a matter of Guidance from Bishop Mark, the Bishops' Conference of England and Wales and the Government. Watch this space, everyone! Meanwhile, why not come along to Pope Francis' call for the Rosary to pray for the end of this pandemic, every evening during May, 6.30 pm in the Front Garden? Great to see you all there!
Pope Francis's call for the Rosary During May
Pope Francis specifically calls for the praying of the Rosary across the world during the month of May. In the Holy Father's vision this worldwide chain of prayer will proceed from the Marian shrines of the world. Our own national shrine of Our Lady at Walsingham was given a pre-eminent place following the Vatican on the first day of May.
Here at St Werburgh's?
There's been a great response for the first week, with twenty of gathered on Friday night, 7th May. Every Evening in May at 6.30 pm in the Front Garden for 20 minutes. Come and join us! We will pray together for an end to this world-wide pandemic. I'd like to think that everyone would come along for at least one of these Rosaries!
Bed on Offer
Single 3 ft divan bed and mattress in good condition available free to any family who can use it. Please contact the SVP on 07775781204 or svpchester@gmail.com
Kitchen Tables, Playpen, Encyclopaedias...
Good homes wanted! A parishioner has two nice kitchen tables, a good playpen and a quality set of the Encyclopaedia Britannica to donate FREE to any family that could use them. I've photos if you'd like them. Interested in any of them? Let FP know.
Photo of the Week: Televised Mass
From St Werburgh's, Sunday 1st May 1960. Interesting to see where the organ was, and the Choir Boys, on raised tiers?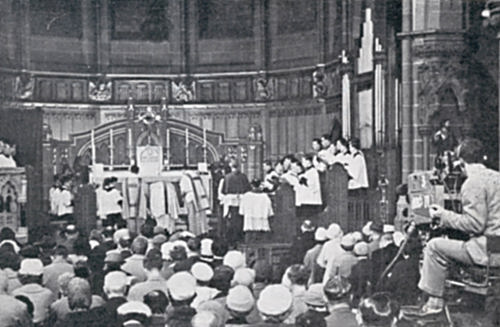 Zoom Talk Taylor's Boatyard
Wednesday 12th May at 7.30 pm
Our good friend Geoff Taylor will be telling the story of his boatbuilding family, concentrating on the Chester Canal and the River Dee with some fascinating photographs and video footage. Geoff has done a number of Heritage Walks and tours for us and had more planned for this year. But Covid-19 overtook these plans, as so much else. So, a Zoom talk and tour instead! Do come and join us, 7.30 pm on Tuesday, 12th May. Contact FP for the Zoom Link, and we'll have a fascinating hour together. Finishing with a Zoom Pint in Telford's Warehouse. (We wish.)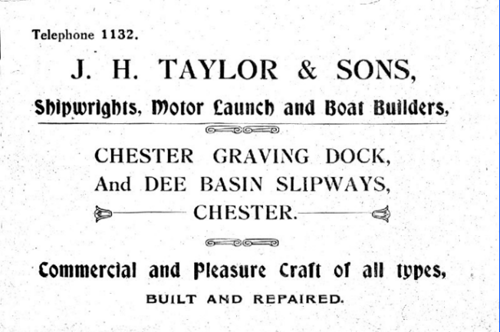 Apologies for the mistake in the date previously - it's Wednesday 12th May, not Tuesday! Olive from Orford's fault - I told her it was Wednesday...
Poor Clares Fundraising
As you all remember, the Poor Clares left Hawarden two years ago to move in with the Nottingham community. Now they are needing to raise funds for work on their house there. They write:
We are doing a virtual pilgrimage to Walsingham (round the Garden). Our sisters are walking from Nottingham to Walsingham in pairs, 16,000 steps per pair, per day for the month of May. This is because our dear home in Nottingham has rather a lot of woodworm in the floor boards, holes in the roof, fungus on the ceilings, rusty pipes, eccentric electrics, defective heating and there are cracked sewers under the floorboard, which are full of woodworms... So like St Francis of old we are going to have to rebuild - and it will take more than we have... If you would like to help our sisters, please go to our rebuilding blog www.nottsnuns.co.uk to sponsor a nun...
Annual Financial Returns 2020-21
Sent off to the Diocese last week. Phew! Hearty thanks to Finance Team for sweating over this one. It was good to hear we were one of the first Parishes in: Billericay and Sunderland South eat your hearts out! What a year it was ... but then that was true for every organisation doing accounts. Income was right down, but so was Expenditure. Normally, we aim for Annual Income of about £120,000 and Annual Expenditure of around £100,000. This year, Income was down to £87,243 but Expenditure was also down, to £62,257. So, the Operating Surplus this year was £24,986, very much in line with normal expectations. A huge thanks to everyone whose generosity in these difficult times has kept HMS Werbie afloat. We owe you a huge debt of gratitude.