Parish Newsletter
SUNDAY 30th MAY: THE MOST HOLY TRINITY (YEAR B)
Liturgical
Deuteronomy 4, 32-40; Psalm 32; Romans 8, 14-17; Matthew 28, 16-20
9.00 am: St Werburgh's: Alex Barnes
10.00 am: St Werburgh's: Trudy Axon (7th Anniversary)
11.00 am: St Werburgh's: Mick Fields (7th Anniversary)
12.00 noon: St Werburgh's: Harry Teague (7th Anniversary)

Monday 31st May: The Visitation of the BVM: Zephaniah 3, 14-18; Psalm Isaiah 12; Luke 1, 39-56
Fr Paul's Private Mass Intention today: Terry Collier (4th Anniversary)

Tuesday 1st June: St Justin: Tobit 2, 9-14; Psalm 111; Mark 12, 13-17
Fr Paul's Private Mass Intention today: Intentions of Margaret and Reg

Wednesday 2nd June: Ferial: Tobit 3, 1-17; Psalm 24; Mark 12, 18-27
Fr Paul's Private Mass Intention today: Intentions of the Brennan Family

Thursday 3rd June: St Charles Lwanga & Companions: Tobit 6,10 – 8,9; Psalm 127; Mark 12, 28-34
Fr Paul's Private Mass Intention today: Special Intention (G)

Friday 4th June: Ferial: Tobit 11, 5-17; Psalm 145; Mark 12, 35-37
3.20 pm: Blacon: Funeral Service for Joan Cooper, late of Walnut Close, Upton
Fr Paul's Private Mass Intention today: Intentions of Christine Lawton

Saturday 5th June: St Boniface: Tobit 12, 1-20; Psalm Tobit 13; Mark 12, 38-44
Fr Paul's Private Mass Intention today: Mr Ferguson (L.D., Co Mayo)

SUNDAY 6th JUNE: MOST HOLY BODY AND BLOOD OF CHRIST: CORPUS CHRISTI (YEAR B)
Exodus 24, 3-8; Psalm 115; Hebrews 9, 11-15; Mark 14, 12-26
9.00 am: St Werburgh's: Austin Tighe (1st Anniversary)
10.00 am: St Werburgh's: Frank Vitelli (Birthday Remembrance)
11.00 am: St Werburgh's: Stan Hughes (23rd Anniversary)
12.00 noon: St Werburgh's: Terry Collier (4th Anniversary)
Prayer intentions
Your prayers are asked for the following who are sick: John McMahon, James Convey, Pauline and Bill Hackett, Laura Chadwick, Elisabeth, Stuart Clark, Keith Hayes, Sheila Winder, Joe and Ruth O'Kane, Garth Stocking and Kevin Maguire; and for all the sick of the Parish; and for those who have died recently, especially Joan Cooper, Joan Eaken and Colin Edwards; and for those whose anniversaries occur about this time: Henry Friend, Winnie Micklethwaite, Tony Whelligan, Frederick Morton, Peter Pickering, James Burke, Margaret McKeegan, Mary Harris, Agnes Moore, Kath McAlea, Des Sloan, William Macauley, Michael Banks, Brenda Wallace, Joseph McCoy and Kevin Scanlan. May They All Rest in Peace.
Parish events
Pressure at Masses on Sundays
Better in recent weeks, with a more even distribution between the four Masses. Please remember that 9.00 and 11.00 are the two most popular. To be sure of a place at any of the Masses, please arrive in plenty of time. Thanks, everyone!
Upcoming Dates - End of Eastertide
Sunday 30th May - Trinity Sunday
Sunday 6th June - Corpus Christi
Sunday 13th June - 11th Sunday in Ordinary Time
Pope Francis's call for the Rosary During May
Pope Francis specifically calls for the praying of the Rosary across the world during the month of May. In the Holy Father's vision this worldwide chain of prayer will proceed from the Marian shrines of the world. Our own national shrine of Our Lady at Walsingham has been given a pre-eminent place following the Vatican on the first day of May.
Final Few Days Here at St Werburgh's!
Two more days to go, finishing Monday 31st at 6.30 pm. There's been a fantastic response, and everyone seems to have loved gathering together for these twenty minutes each evening, to pray together for the end of this pandemic and also to have five minutes of meeting each other, hearing each other's news, and just generally feeling a little less isolated in these horrible lockdown days. I'd love to think that every parishioner would have come at least once, as a witness to the power of prayer in these difficult times - not least to the curious car drivers as they crawl past!
Peter Kelly R.I.P.
Good to be able to support Cathy, Head at our High School, at her father's funeral last Monday over in St Bede's Widnes. Please do continue to keep her family in your prayers. It was good, while I was there to hear how Liverpool Archdiocese have been coping with this Covid-19 situation. And to see the other half of Widnes, of course...
World Day of Prayer: Friday 25th June
This very popular annual event is coming again soon. It used to be called the Women's World Day of Prayer and then someone abolished women. Not to worry, come along anyway: Christ Church Newtown (where my kid brother Graham is the Vicar). Just by the Fire Station and Salvation Army in Newtown. Friday 25th June at 10.30 am. Good to see you all there! We've hosted this service more than once here at the Werbies, as it goes round the churches of Chester each year. If you've never been to Christ Church, it's one of the most interesting churches in Chester, its old school now the Little Theatre.
Photo of the Week: St Werburgh's Infants 1978
Christmas 1978, here in church rather than in school to accommodate such a large audience of parents and friends. Oh, my stars, don't they look young and innocent! And then they grow up. I do wish they wouldn't. Any names to any faces, please? And do please keep sending photos in.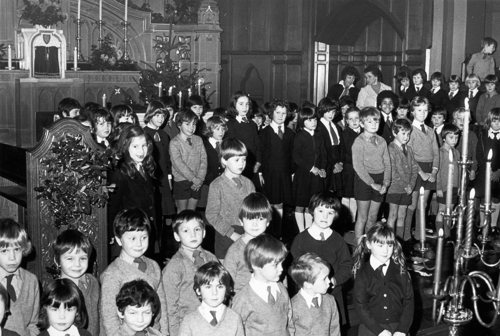 Bishop Mark's Pastoral Letter for Trinity
Please pick up your copy as you leave church.
SVP Project Planning Application: Help Needed
The SVP nationally are exploring the possibility of having a centre in Birkenhead. Negotiations for the grant of the lease are ongoing and it will be necessary to make a planning application for change of use. The team who are working to get the project off the ground are seeking someone with experience of CAD who may be able to draw plans of the existing building to assist in submitting a planning application for change of use so the building can offer the provision of food and training. Anyone who could assist in drawing up the building plans please contact Rose Mullarkey on 07905 952798 or any SVP Member.
Diocesan Pilgrimage to Lourdes
Message from Lucy Walsh, Secretary Shrewsbury Lourdes Hospitality:
The next meeting of the Shrewsbury Lourdes Hospitality will be held next Saturday, 5th June at 10.30 am via Zoom. You can also call in if you do not have access to Zoom. Please send any requests for the password, apologies or items for the agenda to secretary@teamshrewsbury.co.uk or text/call 07451 249267. Please pass on these details to any hospitality members who may be interested.
Chester Fair Trade Shop - Wesley Methodists
After being closed since Christmas Eve 2020 we are delighted to be able to announce that Chester's only dedicated Fair Trade shop will re-open for business on Tuesday 18th May. Located at the Wesley Methodist Church Centre in St John's Street we will initially open from 11.00 am - 2.00 pm, Tuesday to Saturday inclusive, but hope to be able to open for more hours before too long. We would of course love to have your custom, but also very happy for you to call in to say hello and have a look at the wide range of goods we can offer. All of them supporting the principles of fair trade and benefiting producers, farmers and artisans around the world with a fair deal. You could also combine your visit with the chance to stop for a drink and snack in Wesley's Coffee shop which is also reopening the same day.
Poor Clares Fundraising
As you all remember, the Poor Clares left Hawarden two years ago to move in with the Nottingham community. Now they are needing to raise funds for work on their house there. They write:
We are doing a virtual pilgrimage to Walsingham (round the Garden). Our sisters are walking from Nottingham to Walsingham in pairs, 16,000 steps per pair, per day for the month of May. This is because our dear home in Nottingham has rather a lot of woodworm in the floorboards, holes in the roof, fungus on the ceilings, rusty pipes, eccentric electrics, defective heating and there are cracked sewers under the floorboard, which are full of woodworms... Like St Francis of old we are going to have to rebuild - and it will take more than we have... If you would like to help our sisters, please go to our rebuilding blog www.nottsnuns.co.uk to sponsor a nun...