Parish Newsletter
SUNDAY 14th NOVEMBER: 33rd SUNDAY IN ORDINARY TIME – REMEMBRANCE DAY (YEAR B)
Liturgical
Daniel 12, 1-13; Psalm 15; Hebrews 10, 11-18; Mark 13, 24-32
6.00 pm Saturday: St Werburgh's: Deceased Members of the Noone and Cummins Family
9.00 am: St Werburgh's: Anne Dudley (Anniversary 2012)
10.45 am: St Werburgh's: Alex Barnes (Birthday Remembrance)
1.00 pm: St Werburgh's: Baptism of Ava Rose Ramsdale
6.00 pm: St Werburgh's: Sheila Tatler (3rd Anniversary)
Monday 15th November: Ferial: I Maccabees I, 10-64; Psalm 118; Luke 18, 35-43
12.15 pm: St Werburgh's: Paddy McCaffrey (L.D.)
1.10 pm: University Chapel: University Mass – All Welcome.
Tuesday 16th November: Ferial: II Maccabees 6, 18-31; Psalm 3; Luke 19, 1-10
12.15 pm: St Werburgh's: Marjorie Vickers (L.D.)
1.20 pm: Blacon: Funeral Service for Anne Jones, late of St Oswald's
Wednesday 17th November: Ferial: II Maccabees 7, 1-31; Psalm 16; Luke 19, 11-28
12.15 pm: St Werburgh's: Pauline Hackett (L.D.)
Thursday 18th November: Ferial: I Maccabees 2, 15-29; Psalm 49; Luke 19, 41-44
12.15 pm: St Werburgh's: Neil Longridge (L.D.)
Friday 19th November: Ferial: I Maccabees 4, 36-59; Psalm I Chronicles 29; Luke 19, 45-48
12.15 pm: St Werburgh's: Mary (Mame) Daly (L.D., Ireland)
1.10 pm: High School: Voluntary Mass for Pupils and Teachers
Saturday 20th November: Ferial: I Maccabees 6, 1-13; Psalm 9; Luke 20, 27-40
9.00 – 10.00 am: St Werburgh's: Confessions
12.00 noon: St Werburgh's: Wedding Service for Clare Duke and Luke Hobson
6.00 pm: St Werburgh's: Special Intention (GS and St Saviour's)

SUNDAY 21st NOVEMBER: 34th SUNDAY IN ORDINARY TIME – CHRIST THE KING (YEAR B)
Daniel 7, 13-14; Psalm 92; Apocalypse 1, 5-8; John 18, 33-37
6.00 pm Saturday: St Werburgh's: Special Intention (GS and St Saviour's)
9.00 am: St Werburgh's: Deceased Members of the Boulton and Fazey Families
10.45 am: St Werburgh's: Tony Mayers (Anniversary)
2.00 – 4.00 pm: Blacon: Blessing of Graves
6.00 pm: St Werburgh's: Pasquale Deponeo (Anniversary)
Prayer Intentions
Your prayers are asked for the following who are sick: Brian Boardman Jnr, John McMahon, James Convey, Bill Hackett, Laura Chadwick, Elisabeth, Stuart Clark, Keith Hayes, Ruth O'Kane, Garth Stocking and Kevin Maguire and for all the sick of the Parish; and for those who have died recently, especially Cath Haslam, Marjorie Vickers, Patrick MacDonald and Anne Jones; and for those whose anniversaries occur about this time: Nevil Gooch, Thomas Burrows, Sally Stanton, Cherry Pateman, Roy Galland, Amelia Callaghan, Michael Hayward, Fred Best, Veronica Evans, Eric Tasker, John Owens, Mary Anderson, Dorothy Colley, John Doidge, Gary O'Reilly, Peter Croft, Baby Ella Louise, Tony Fields, Leigh Johnson and Mary Hatton.
May They All Rest in Peace.
Parish events
Remembrance Sunday 2021
This year, with the withdrawal of American and British troops from Afghanistan in August, I thought it would be appropriate to pay tribute to the two British servicemen who lost their lives in that conflict from our "Home Regiments" in the Dale Barracks. Whichever regiment is stationed there, St Werburgh's offers Chaplaincy support, and it has been an immensely important of our life together. Captain Stephen Healey and Corporal Michael Thacker have been honoured in our War Memorial Chapel ever since they made the final sacrifice.
Captain Stephen James Healey, 1st Battalion the Royal Welsh, was born in Cardiff on 19th September 1982. Football mad as a boy, he played professionally for Swansea City, even though his teachers wanted him to continue his education. When his playing career ended, he did just that, gaining a place at Swansea University. While there, he decided on a career in the army, going on to Sandhurst after graduation in 2007. The 1st Battalion Royal Welsh was deployed to Helmand Province in 2009. He survived one massive IED attack in January 2010. Back home on leave, he led a charity run from Chester to Cardiff (224 miles) for the Army Benevolent Fund. He was redeployed to Helmand in March 2012. 78 days into the tour, he was blown up by a second IED attack and killed. His funeral, with full military honours, was at St Cadoc's Catholic Church, Llanrumney. He left behind his father John, mother Kerry, brother Simon and girlfriend Thea.
Corporal Michael Thacker was born in Swindon on 12th February 1985. He joined the 1st Battalion the Royal Welsh on leaving school. He served on one tour in Iraq and two in Afghanistan. He was part of the Fire Support Group in Helmand when he was hit by small arms fire and killed, on 1st June 2012. He left behind his wife Catherine, two-year-old daughter Millie, father David, mother Alison, and brothers Matthew, Mark and Ashley.
457 British Servicemen lost their lives in the 20 years of the Afghanistan deployments. Somebody's son, somebody's brother or sister, somebody's husband, somebody's dad. For Stephen and Michael, while they were at the Dale, they were our Parishioners. May they both rest in peace.
CathSoc Starts Up Again Sunday Night!!
Sunday evenings, straight after 6.00 pm Mass:
14th November: Advent Candle – Faith
21st November: Advent Candle – Joy
28th November: Advent Candle – Peace
5th December: Christmas Quiz
12th December: Christmas Supper Together
If you're a student at Chester or any other University, and over 18, we'd love to welcome you.
Covid-19 and Standing at the Back
Please, everyone: to keep us all Covid safe, could everyone SIT for Mass, and not stand at the back? That'll prevent congestion during Holy Communion.
Readers at Mass
Lots of wolunteers for 9.00 am, but how about 10.45 or 6.,00 pm? Come on, chaps! (Chapesses?)

Day by Day and Sacred Heart Messenger
Advent Day by Days (£1) and November and December Sacred Heart Messengers (£1.50 each) both on sale at the back of church.
Reg Snow Reception into Catholic Church
Next Sunday, 21st November, another joyous day for St Werburgh's as we welcome Reg, our sparkling 93-year-old, into the Catholic Church. It's been a joy instructing him, and he is immensely welcome into the family of St Werburgh's. Never too late to become a Werbie!!!
Celia Murphy Memorial Mass
Celia's family wished to hold a small, private Funeral, but are delighted that we can also have a much bigger, public Memorial Mass for her here in St Werburgh's. Tuesday, 30th November at 12.00 noon. We will be using all the hymns and readings that Celia herself chose for her funeral. Everyone very warmly invited to attend.
October/November Mass Count 2021
25/26 September: 369; 2/3 October: 372
9/10 October: 380; 16/17 October: 399
23/24 October: 414; 30/31 October: 383
6/7 November: 413
Remembrance Day Concert Here Friday 12th Nov
Many thanks to Alex and the Cathedral Nave Choir for a super concert of choral and organ music. Great to be open again for Concerts and Recitals!
Blessing of Graves at Blacon and Overleigh
Sunday 21st November at Blacon, the following Sunday, 28th, at Overleigh, 2.00-4.00 pm each afternoon. Just turn up! At Overleigh, I will begin in the older side (on the right as you drive towards the Overleigh Roundabout) at 2.00 pm and move over to the newer side at 3.00 pm.
Mass of the Holy Souls Monday 29th November
7.30 pm, when every name in our Holy Souls Book will be read out and you are invited if you wish to come forward and light a candle in their memory.
Holy Souls Book: Last Chance This Week
The book is updated every week during November: the cut-off point for each update is Thursday evening. Final Edition: next Sunday, 21st Nov.
Parish Diary: From Now to New Year
Please find your copy inside the Newsletter today.
Repository: Bottle Bags Sale
Christmas Cards, Advent Calendars and Candles, porcelain crosses, photo frames, candles, rosaries, Guardian Angels and cards galore! Plus, today, a special Sale of Second Hand (pre-loved?) Bottle Bags. 3 for a £1!! When they're gone, they're gone.
First Holy Communion Meeting: Monday 7.00 pm
Primary School, both Groups, just parents. See you!
Donations in Memory of Cath Blucher
An amazing total of £2,800 was donated, to be divided between Parkinson's, Dementia, the Heart Foundation and the Hospice. Thanks, everyone!
Photo of the Week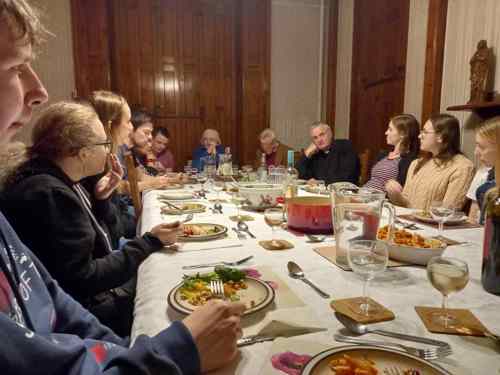 CathSoc Shared Table Supper FP wondering if anyone is going to pass down that bottle of red wine… (They did. Eventually.)