Parish Newsletter
SUNDAY 9th JANUARY: THE BAPTISM OF THE LORD (YEAR C)
Liturgical
Isaiah 40, 1-11; Psalm 103; Titus 2,11 – 3,7; Luke 3, 15-22
Saturday 6.00 pm: St Werburgh's: Sarah Campbell – Thanksgiving for Safe Delivery of Baby Boy
9.00 am: St Werburgh's: Alex Barnes
10.45 am: St Werburgh's: Nancy Mansfield (1st Anniversary)
6.00 pm: St Werburgh's: Kevin Rooney (L.D., Enniskillen)
Monday 10th January: Ferial: I Samuel I, 1-8; Psalm 115; Mark 1, 14-20
12.15 pm: St Werburgh's: John Haslam
1.10 pm: University Chapel: University Mass – All Welcome.
Tuesday 11th January: Ferial: I Samuel 1, 9-20; Psalm I Samuel 2; Mark 1, 21-28
12.15 pm: St Werburgh's: Paul Lawton (Birthday Remembrance)
Wednesday 12th January: Ferial: I Samuel 3, 1-20; Psalm 39; Mark 1, 29-39
12.15 pm: St Werburgh's: Anne Teague (2nd Anniversary)
Thursday 13th January: Ferial: I Samuel 4, 1-11; Psalm 43; Mark 1, 40-45
12.15 pm: St Werburgh's: Special Intention (GS)
Friday 14th January: Ferial: I Samuel 8, 4-22; Psalm 88; Mark 2, 1-12
12.15 pm: St Werburgh's: Special Intention (E McL)
1.05 pm: High School: Catholic High School Weekly Voluntary Mass
Saturday 15th January: Ferial: I Samuel 9,1 – 10,1; Psalm 20; Mark 2, 13-17
10.30- 12.00 noon: St Werburgh's: Confessions
6.00 pm: St Werburgh's: Tony McDevitt (L.D., Neston)
SUNDAY 16th JANUARY: SECOND SUNDAY IN ORDINARY TIME (YEAR C)
Isaiah 62, 1-5; Psalm 95; I Corinthians 12, 4-11; John 2, 1-11
Saturday 6.00 pm: Tony McDevitt (L.D., Neston)
9.00 am: St Werburgh's: Mary Regan
10.45 am: St Werburgh's: The Butcher Family
6.00 pm: St Werburgh's: Ryoichi Iwasaki (Anniversary, Japan)
Prayer Intentions
Your prayers are asked for the following who are sick: Duncan Steele, Brian Boardman Jnr, John McMahon, James Convey, Bill Hackett, Laura Chadwick, Elisabeth, Stuart Clark, Keith Hayes, Ruth O'Kane, Garth Stocking and Kevin Maguire and for all the sick of the Parish; and for those who have died recently, especially Joyce Garner, Anne Blythin, Jennifer Brantley, Tony Kane and Madge McGrath; and for those whose anniversaries occur about this time: Jane Butcher, Mary Smith, Barbara Stoppard, Beatrice Holding, Rose Hughes, Gerard Melia, George Kirby, Kath Lewis, Ellen Milner, Winifred Larkin, Maureen Hodges, Bridget Murphy, Mary Moran, Agnes Martin, Michael Kimpton, Alethea Griffin, John Beatty, Jerry McCann, Veronica Clyne, Brida Stanton,
Eric Roberts, Marion Dowdall, Rocky Donnelly, Jo McCann, Patrick Nicholson, Christine Andrews, Sheila Norman, David Roberts, Mary Rowlands, Gwynneth Power, Constance Ridgway, Kathleen O'Brien and Beryl Deacon.
May They All Rest in Peace.
Parish events
Covid-19: Where Are We Up to?
And so we bat on into 2022! Arrangements for Masses, Baptisms, Weddings and Funerals seem to be going well: masks compulsory in church unless you have official exemption, and everyone being guided by our Stewards, to whom enormous thanks are due. In terms of Parish Activities, I am leaving the decision about going ahead to the official Organisers. Some have decided to cancel, others to carry on. We had an enormously successful Altar Servers Christmas Meal on Tuesday evening, for example, all Covid-19 precautions taken, and a lovely time had by all, seventeen of our servers enjoying a meal together as a small vote of thanks for all they have done for us over the past year. First Holy Communion preparation is going ahead, with record numbers. CathSoc meets for the first time this Sunday night. Other Parish Groups have decided to cancel forthcoming activities. As I say, the decision is theirs: whatever they decide, to cancel or go ahead, they have my full support, always providing, of course, their plans fit with National Guidelines.
Enormous Thanks to our Stewards!
As another small vote of thanks to our superb Stewards Team, we are having a "Thank You" Meal for you all on Wednesday 19th January. Invitations have been sent to you, and replies coming in well. If you've not RSVP'd yet, can you do so soon?
CAFOD Afghanistan Emergency Appeal
CAFOD is combining efforts with the DEC to launch the Afghanistan Crisis Appeal.  In Afghanistan, 8 million people are on the brink of famine because of drought, collapsing economy, food shortages, conflict, and COVID. CAFOD is supporting sister Caritas agencies to reach communities most in need with food, clean water, and fuel. Let's do all that we can to save lives. You can donate on the CAFOD website: cafod.org.uk/AfghanistanAppeal and please pray for the people of Afghanistan.
Bishops' Conference Christmas Advice
Not feeling well? STOP AT HOME!
Masks now Mandatory in Church
Use the Hand Sanitiser
Make sure buildings are well ventilated
Get jabbed!
Emergency Lights Installation in Church
Almost finished – just one to fix, which they'll do this month. Have you all seen the new lights outside the front door? Quite a difference!   
Day by Day and Sacred Heart Messengers
New editions of our popular little monthly magazines now also on the Newsstand: January and February's Day by Day (£1) and Sacred Heart Messenger for January (£1.50).
End of Christmastide Today, 9th January
The Baptism of the Lord is the official end of Christmastide in the Church. If you haven't made your Crib Offering yet for the Diocesan Children's Society's vital work, it's last chance today!
High School Weekly Voluntary Masses
Resuming this week, Friday lunchtimes at 1.05, I am delighted to say. Well done, High School!
Parish Council Meetings – Three Big Topics
Tuesday 18th January at 7.30 pm
Tuesday 15th February at 7.30 pm
Tuesday 15th March at 7.30 pm
Three big issues we are going to address are the forthcoming Bishops' Synod in Rome in 2023, and the Parish Consultation that precedes that; the future of the Day Chapel; and the possibility of Live-Streaming from St Werburgh's. If you have any other topics you'd like discussed, do please let FP know.
Forthcoming Funerals
Jennifer Brantley: Tuesday 18th January at 11.00 am
Anne Blythin: Friday 21st January at 10.00 am
Anthony Kane: Thursday 27th January at 12.00 noon
(Tony Kane is Sheila Croft's Brother)
Mass Intentions – Popular Times
Always delighted to say Mass for your Intentions. The two Sunday Morning Masses always book up first, and there's a six-to-eight-week queue there. Then the two Evening Masses at the weekend are the next most popular, followed by the Weekday Masses. It's never too early to make your requests for 2022. The Diary for 2023 opens at the beginning of September.
University Mass Re-Starts This Monday
Again, delighted we are able to resume our weekly University Masses, Mondays at 1.10 in the University Chapel. Everyone warmly invited to join our students. If you've never been, why not give it a go?
Wheelchair Access
Big problem at one of the Christmas Masses, a car carelessly parked diagonally right across the way into church, completely blocking any wheelchairs or prams. And we did have two pre-booked wheelchairs turn up, who then had to be manually lifted up the stairs into church. PLEASE think before you park, folks, and if you see any inconsiderate parking, let us know before Mass starts so that an announcement can be made. Thanks, everyone!
The Repository: Closed till End of January
Reopens Sunday 30th January with a PRE-LOVED SALE!
Lots of second-hand piety goods have already come up: if you have any you'd like to donate please give to FP, Paula or Bernice. Thanks, everyone!
Confessions: Back to Old Times
Starting next Saturday, 15th January, Confessions will revert to their old times of 10.30-12.00 noon on a Saturday Morning. As ever, you have the choice of face-to-face or behind the screen.
New Diocesan 2022 Year Books and Ordos
Now arrived. On the Newsstand at the back of church, £5 each.
Photo of the Week: Reception of Shaun Hingston
A reminder of a happy day last Autumn when Shaun was received into the Catholic Church.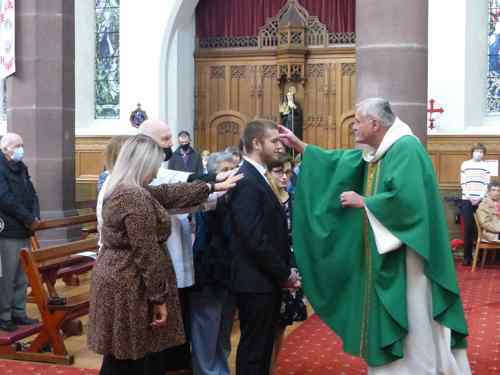 Readers' Rota: Now Up and Running!
Many thanks to all of you who wolunteered to come on the Rota, and for letting us know your unavailable dates. Starting today! Please, everyone, do your very best to keep to the days assigned.