Parish Newsletter
SUNDAY 16th JANUARY: SECOND SUNDAY IN ORDINARY TIME (YEAR C)
Liturgical
Isaiah 62, 1-5; Psalm 95; I Corinthians 12, 4-11; John 2, 1-11
Saturday 6.00 pm: Tony McDevitt (L.D., Neston)
9.00 am: St Werburgh's: Mary Regan
10.45 am: St Werburgh's: The Butcher Family
6.00 pm: St Werburgh's: Ryoichi Iwasaki (Anniversary, Japan)
Monday 17th January: St Anthony of Egypt: I Samuel 15, 16-23; Psalm 49; Mark 2, 18-22
12.15 pm: St Werburgh's: Intentions of Jacob
1.10 pm: University Chapel: University Mass – All Welcome.
Tuesday 18th January: Ferial: I Samuel 16, 1-13; Psalm 88; Mark 2, 23-28
11.00 am: St Werburgh's: Funeral Service for Jennifer Brantley, late of Pipers Lane
12.30 pm: St Werburgh's: Trudy Nowakowska
Wednesday 19th January: Ferial: I Samuel 17, 32-51; Psalm 143; Mark 3, 1-6
12.15 pm: St Werburgh's: Ian Newton (L.D., former Head of St Thomas's Primary School)
Thursday 20th January: Ferial: I Samuel 18,6 – 19,7; Psalm 55; Mark 3, 7-12
8.00 am: St Werburgh's: Special Intention (GS)
Friday 21st January: St Agnes: I Samuel 24, 3-21; Psalm 56; Mark 3, 13-19
10.00 am: St Werburgh's: Requiem Mass for Anne Blythin, late of Beckett's Lane
1.05 pm: High School: Catholic High School Weekly Voluntary Mass
Saturday 22nd January: Ferial: II Samuel 1, 1-27; Psalm 79; Mark 3, 20-21
10.30- 12.00 noon: St Werburgh's: Confessions
12.30 pm: St Werburgh's: Baptism of Arthur Andrew Holleley-Jimenez
6.00 pm: St Werburgh's: Neil Longridge (Birthday Remembrance) and Janet Lynch
SUNDAY 23rd JANUARY: THIRD SUNDAY IN ORDINARY TIME (YEAR C)
Nehemiah 8, 2-10; Psalm 18; I Corinthians 12, 12-30; Luke 1, 1-21
Saturday 6.00 pm: Janet Lynch and Neil Longridge (Birthday Remembrance)
9.00 am: St Werburgh's: Albert Norman (Birthday Remembrance) and Sheila Norman (Anniversary)
10.45 am: St Werburgh's: Mae and Gerald Kay (Anniversaries)
6.00 pm: St Werburgh's: Neil Longridge (Birthday Remembrance) and Janet Lynch
Prayer Intentions
Your prayers are asked for the following who are sick: Duncan Steele, Brian Boardman Jnr, John McMahon, James Convey, Bill Hackett, Laura Chadwick, Elisabeth, Stuart Clark, Keith Hayes, Ruth O'Kane, Garth Stocking and Kevin Maguire and for all the sick of the Parish; and for those who have died recently, especially Anne Blythin, Jennifer Brantley, Tony Kane, Madge McGrath and Debra Larkin; and for those whose anniversaries occur about this time: James Dean, Lawrence Heaney, Kathleen Wilbraham, Arthur Turner, Georgina Barlow, Mary Daly, Phyllis Campbell, Chris Redmond, Richard Bird, Brian Wilding, Margaret Fairhurst, Agnes Scanlon, John Anson, Mae Kay, Margaret Whelan, Douglas Haswell, Annie Burrows, Evelyn Stretch, Sr Christopher, Maria Scott, Sylvia Shaw, Jeremy Newell, Margaret Bates, Ernie Moore, Muriel Wright and Violet Brown.

May They All Rest in Peace.
Parish events
Covid-19: Where Are We Up to?
And so we bat on into 2022! Arrangements for Masses, Baptisms, Weddings and Funerals seem to be going well: masks compulsory in church unless you have official exemption, and everyone being guided by our Stewards, to whom enormous thanks are due. In terms of Parish Activities, I am leaving the decision about going ahead to the official Organisers. Some have decided to cancel, others to carry on. We had an enormously successful Altar Servers Christmas Meal last Tuesday week, for example, all Covid-19 precautions taken, and a lovely time had by all, seventeen of our servers enjoying a meal together as a small vote of thanks for all they have done for us over the past year. First Holy Communion preparation is storming ahead, with record numbers. CathSoc met for the first time last Sunday night. Other Parish Groups have decided to cancel forthcoming activities. As I say, the decision is theirs: whatever they decide, to cancel or go ahead, they have my full support, always providing, of course, their plans fit with National Guidelines.
Enormous Thanks to our Stewards! PARTY
As a small vote of thanks to our superb Stewards, we have invited them all to a Thank You meal at the Coach House on Wednesday next at 6.30 pm. Delighted that 28 of the team are able to join us. Sincere thanks to Lockdown Les and Catalogue Katie for making this possible. See you all there!
CAFOD Afghanistan Emergency Appeal
CAFOD is combining efforts with the DEC to launch the Afghanistan Crisis Appeal. In Afghanistan, 8 million people are on the brink of famine because of drought, collapsing economy, food shortages, conflict, and COVID. CAFOD is supporting sister Caritas agencies to reach communities most in need with food, clean water, and fuel. Let's do all that we can to save lives. You can donate on the CAFOD website: cafod.org.uk/AfghanistanAppeal and please pray for the people of Afghanistan.
Appointment of New University C of E Chaplain
As you probably know, the University of Chester is a Church of England institution, and this summer the Lead Chaplain is retiring. Interviews for his successor are to be next Thursday, and I am delighted that both myself and our CathSoc Prezzie, Madame Barl, have been invited to be part of the process. Hence earlier Mass on that day! Watch for the white smoke.
Biochemistry Work Placement
One of our excellent Catholic High School students wants to study Biochemistry at University and was wondering if anyone can give them a week's Work Experience during the Easter Holidays this year, to strengthen their Uni application. Please let FP know if you might be able to help out.
Christleton Churches Together
We're doing the same as last year for the Week of Prayer for Christian Unity, meeting up by Zoom at 12.00 noon each day, Monday to Thursday:
Monday 17th: St James C of E, Christleton
Tuesday 18th: St Peter's C of E, Waverton
Wednesday 19th: Waverton Evangelical
Thursday 20th: St Werburgh's
Please email FP if you would like the zoom link.
Mince Pies: Best Before 16th January
We've been gifted a number of boxes of Mince Pies which we're offering free to anyone who'd like to take one after Mass this weekend. Entirely free, but there is a bowl there if you'd like to make a donation for CAFOD and Afghanistan.
High School Weekly Voluntary Masses
Resuming last week, Friday lunchtimes at 1.05, I am delighted to say. Well done, High School!
Parish Council Meetings – Three Big Topics
Tuesday 18th January at 7.30 pm
Tuesday 15th February at 7.30 pm
Tuesday 15th March at 7.30 pm
Three big issues we are going to address are the forthcoming Bishops' Synod in Rome in 2023, and the Parish Consultation that precedes that; the future of the Day Chapel; and the possibility of Live-Streaming from St Werburgh's. If you have any other topics you'd like discussed, do please let FP know.
Forthcoming Funerals
Anthony Kane: Thursday 27th January at 12.00 noon (Tony Kane is Sheila Croft's Brother)
Debra Larkin: Thursday 27th Jan, 2.40 pm (Blacon)
Mass Intentions – Popular Times
Always delighted to say Mass for your Intentions. The two Sunday Morning Masses always book up first, and there's a six-to-eight-week queue there. Then the two Evening Masses at the weekend are the next most popular, followed by the Weekday Masses. It's never too early to make your requests for 2022. The Diary for 2023 opens at the beginning of Sep
University Mass Re-Starts on Mondays
Again, delighted we are able to resume our weekly University Masses, Mondays at 1.10 in the University Chapel. Everyone warmly invited to join our students. If you've never been, why not give it a go?
Wheelchair Access
Big problem at one of the Christmas Masses, a car carelessly parked diagonally right across the way into church, completely blocking any wheelchairs or prams. And we did have two pre-booked wheelchairs turn up, who then had to be manually lifted up the stairs into church. PLEASE think before you park, folks, and if you see any inconsiderate parking, let us know before Mass starts so that an announcement can be made. Thanks, everyone!
The Repository: Reopening Soon!
Reopens Sunday 30th January with a PRE-LOVED SALE!
Lots of second-hand piety goods have already come up: if you have any you'd like to donate please give to FP, Paula or Bernice. Thanks, everyone!
Confessions: Back to Old Times
Starting last Saturday, 15th January, Confessions will revert to their old times of 10.30-12.00 noon on a Saturday Morning. As ever, you have the choice of face-to-face or behind the screens.
Photo of the Week: Siena Cathedral
Built in the Thirteenth Century, it's a feast of inlaid marble. Thanks to Nikki for sending it in.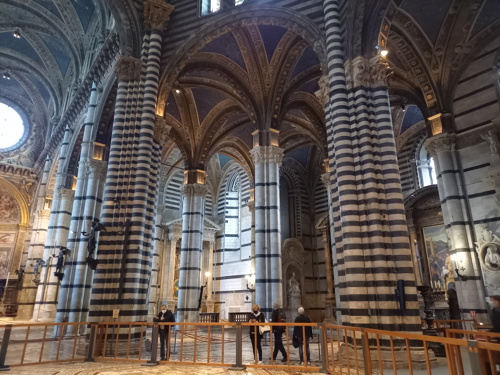 Readers' Rota: Now Up and Running!
Many thanks to all our willing wolunteers!