Parish Newsletter
SUNDAY 21st AUGUST: TWENTY-FIRST SUNDAY IN ORDINARY TIME (YEAR C)
Liturgical
Isaiah 66, 18-21; Psalm 116; Hebrews 12, 5-13; Luke 13, 22-30
Saturday 6.00 pm: St Werburgh's: Tom and Ali Wedding Day Intentions
9.00 am: St Werburgh's: Michelle Mayers (née Byrne) (L.D.)
10.45 am: St Werburgh's: Mrs Kodieck
6.00 pm: St Werburgh's: Celia Murphy (L.D.)
Monday 22nd August: Queenship of the BVM: Isaiah 9, 1-6; Psalm 112; Luke 1, 26-38
12.15 pm: St Werburgh's: Jackie Gander (Custom House)
Tuesday 23rd August: Ferial: II Thessalonians 2, 1-17; Psalm 95; Matthew 23, 23-26
12.15 pm: St Werburgh's: Eileen Waters
Wednesday 24th August: St Bartholomew: Apocalypse 21, 9-14; Psalm 144; John 1, 45-51
12.15 pm: St Werburgh's: Hilda Jones (26th Anniversary)
Thursday 25th August: St Thomas of Hereford: I Corinthians 1, 1-9; Psalm 144; Matthew 24, 42-51
12.15 pm: St Werburgh's: Thanksgiving
Friday 26th August: Ferial: I Corinthians 1, 17-25; Psalm 32; Matthew 25, 1-13
12.15 pm: St Werburgh's: Michael Lawton (Anniversary)
Saturday 27th August: St Monica: I Corinthians 1, 26-31; Psalm 32; Matthew 25, 14-30
10.30 – 12.00 noon: St Werburgh's: Confessions
6.00 pm: St Werburgh's: Francis Wiles (1st Anniversary)
SUNDAY 28th AUGUST: TWENTY-SECOND SUNDAY IN ORDINARY TIME (YEAR C)
Ecclesiasticus 3, 17-29; Psalm 67; Hebrews 12, 18-24; Luke 14, 7-14
Saturday 6.00 pm: St Werburgh's: Francis Wiles 91st Anniversary)
9.00 am: St Werburgh's: Pat and Tony Baxter Golden Wedding Anniversary
10.45 am: St Werburgh's: Intentions of the Missions
6.00 pm: St Werburgh's: Sheila Fields Birthday Remembrance
Prayer Intentions
Your prayers are asked for the following who are sick: John Park, Brian Boardman Jnr, James Convey, Bill Hackett, Laura Chadwick, Stuart Clark, Keith Hayes, Ruth O'Kane, and Kevin Maguire and for all the sick of the Parish; and for those who have died recently, especially Br Adrian Marsh OFMCap, Michelle Mayers (née Byrne), Pat Miller, Bob Flewitt and Ann Parker; and for those whose anniversaries occur about this time: Anne Lynch, Hannah Hill, Doris Kavanagh, Margaret Smith, Pauline Williams, Paddy Power, Chris Galley, Robert Fergus, Canon Vincent Turnbull, Alice Beatty, John Gannon, Elizabeth Sholl, Jean Foster, Bridget Jones, Joe Przeworski and Les Owens. May They All Rest in Peace.
Parish events
FP on Hols: Wednesday 17th – Thursday 1st Sept
Hopefully by the time you're reading this, I'm well settled in my little city-centre apartment in Bologna, and you are all missing me dreadfully. Fat chance of that. Huge thanks to the team who mind the shop while I'm away. Next weekend, we welcome Fr William Hattie from the Xaverian Missionaries, to preach the Annual Mission Appeal. I know you'll make him very welcome and be as generous to the Missions as you always are. Gift Aid envelopes available, and we hold the Appeal open for two or three weeks to allow those of you who are away to make your contribution if you would wish to do so.
Arrangements for 14th September – St Bernadette
Have you booked yet for the afternoon visits? The slots are filling up well now, so don't leave it too late.
Go to the Home Page on our website and click the button "St Bernadette Relics – 14th September". Eight lines down you'll find the link to the National Website. Click that and you'll find a wealth of information. For Booking purposes, click "Registration" on the menu bar at the top of the page. Find the Map Pin for Shrewsbury Diocese (hiding behind Liverpool – cheek!) and that will bring up the two venues, our Cathedral and St Werburgh's. We'll do our best to admit those who haven't booked, but obviously will need to give priority to those who have.
Carmel Kimpton RIP
As you all know, Carmel went Home to the Lord during lockdown, and it was not possible to celebrate her amazing life and faith as we would have wished to have done. So, on Saturday 10th September, at 12.30, we are having a special Memorial Mass, with many members of her extended family able to attend, and to which everyone is warmly invited.
Annual Mission Appeal: 27/28 August
Fr William Hattie from the Xaverian Fathers will be with us for all the Masses and preaching the Annual Mission Appeal. I know you will make him very welcome. Our old friend Fr Colin will also be helping us out this weekend, so the Weekend Masses will be:
Saturday 20th August 6.00 pm: Fr Neill
Sunday 21st August 9.00 am: Fr Colin
Sunday 21st August 10.45 am: Fr Colin
Sunday 21st August: 6.00 pm: Fr Neill
Saturday 27th 6.00 pm: Fr William
Sunday 28th 9.00 am: Fr Neill (Fr William Preaching)
Sunday 28th 10.45 am: Fr William
Sunday 28th 6.00 pm: Fr William
Spring Cleaning (Autumn Cleaning?) the Church
A long time since the church has had a jolly good clean, so Friday morning, 9th September, all welcome at 9.00 am with mops, buckets and hoovers. All ladies, please have your hair up in headscarves à la Hilda Ogden. Elevenses provided half-way through!
Bequest from Mr James Robert Hodson
We were very touched and grateful to learn in the week that we have been left a small Bequest in the will of the late James Robert Hodson. I don't believe I was lucky enough personally to meet Mr Hodson, living in London for a number of years, but I do know he has nieces in this area. If they'd like to make contact, I'd be delighted to thank them personally.
Getting Back to Normal and Autumn Parish Renewal
What does the "New Normal" look like for us as a Parish as the Covid Pandemic starts to recede?
What do we need to pick up again?
What do we pick up again but with changes?
What do we need now to drop?
What do we start that we've never done before?
As with the Synod Consultation in January, we'll be having four Open Parish Meetings to discuss these questions: Tuesdays 27th Sept; 4th, 11th and 18th Oct. Wee looked at the Universal Church in January: now let's put our own Parish under the microscope!
Back to School Special Sale
The SVP has been donated a number of lunch boxes and water bottles that will be on sale at the end of every Mass on the 20th/21st August. The money raised will go to the maintenance of the Holiday Home in Talacre. Come along, everyone, and get your hands on a beautiful set to start the school year in style!
Tony Murphy, Leader Chester Across Group, writes…
"I am back recently from an excellent pilgrimage to Lourdes by Jumbulance. Our sick and disabled pilgrims received great care from a team of nurses and helpers. My next Across Group leaves Chester Thursday 8th September and returns Saturday 17th but, sadly, it will be cancelled unless I attract three new helpers (a nurse or Doctor would be a bonus!) Are there any individuals who might consider it? Must have a GB Passport and be COVID Vaccinated. A contribution to the cost would be appreciated but financial help may be available for those who cannot afford the cost. Thanks in anticipation, Tony Murphy (07881-656-974)"
Next Year's First Sacraments Programme
If you have a child in Year 3 or above who does not attend our Catholic Primary School, please contact Fr Paul, preferably by email. The classes begin in October. Closing date for enrolment is Sunday 4th September '22. A full list of "Names Submitted So Far" is given here, just in case you have sent a name in, and we've missed it.
Harriet Keogh
Thomas Burns
Alice Connolly
Lucia McDaid
Timothy Kusiak
Casper Kusiak
Eric Kusiak
Isabella Ward
Abigail Garner
Edith Willett
Rose Polanczyk
Benedict Penson
Grace Naylor
Alice Allwood
Giulia Armenio
Francesco Armenio
Dougie Marks
Field
Sophia Harris
Gabriella Hughes
Julia Budavari
We believe we've tracked down the "Field" name but would still like confirmation. 4th September the absolute cut-off date, everyone!
Photo of the Week: Furious Concentration!
Whoever said our students don't work hard and strain every intellectual sinew in the pursuit of higher learning? Here we are at the CathSoc Christmas Quiz last December, furrowed brows and intense looks to the fore. And in the foreground (geddit?) more evidence of my 2.00 am starts in the kitchen. I'm here to serve. Thanks for all the wonderful Holiday Pics you've sent in recently for POTW. Thanks, everyone!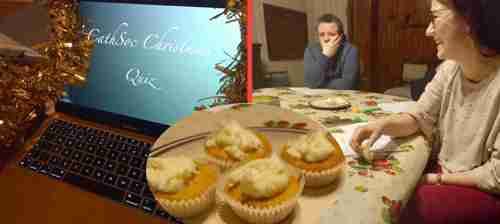 ---
Saint Bernadette Relic Tour 2022
As you know, the relic of Saint Bernadette is visiting England and Wales starting next month.
Canon Chris Matthews, Episcopal Vicar for Worship and Dean of our Cathedral has overall responsibility for organising the visit to our Diocese.
He has written to all Parishes about the programme at both our Cathedral and here at St Werburgh's and I thought I would share the programme with you as it is now emerging.
Fr Paul Shaw
St Werburgh's Church, Chester

Canon Matthews writes:

Dear Fathers, Deacons, Sisters and Parish Secretaries,
The relic will be in our Diocese on Tuesday 13th to Wednesday 14th September and the programme for the visit is as follows:

Tuesday 13th September - Shrewsbury Cathedral
10.30 am to 2.30 pm - Programme for schools organised by SYMT
1.00 pm - Relic arrives at the Cathedral
2.30 pm to 7.00 pm - Public veneration of the relic
7.00 pm - Mass
8.00 pm – 10.00 pm - Public veneration of the relic*
*It is hoped to have an event for young adults in the evening running alongside the public veneration.

Wednesday 14th September - Shrewsbury Cathedral
7.00 am to 9.00 am - Public veneration of the relic
At 9.00 am the relic will leave Shrewsbury Cathedral to travel to St Werburgh's, Chester
Wednesday 14th September - St Werburgh's, Chester
9.30 am to 12 noon - Programme for schools organised by SYMT
10.00 am - Relic arrives at St Werburgh's
12.15 pm - Mass
1.00 pm to 4.00 pm - Public veneration of the relic

Although not essential, we are strongly encouraging all those who want to venerate the relic to book a time via the national website http://www.stbernadette.org.uk This is to reduce the amount of time people may have to queue outside. We would also encourage parishes or LMA's to join together in organising transport and booking group slots for the veneration.

During the public veneration Confessions will be available, as will times of prayer.

The Masses at The Cathedral and St Werburgh's are open to all but will be on a first come basis until the capacity of the church has been reached, when we will then have to stop admission. Both Masses will hopefully be live streamed and more details of this will follow.

I am delighted we are able to offer a programme for our young people in our schools and we are grateful to Sandy Fairley and the SYMT for making this possible; we have had a phenomenal response so far from our schools.

Resources to help us to prepare for the visit are being produced and will hopefully be sent to parishes in time for the beginning of September; these will also be made available on the Diocesan website. Resources for schools are also being produced.

If you have any questions or queries, please contact the Cathedral Office: Tel 01743 290000 or email admin@shrewsburycathedral.co.uk
With every good wish,

Canon Christopher Matthews

Very Reverend Christopher Canon Matthews ChLJ BA (Hons) MA
Episcopal Vicar for Worship
Cathedral Dean