Parish Newsletter
SUNDAY 2nd OCTOBER: TWENTY-SEVENTH SUNDAY IN ORDINARY TIME (YEAR C)
Liturgical
Habakkuk 1,2 – 2,4; Psalm 94; II Timothy 1, 6-14; Luke 17, 5-10
Saturday 6.00 pm: St Werburgh's: Eddie Maguire (L.D.)
9.00 am: St Werburgh's: Gerard Murphy (L.D., Cork)
10.45 am: St Werburgh's: Luigi Corbetta and Raffaele Abbiati
12.30 pm: St Werburgh's: Baptism of Arthur Charles James Tilling
1.00 pm: St Werburgh's: Baptism of Amber Sylvia Gough
6.00 pm: St Werburgh's: Michelle Mayers (L.D.)
Monday 3rd October: Ferial: Galatians 1, 6-12; Psalm 138; Luke 10, 38-42
12.15 pm: St Werburgh's: Cath Blucher (Birthday Remembrance)
1.10 pm: University Chapel - University Mass. All welcome.
2.15 pm: High School: Mass for Staff followed by Blessing of John McCann Memorial Chapel
Tuesday 4th October: St Francis of Assisi: Galatians 1, 13-24; Psalm 138; Luke 10, 38-42
7.30 am: St Werburgh's: Special Intention - Graham
6.30 pm: St Werburgh's: Launch Meeting for First Holy Communion Parents Group
Wednesday 5th October: St Maria Faustina: Galatians 2, 1-14; Psalm 116; Luke 11, 1-4
12.15 pm: St Werburgh's: John and Vera Clyne
Thursday 6th October: Ferial: Galatians 3, 1-5; Psalm Luke 1; Luke 11, 5-13
7.30 am: St Werburgh's: Daniel Lunt (Birthday Remembrance)
10.30 am: Tattenhall Monthly House Mass – Contact FP for Venue
12.30 pm: St Thomas, Tarporley: Requiem Mass for Marie Proe, late of Tarporley
Friday 7th October: Our Lady of the Rosary: Acts 1, 12-14; Psalm Luke 1; Luke 1, 26-38
12.15 pm: St Werburgh's: John Noone (13th Anniversary)
1.05 pm: High School Weekly Voluntary Mass
4.00 pm: University Chapel: Induction of Rev Gill Reeve as new Lead University Chaplain
Saturday 8th October: Ferial: Galatians 3, 22-29; Psalm 104; Luke 11, 27-28
10.00 - 11.30 am: St Werburgh's: Confessions
12.00 noon: St Werburgh's: Nuptial Mass for Rose Evans and Manuel De La Venta Granda
6.00 pm: St Werburgh's: John and Sarah Collins

SUNDAY 9th OCTOBER: TWENTY-EIGHTH SUNDAY IN ORDINARY TIME (YEAR C)
II Kings 5, 14-17; Psalm 97; II Timothy 2, 8-13; Luke 17, 11-19
Saturday 6.00 pm: St Werburgh's: John and Sarah Collins
9.00 am: St Werburgh's: Marjorie Vickers (1st Anniversary)
10.45 am: St Werburgh's: Terry Vernon (L.D.)
6.00 pm: St Werburgh's: Anne and Martin Evans – Golden Wedding Thanksgiving

Prayer Intentions
Your prayers are asked for the following who are sick: Peter Walker, Jean Barnes, John Park, Brian Boardman Jnr, James Convey, Bill Hackett, Laura Chadwick, Stuart Clark, Keith Hayes, Ruth O'Kane, and Kevin Maguire and for all the sick of the Parish; and for those who have died recently, especially Peter Morgan, Marie Proe and Patricia Ilott; and for those whose anniversaries occur about this time: Patricia Gardner, Grace Wingrove, Babs Thompson, Annie Jones, Winifred Pinnington, William Dancy, Paraskivoulla Sarandis, Kathleen Vickers, William Pegna, Norman Reynolds, Maureen Michael, Betty Madden, Donagh O'Loughlin and Michelle Jennings.
May They All Rest in Peace
Parish events
St Werburgh's "The New Normal"
Off to a flying start last Tuesday. Here are some of the points the various groups came up with:
What do we want to re-start as before? Children's Liturgy at 10.45; Music Group at 10.45 am; music generally at 10.45 (Choir not just at 9.00 am?); Welcomers at all Sunday Masses; Two Sunday Readers at each Sunday Mass.
What do we want to re-start, but with changes? The Liturgy Group, to plans liturgies together; a possible Bereavement Group; Traidcraft stall; Parish CAFOD group; training days for Catechists, possibly Deanery-wide.
What do we want to drop? Catholic newspapers (hardly anyone was buying them).
What do we want to start from scratch? Using the Day Chapel as a great resource; having the church open for longer each day; more Open Parish Meetings, one meeting for one issue; Bible Studies; greater range of Prayer Groups; Live Streaming of Masses; a Young Families Group, plus Mothers and Toddlers; A Divorced and Separated Group; hymns at Holy Communion; parishioners writing and reading Sunday Bidding Prayers; a Green Eco-Friendly Parish Group; a Parish Face Book page; more engagement with Social Media generally; special Sacristans for Weddings and Funerals; keep Communion Stewards, but review their role.
So many super ideas here: do come along next Tuesday at 7.30 pm as we start looking at priorities, and what we should tackle first. PLEASE NOTE: 7.30 (AFTER FHC LAUNCH).
"I'd like to get more involved…"
For me, it was a lightbulb moment when, four weeks into the first re-opening of our church in the pandemic closures, one of our Stewards said to me that this was the first time they'd really felt involved in the life of the Parish, and what a lovely feeling it was. So… Today, as part of the Autumn Renewal Programme, there's a sheet inside every Newsletter inviting you to sign up for any of the 80 or so activities we've listed, and a space at the end for any we've missed! If you'd like to get more involved in anything we do here, we'd love to have you. Sign up and get the form back to us.
Rowton Masses Can Re-Start on Saturday Evenings
Thanks for those who've wolunteered to help run the show – anyone else like to get on board? Then we need to fix a Re-Start Date. Would Saturday 5th November sound sensible? Mass and then a Bonfire…
Welsh Railways Day Out Monday 19th September
If any of you booked on the trip would like a refund rather than wait till next Spring, do please let me know and one will be issued with pleasure.
Marriage Prep – Saturday 1st October, 10.30-4.30 pm
Eight couples came along, all preparing to marry in the months ahead. Please keep them in your prayers.
Missio Envelopes
Available today if you would like to make a contribution for World Mission Sunday.
Induction of Lead University Chaplain on Friday
Rev Gill Reeve will be formally inducted by the Bishop of Chester on Friday: please keep her in your prayers.
Repository: Christmas Goods
Advance notice that our brand-new stock of extremely good value best religious Christmas Cards, will be on sale from Sunday 9th October, including Advent Calendars, Candles and some unusual Nativity gifts. In addition, we have our regular stock of beautiful Sympathy and Thinking of You cards, and don't forget our parish Notelets (10 in pack) are still available at the special price of £2.00 for those last minute gifts!
Free Catenian Rosaries
The Catenians have very kindly re-stocked their box of Free Rosaries at the back of church: please take one, but only if you don't have one already!
Parish Employment Vacancy
A neighbouring parish is looking to employ a new parish Secretary/Book-keeper This is a permanent part-time position, between 10/15 hours per week. The role provides administrative and clerical support to the Parish. Applicants should have a good working knowledge of Microsoft Word and Excel, plus the ability to use accounting software. Duties will include Parish financial matters (using OPAS accounting software); creation and distribution of the weekly Parish Bulletin in both electronic and hard copy formats when resumed; and liaising with and supporting all parish groups and committees. A full job description can be obtained from the Parish and Diocesan websites or the Parish Priest. The ideal candidate will be familiar with the practices of the Catholic Church; however, applicants are welcomed from all denominations.
Interested? See FP for contact details.
Tattenhall Monthly House Mass next Thursday
A great group of Tattenhallers (and waifs and strays from neighbouring villages) get together every First Thursday for Mass. Like to join us? See FP for venue.
SVP Sponsored Walk in Aid of the Holiday Home
Sunday 2nd Oct, starting 13:30 from Parkgate, going to Neston and returning. (Glad they're returning!)
Calling All Students! Come and Join CathSoc!
Are you a student at the University of Chester? Are you a student elsewhere, but living in Chester? Either way, we'd love to hear from you and invite you to be part of our Catholic Student Community. Our main meeting night is Sunday, and this week flyers are available telling you all about us. There are sheets at the back of church for you to give us your details – and we'd love to hear from you!
2022-23 First Sacraments Programme
Launch Meeting: Tuesday 4th October, 6.30 pm
Just parents, please – and for about 45 minutes.
Photo of the Week: St Malachy's Belfast
In Alfred St, a short walk from the City Hall. The third oldest Catholic Church in the city, consecrated in 1844. Thanks, Consilia – and glad you enjoyed Amsterdam!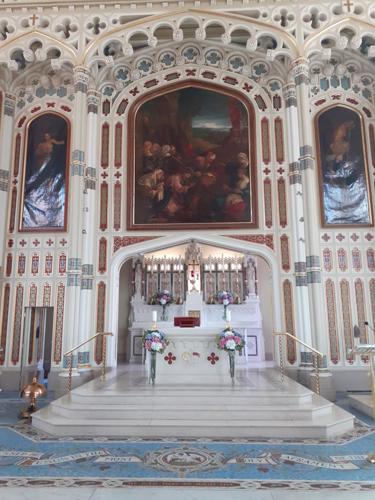 Bequest from Tony Kane – Grateful Thanks
Tony remembered St Werburgh's in his Will, and we are extremely grateful to him. These legacies, large and small, do allow us to do things we wouldn't be able to otherwise. Thanks, Tony!