Parish Newsletter
SUNDAY 31st DECEMBER 2017: THE HOLY FAMILY (YEAR B)
Liturgical
Genesis 15, 1-6; Psalm 104; Colossians 3, 12-21; Luke 2, 22-40
Saturday 6.00 pm: Rowton Methodists: Eileen Law (L.D., Swindon)
Sunday 9.00 am: St Werburgh's: Dot and Pat Williams (Anniversaries)
Sunday 10.45 am: St Werburgh's: Victor Mullally (L.D., Co Kilkenny)
Sunday 6.00 pm: St Werburgh's: Bridget Jennings (1st Anniversary)
Sunday 10.00 pm: St Werburgh's: Exposition of the Blessed Sacrament followed by Midnight Mass
Sunday Midnight: St Werburgh's: Midnight Mass for God's Blessings on 2018

Monday 1st January: Mary, the Mother of God: Numbers 6, 22-27; Ps 66; Galatians 4, 4-7; Luke 2, 16-21
10.00 am: St Werburgh's: For God's Blessings on 2018

Tuesday 2nd January: SS Basil and Gregory: I John 2, 22-28; Psalm 97; John 1, 19-28
8.00 am: Poor Clares Hawarden: Special Intention
10.00 am: St Werburgh's: Finn Abberton RIP

Wednesday 3rd January: Holy Name of Jesus: I John 2,29 – 3,6; Psalm 97; John 1, 29-34
10.00 am: St Werburgh's: Ursula Ratchford (Birthday Remembrance)

Thursday 4th January: Ferial: I John 3, 7-10; Psalm 97; John 1, 35-42
10.00 am: St Werburgh's: Robert Mills

Friday 5th January: Ferial: I John 3, 11-21; Psalm 99; John 1, 43-51
10.00 am: St Werburgh's: Molly and Brendan Hoare (Galway)
3.20 pm: Blacon: Funeral Service for Marie Gilmovitch, late of Hereward Road, Great Boughton

Saturday 6th January: Ferial: I John 5, 5-13; Psalm 147; Mark 1, 7-11
10.00 am: St Werburgh's: Intentions of Ann Murphy (Liverpool)
1.30 pm: St Werburgh's: Baptism of Lillian Esther Cracknell
6.00 pm: Rowton Methodists: Terry Collier and Family

SUNDAY 7th JANUARY: THE EPIPHANY (YEAR B)
Isaiah 60, 1-6; Psalm 71; Ephesians 3, 2-6; Matthew 2, 1-12

Saturday 6.00 pm: Rowton Methodists: Terry Collier and Family
Sunday 9.00 am: St Werburgh's: Paul Lawton (Birthday Remembrance)
Sunday 10.45 am: St Werburgh's: Elizabeth Clarke
Sunday 6.00 pm: St Werburgh's: John and Vera Clyne
Prayer intentions
Your prayers are asked for the following who are sick: Ruth O'Kane, Iris Philp, James Donovan, Garth Stocking, Ann McGowan-Scanlan, Mary Lyons, Kevin Maguire, Christine Davies, Michael Morton; and for all the sick of the Parish; and for those who have died recently, especially Finn Abberton, Joan Baxter, Norah Douglas, Maureen Middleton and Marie Gilmovitch; and for those whose anniversaries occur about this time: Stanley Korn, Anne Weston, Kevin Ford, Tony Larkin, Theresa Sellers, Margaret Davis, Bernard Healey, Patrick Vallely, Florence Ratchford, Joan Hudson, Harry Graham, Mary Hughes, June Stoddart, Meg Ormsby-Knox, Pat Lloyd, Lillian Coathupe, Johann Sheedy, Helen Woodworth, John Winder, Magda Kenworthy, Josephine Page, Margaret Doman, Agnes Cartwright, Mary Walsh, May Hogan, William Costello, Evelyn Weston, David Mooney, Michael Murphy, Ann Carruthers, Ralph Sherwin, Eileen Witter, Geoffrey Hargreaves, Helen Cadden, Robin Francis, John Moore, George Tomlins and Ronald Heveran. RIP.
Parish events
Christmas Masses: Thanks to Everybody
All five Masses, the three on Christmas Eve and the two on Christmas Morning, were packed, with people actually standing at Midnight Mass. A thousand thanks to everyone who made this possible, our wonderful Werbies Army of Helpers.
Christmas Eve Children's Mass: 6.00 pm
One of the most wonderful Masses of the Year. And this time we welcomed to the Crib a lovely Rabbit, a gorgeous Easter Chicken and a terrifying Shark. Quite an effort to keep them apart, as you can imagine. Thanks, parents.
Christmas Presents Thanks
You are so generous to your Parish Priest at Christmas, and it's hugely appreciated. Thank you for all the goodies, the books and tokens, and all the prezzies. Honestly, looking at the quantity of bottles, anyone would think I drank...
Children's Liturgy - Starts Again 14th January
And thanks, Team, for those amazing individual cribs and Baby Jesus's they all took away on the Sunday Morning of Christmas Eve.
St Stephen's Altar Servers Mass
What can I say? Well over twenty of our Servers turned out on 10.00 am, Boxing Day Morning, for a beautiful Mass of Celebration for their Ministry, and the chance to give out Medals and Certificates. Thanks especially to Kris, Samanta and Tom, back from Uni and London for the Hols, and willing to keep serving. And to Simon and Samantha, long graduated, long started earning lots of money to keep their parents in their old age, and faithfully turning out Sunday after Sunday. And none of this would be possible without you-know-who... (Thanks, Gerry!)
Pantomime
51 of us had the night of our lives out at Theatr Clwyd on Thursday, for one of the best Pantos I've seen there for years. Great to take our Altar Servers for their Christmas Treat, and for so many families and friends to join us. Some of us are still trying to dry out! (Oh, yes, we are...)
Countess of Chester Hospital Mass
The regular "First Thursday" Mass will be celebrated on 4th January at 12.15 pm in the Hospital Chapel. For patients/outpatients, staff, families and friends, and the wellbeing of our hospitals, including Bowmere. All are welcome.
Crib Collection: Diocesan Children's Society
And offerings - thanksgiving for our own Christmas and our own children? - will be forwarded to the Children's Society
January 'Day by Day' and Sacred Heart 'Messenger' - On the Newsstand - £1 each
Welcome to St Werburgh's - Anwen Lunt
December 22nd, at 28 weeks, weighing just 1,025 grams - that's 2lb to you and me, Choir - and doing well, up in Arrowe Park. Many congratulations to her very proud parents, Kate and Pete, who have been doing so much for our Great War Plaque Group. Don't worry about being in Hospital, Kate - I'll bring all the work up to you...
Christmas Greetings from Oz and NZ
Thanks, Helen (from Oz) and Harper (from NZ).
"A War-Torn Chester Parish"
On sale again at all Masses this weekend and over Christmas. It's going to sell out soon, so don't be disappointed. Soft Back £10, Hardback £20.
Midnight Mass New Year's Eve
Why not join us this Sunday evening for a quiet time of prayer from 10.00 pm onwards? Exposition, followed by Midnight Mass.
Next CathSoc Meeting: Sunday 14th January
Window-Ledge Christmas Cards
Please look and see if there are any for you - and a second name or initial can help?
Parish Website: We're Live Again
And 'Photo of the Week', one of our most popular features, is up and running once again, with a beautifully topical picture, our Altar Servers Annual Group Picture, Christmas 2017. Thanks, Team.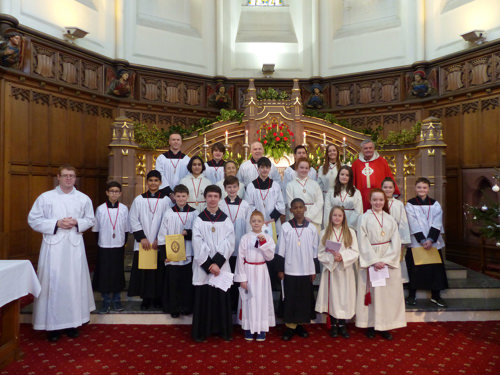 January Shakespeare Reformation Talk
As promised, it will be delivered in full on Friday January 12th: Talk at 7.30 pm, Discussion and Questions at 8.15 pm, Tea and Tab Nabs at 9.00 pm. All welcome.
Week of Prayer for Christian Unity:
Archbishop of York Coming to Chester Cathedral Sunday 21st January 3.30 pm. With his dog collar.
Stop Press: Geoff Taylor BEM
Many congratulations Geoff - richly deserved. For Services to Scouting and the Community.
May They All Rest in Peace
Very sadly, we lost a number of parishioners just before Christmas. As Funeral Arrangements will have to be in January, I thought you would appreciate details now:
Finn Abberton RIP
Funeral Private, please. Mass on Tuesday 2nd January at 10.00 for Finn - all welcome. Then a Thanksgiving Service Friday 19th January 2.00 pm.
Joan Baxter RIP
Requiem Mass: Tuesday 9th January 12.00 noon
Norah Douglas RIP
Funeral: Blacon Wednesday 10th January 1.20 pm
Maureen Middleton RIP
Requiem Mass: Friday 12th January 1.00 pm