Parish Newsletter
SUNDAY 11th MARCH: FOURTH SUNDAY OF LENT: LAETARE SUNDAY (YEAR B)
Liturgical
II Chronicles 36, 14-23; Psalm 136; Ephesians 2, 4-10; John 3, 14-21
Saturday 6.00 pm: Rowton Methodists: Deceased Members of the Boulton and Fazey Families
Sunday 9.00 am: St Werburgh's: Janette Doherty (L.D.)
Sunday 10.45 am: St Werburgh's: Mary Morrison and Family (Ireland)
Sunday 6.00 pm: St Werburgh's: Mick Fields

Monday 12th March: Ferial: Isaiah 65, 17-21; Psalm 29; John 4, 43-54
8.45 am - 10.45 am: Catholic High School, Chester: Lenten Reconciliation Services
12.15 pm: St Werburgh's: John Beatty (Anniversary)
1.05 pm: University Chapel: University Mass - All Welcome!
7.00 pm: St Columba's: Deanery Penitential Service with Individual Confessions

Tuesday 13th March: Ferial: Ezekiel 47, 1-12; Psalm 45; John 5, 1-16
8.00 am: Poor Clares Hawarden: Private Intention
10.00 am: St Werburgh's: Daniel Lunt (6th Anniversary)
12.00 noon: St Mary's Cathedral Wrexham: Requiem Mass for Denise Williams

Wednesday 14th March: Ferial: Isaiah 49, 8-15; Psalm 144; John 5, 17-30
12.15 pm: St Werburgh's: John and Vera Clyne
1.00 pm - 2.30 pm: Catholic High School, Chester: Service for Vocations

Thursday 15th March: Ferial: Exodus 32, 7-14; Psalm 105; John 5, 31-47
9.00 am - 10.30 am: Catholic High School, Ellesmere Port: Lenten Reconciliation Services
11.30 am: St Werburgh's: Maureen Cairns (L.D Tynemouth: Birthday Remembrance)
12.40 pm: Blacon: Funeral Service for Kathleen Ward, late of Orchard Manor N.H.
7.00 pm: Our Lady's Ellesmere Port: Deanery Penitential Service with Individual Confessions

Friday 16th March: Ferial: Wisdom 2, 1-22; Psalm 33; John 7, 1-30
12.45 pm: Ampleforth Abbey Conventual Mass: Intentions of Br Augustine (Belmont)
7.00 pm: St Werburgh's: Lenten Devotions
8.00 pm: St Werburgh's: Pamela Meaden (Birthday Remembrance)
8.30 - 9.00 pm: St Werburgh's: Adoration of the Blessed Sacrament

Saturday 17th March: Saint Patrick: Jeremiah 1, 4-9; Psalm 116; Acts 13, 46-49; Luke 10, 1-12
10.30 am - 12.00 noon: St Werburgh's: Confessions
6.00 pm: Rowton Methodists: Sean Brosnan (L.D., Michigan)

SUNDAY 18th MARCH: FIFTH SUNDAY OF LENT: (YEAR B)
Jeremiah 31, 31-34; Psalm 50; Hebrews 5, 7-9; John 12, 20-33

Saturday 6.00 pm: Rowton Methodists: Sean Brosnan (L.D., Michigan)
Sunday 9.00 am: St Werburgh's: Ken Jones (Birthday Remembrance)
Sunday 10.45 am: St Werburgh's: Margaret Strong (L.D.)
Sunday 6.00 pm: St Werburgh's: Rachael Andrews
Prayer intentions
Your prayers are asked for the following who are sick: Wendy O'Brien, Ruth O'Kane, Iris Philp, James Donovan, Garth Stocking, Ann McGowan-Scanlan, Mary Lyons, Kevin Maguire, Christine Davies, Michael Morton; and for all the sick of the Parish; and for those who have died recently, especially Kathleen Ward; and for those whose anniversaries occur about this time: Bill Allison, Danny Lunt, Carole MacIntyre, May Woolrich, Leonard Creighton, Monica Page, Dennis Byrne, Peter Geoghegan, Becky Banks, Katherine Mayers, Edward Fearon, Geoff Rowley, Helen Fallon, Michael Melia, Edith Painter, Peter Dowd, Elizabeth Lydiate, June Mulcrone, Thomas Patterson, Gerrard Daly, Anthony Astle, Dot Booth, John Shepherd, James Ferneyhough, Sheila Crowther, Patrick Metcalf, Christina Searle, Peter Shepherd, Tom Boulton, Margaret Maddocks and David Crawford-Williams. May They All Rest in Peace
Parish events
Parish Council Meeting: Wednesday at 7.00 pm
Lent Friday Devotions and Stations at 7.00 pm
Thanks, Gerry, for Stations last Friday. Next Friday, CathSoc lead us in a Lenten Devotion.
NW University Chaplains Conference
Great to meet with colleagues on Friday, preparing for the Synod on Youth this autumn, and with a very interesting paper from one of the Jesuit Chaplains at Oxford.
Dickens Productions Coming Up Locally
Great turn-out for NN at Kings and GE at Mold: next is Hard Times at Liverpool Playhouse on Tuesday 27th March. Do sign up and come along!
Christleton CT Mini-Pilgrimages: Thursdays 2.30
Saughall Methodists last Thursday, built in 1862: this Wednesday we are at the Shrine at Holywell. Everyone welcome to join us.
Holy Week Rota for All Ministries
Please sign up for the Services if you're available.
Deanery Lenten Penitential Services
St Columba's, Chester, Monday, 12th March 7.00 - 8.00 pm. Our Lady's, Ellesmere Port, Thursday, 15th March 7.00 - 8.00 pm.
Chester Youth Theatre Club Youth Last Sunday
Many thanks everyone, for a superb production!
Two Diocesan Job Vacancies
(1) Caritas Shrewsbury want an experienced and enthusiastic person as Volunteer Co-ordinator. 28 hrs per week and expected to travel extensively across the Diocese. Contact Claire Griffiths Tel 0151 652 1281; claire.griffiths@caritasshrewsbury.org.uk and caritasshrewsbury.org.uk. Closing date 4/4.
(2) Diocesan Finance Manager: Salary £40,000-£45,000. To support and work closely with the Financial Secretary, with a significant degree of autonomy, to supervise day to day accounting functions and procedures and performance against budgets. http://www.dioceseofshrewsbury.org/about-us/curia/vacancies
Repository Easter Cards and New Stock
Do come and have a look and all the new items!
Next meeting of the Readers' Group
Monday 19th March at 7.00 pm in the Presbytery, looking at Palm Sunday, Easter, and the readings for the following two weeks. All welcome!
Photo of the Week: Churches in Rye, Sussex.
The Church of England church, St Mary's, with a beautiful window. Below: St Anthony of Padua RC Church with gorgeous Stations of the Cross. Sent in by Jane Jackson - many thanks, Jane!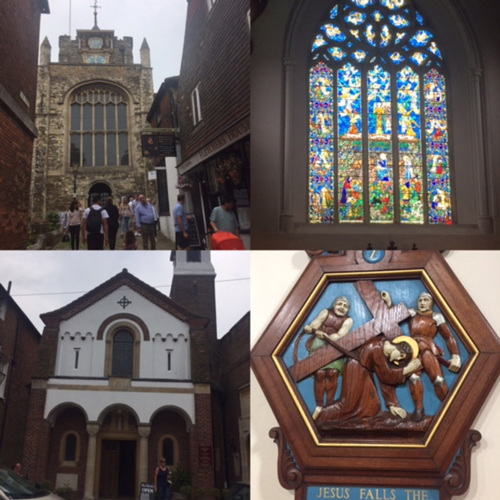 SVP Lenten Service of Reconciliation
For our elderly and housebound: Saturday, 17th March 10.30 am. All welcome to join us at this service when there will be the chance for Confessions. Ring us if you need transport.
A Singing Retreat with Retreat House Chester
'Peace be with You: songs and reflection'. On the theme of peace, for anyone who enjoys singing, inspired by traditions such as Iona and Taize. 17th March 10.30-2.30 Wesley Church Centre. £20 including simple lunch. Booking closes 12 March www.retreathousechester.co.uk or 07514 357427.
Parish Day Out to Cheadle - 21st May 2018
Just FOUR places left!
Three Important Gift Aid Notices
(1) Tax Status: Has It Changed?
If you no longer pay income tax, please let us know by 5th April, otherwise it will be assumed that you have paid sufficient income tax for us to claim Gift Aid on your 2017/18 donations.
(2) Offertory Envelopes 2018-9: Got Them Yet?
Please take them as soon as possible. Thanks!
(3) Joining the Gift Aid Scheme?
If you pay income tax, joining the Gift Aid scheme increases the value of your donations to the Parish at no extra cost to you. If you are interested in joining, see Fr Paul or Denise Jones.
Catholic Women's League Monthly Meeting
Monday 12th March 1.00 pm in St Francis's Parish Hall. Speaker: Kevin Keegan on Walking the Camino to Santiago de Compostella. All welcome
Forthcoming FHC Meetings
Parish Group and their parents meet on Tuesday 13th March at 6.30 pm in the Parish House. Please bring their Preparation Books and pencils.
Parents' Meeting at St Werburgh's and St Columba's School in Lightfoot St on Monday 19th March at 7.00 pm. Please remember to return the slip with the date and Mass time you have chosen for your child's First Holy Communion.
Eucharistic Congress 'Adoremus'
The First National Eucharistic Congress in England and Wales for 110 years is being held in Liverpool, 7th - 9th September 2018. You are warmly invited to attend any part of this three-day event comprising: a Symposium day on Thursday, specifically aimed at teachers, catechists, musicians and clergy; a six-hour stage led event on Friday with keynote speakers Bishop Robert Barron and Cardinal Vincent Nichols, music and drama presentations, prayer and adoration; and concluding Masses on Sunday celebrated at Liverpool Metropolitan Cathedral followed by an outdoor procession. Further details can be accessed from the diocesan website www.dioceseofshrewsbury.org