Parish Newsletter
SUNDAY 25th FEBRUARY 2018: SECOND SUNDAY OF LENT (YEAR B)
Liturgical
Saturday 6.00 pm: Rowton Methodists: Betty Rice (Liverpool)
Sunday 9.00 am: St Werburgh's: Alex Barnes
Sunday 10.45 am: St Werburgh's: Gary Nelson (1st Anniversary)
Sunday 12.30 pm: St Werburgh's: Baptism of Etta Spilsbury
Sunday 6.00 pm: St Werburgh's: Bill and Elsie Wilson

Monday 26th February: Ferial: Daniel 9, 4-10; Psalm 78; Luke 6, 36-38
12.15 pm: St Werburgh's: Hannah Hill (Birthday Remembrance)
1.05 pm: University Chapel - Weekly University Mass - All Welcome!

Tuesday 27th February: Ferial: Isaiah 1, 1-20; Psalm 49; Matthew 23, 1-12
8.00 am: Poor Clares Hawarden: Private Intention
12.15 pm: St Werburgh's: Mary Joyce (Liverpool)

Wednesday 28th February: Ferial: Jeremiah 18, 18-20; Psalm 30; Matthew 20, 17-28
10.40 am: Blacon: Funeral Service for Ray Harper, our late Organist
12.00 noon: St Werburgh's: Requiem Mass for Ray Harper

Thursday 1st March: St David of Wales: Philippians 3, 8-14; Psalm 1; Matthew 5, 13-16
11.00 am: St Werburgh's: Agnes Kasperek (L.D.)
12.15 pm: Countess of Chester Hospital Chapel: Hospital Mass - All Welcome.

Friday 2nd March: Ferial: Genesis 37, 3-28; Psalm 104; Matthew 21, 33-43
12.15 pm: St Werburgh's: Eucharistic Service
12.45: Ampleforth Abbey Conventual Mass: Thanksgiving (MP)
7.00 pm: St Werburgh's: Lenten Devotions
8.00 - 9.00 pm: St Werburgh's: Adoration of the Blessed Sacrament

Saturday 3rd March: Ferial: Micah 7, 14-20; Psalm 102; Luke 15, 1-32
10.30 am - 12.00 noon: St Werburgh's: Confessions
12.30 pm: St Werburgh's: Baptism of Ingrid Smeaton
6.00 pm: Rowton Methodists: Tom Scally (7th Anniversary)

SUNDAY 4th MARCH: THIRD SUNDAY OF LENT (YEAR B)
Exodus 20, 1-17; Psalm 18; I Corinthians 1, 22-25; John 2, 13-25

Saturday 6.00 pm: Rowton Methodists: Tom Scally (7th Anniversary)
Sunday 9.00 am: St Werburgh's: Albert Norman (Anniversary)
Sunday 10.45 am: St Werburgh's: Denis Hickey (Birthday Remembrance)
Sunday 6.00 pm: St Werburgh's: Kevin and Dolores Coriam (Anniversary 1992)
Prayer intentions
Your prayers are asked for the following who are sick: Wendy O'Brien, Ruth O'Kane, Iris Philp, James Donovan, Garth Stocking, Ann McGowan-Scanlan, Mary Lyons, Kevin Maguire, Christine Davies, Michael Morton; and for all the sick of the Parish; and for those who have died recently, especially Ray Harper and Ron Drennan; and for those whose anniversaries occur about this time: William Simmons, Teresa Paterson, Brian Burns, Sally Byrne, Palmino Apollonio, Maureen McCleary, Edward Davies, Mary Margaret Boulton, May Littler, Elizabeth Byrne, Rose Meehan, Monica Higgins, Annie Dodd, Cyril Baxter, Albert Norman, Delia Roberts, Monica Badrock, Pat Cleaver, Edward Crowther, Annie Furnival, Winifred Bird, Mary Shepherd, James Garner, Brian Shaw, Anthony Le Mottee, Edward Cain, Margaret John and Margaret McCluskey. May They All Rest in Peace.
Parish events
Wendy O'Brien
Good news from Martin: Wendy has moved from ICU to High Dependency to a General Ward at Walton and starting to give cheek to the Matron. Well done, Wendy! Next stop will hopefully be COCH and then home. Keep those prayers up!
Lent Friday Devotions and Stations at 7.00 pm
Many thanks to Jean for leading Stations of the Cross last Friday. This coming Friday, 7.00 pm, Neill will lead us all in a Lenten Devotion, followed by Exposition until 9.00 pm.
CathSoc Pilgrimage / Retreat to Ampleforth
A really good four days up with the Monks last week, enjoying very stimulating talks from them each morning, some ridiculously unLenten meals, great walks out each afternoon, and some real peace and quiet. Great visit to the Sisters at Stanbrook on Thursday, and good to have the Wrinklies along. Thanks, everybody! And to those who generously gave us financial support too.
Photo of the Week: Ray and Brenda 50th Wedding
Ray's Funeral is with us here on Wednesday at 12.00 noon, to which everyone is warmly invited. Our Photo shows their Golden Wedding Anniversary, and the Papal Blessing they received on that very happy occasion.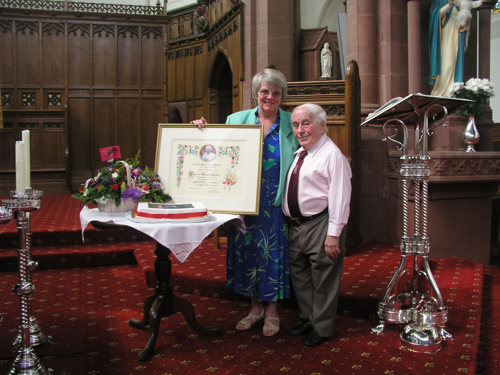 Dickens Productions Coming Up Locally
Fifteen of us are going to Nicholas Nickleby at King's School on Wednesday (28th Feb): I'll be distributing tickets in the foyer beforehand. On Monday evening (26th) here, there's a Talk and Discussion on Dramatising Dickens at 7.00 pm and looking at the other two forthcoming productions: Great Expectations at Theatr Clwyd on Saturday 3rd March and Hard Times at Liverpool Playhouse: Tuesday, 27th March. Not too late to sign up if you'd like to come with us.
Christleton CT Mini-Pilgrimages: Thursdays 2.30
This Thursday afternoon we are at Sisters of Jesus Way, West Kirby: numbers are limited to 30, so please let me have your name if you'd like to come and didn't hand it in last Thursday.
Retired Priests Collection: £1,473.08
Many thanks everyone for your great support.
Hospital Mass This Coming Thursday
The regular "First Thursday" Mass will be celebrated on 1st March at 12.15 pm in the Hospital Chapel. This is for patients/outpatients, staff, families and friends. All welcome.
Women's World Day of Prayer Friday 2nd March
10.30 am at Wesley Methodists. The service this year is prepared by the women of Surinam. All welcome - including chaps!
Access to the Church and House
Thanks, everyone, for all the work you do in our hundred-and-one Parish Activities. If you need to come into the House or Church for any purpose, please let myself or Syd know well in advance - don't just come in because it happens to be open for Mass or whatever. Some groups were in last week that we didn't know about, and one of them left the door open!!
Antique Handrails
We would like to fit antique (Victorian) hand rails to the front door of the House: could you all keep your eyes open for any such that you see for sale?
Holy Week Rota for All Ministries
Now out - and not too early to sign up for the Services where you will be available to help out.
Deanery Lenten Penitential Services
St Columba's, Chester, Monday, 12th March 7.00 - 8.00 pm. Our Lady's, Ellesmere Port, Thursday, 15th March 7.00 - 8.00 pm.
Parish Day Out to Cheadle, Staffs: 21st May
Visiting the glorious Catholic Church of St Giles designed by Pugin in 1846. Get it in your Diaries!
Chester Theatre Club - Youth Theatre
The Man Who Disappeared - The Story of Private Harry Farr. Harry was shot at dawn on 18th October 1916 for "cowardice". The Youth Theatre are presenting a dramatized version of his story here in St Werburgh's, Sunday 4th March at 3.00 pm. Everyone warmly welcome!
SVP Afternoon Tea at the Catholic High School
For all our elderly and housebound friends, Wednesday, 7th March 2.00 pm. Transport will be provided. Contact Parish Office if required!
SVP Lenten Service of Reconciliation
Again, for our elderly and housebound: Saturday, 17th March 10.30 am. All welcome to join us at this service when there will be the chance for Confessions. Ring us if you need transport.
Youth Connect 5
This popular five-week course for parents is running again starting 28th February. Aimed at those looking after children over 8, the course helps parents understand the stresses that young people face and gives practical tools for helping build emotional resilience. 7.00 pm at St Werburgh's and St Columba's Primary School. https://youthconnect5.org.uk/ or 07743704383.
Ron Drennan RIP
Many of you would have known Ron, Evelyn Hughes' brother, a great parishioner at St Anthony's Saltney and a great worker for his local community. He went Home to the Lord yesterday in the Countess. May He Rest in Peace.