Parish Newsletter
SUNDAY 15th OCTOBER 2023: TWENTY-EIGHTH SUNDAY IN ORDINARY TIME (YEAR A)
Liturgical
Isaiah 25, 6-10; Psalm 22; Philippians 4, 12-20; Matthew 22, 1-14
Saturday 6.00 pm: Rowton Methodists: 88th Birthday Intention – Barbara Harrison
Sunday 9.00 am: St Werburgh's: Mary Regan
Sunday 10.45 am: St Werburgh's: Stella Farrell (Anniversary) and Marie Connolly (L.D.)
Sunday 12.30 pm: St Werburgh's: Baptism of Theodore Alessandro Conduct
Sunday 2.30 pm: St Werburgh's: Healing Mass
Sunday 6.00 pm: St Werburgh's: Ken Kilcoyne (L.D.)
Monday 16th October: Ferial: Romans 1, 1-7; Psalm 97; Luke 11, 29-32
11.20 am: Blacon: Funeral Service for Tom Foster, late of Ashwood Court
12.15 pm: St Werburgh's: Bernadette O'Hanlon
1.10 pm: University Chapel: Weekly University Mass – All Welcome
Tuesday 17th October: St Ignatius of Antioch: Romans 1, 16-25; Psalm 18; Luke 11, 37-41
10.00 am: St Werburgh's: Primary School Mass
12.15 pm: St Werburgh's: Thanksgiving for David's New Job
1.20 pm: St Werburgh's: Funeral Service for Paul Woodward
Wednesday 18th October: St Luke, Evangelist: II Timothy 4, 10-17; Psalm 144; Luke 10, 1-9
11.00 am: Grosvenor Manor NH: Service for Residents and Visitors
12.15 pm: St Werburgh's: Thanksgiving for the Roman Unions of the Ursulines' Centenary
Thursday 19th October: St Peter of Alcantara: Malachi 3, 13-20; Psalm 1; Luke 11, 5-13
12.15 pm: St Werburgh's: Ken Kilcoyne (L.D.)
6.30 pm: High School: Year Seven Welcome Mass
Friday 20th October: Ferial: Romans 4, 1-8; Psalm 31; Luke 12, 1-7
12.15 pm: St Werburgh's: Thanksgiving
1.05 pm: High School: Weekly Voluntary Mass
3.20 pm: Blacon: Funeral Service for Audrey McElmeel, late of Upton Dene NH
Saturday 21st October: Ferial: Romans 4, 13-18; Psalm 104; Luke 12, 9-12
10.30 am – 12.00 noon: St Werburgh's: Confessions
6.00 pm: Rowton Methodists: Mildred Hand (L.D., Great Harwood)
SUNDAY 22nd OCTOBER 2023: TWENTY-NINTH SUNDAY IN ORDINARY TIME (YEAR A)
Isaiah 45, 1-6; Psalm 95; I Thessalonians 1, 1-5; Matthew 22, 15-21
Saturday 6.00 pm: Rowton Methodists: Mildred Hand (L.D., Great Harwood)
Sunday 9.00 am: St Werburgh's: John Sebastian Brierley (100th Birthday Remembrance)
Sunday 10.45 am: St Werburgh's: Patrick O'Connell (Anniversary)
Sunday 1.00 pm: St Werburgh's: Baptism of Grace Norah Collins
Sunday 6.00 pm: St Werburgh's: Jessica Baker (L.D.)
Prayer Intentions
Your prayers are asked for the following who are sick: Louise, Wendy O'Brien, Jimmy McCahy, Kath Stanton, Brian Boardman Jnr, James Convey, Bill Hackett, Laura Chadwick, Stuart Clark, Keith Hayes, Ruth O'Kane, and Kevin Maguire and for all the sick of the Parish; and for those who have died recently, especially Tom Foster and Paul Woodward; and for all those whose anniversaries occur about this time: Celia Murphy, Catherine Reade, Beatrice Barlow, Michael Mee, Richard Wright, Joseph Poole, Agnes Hutchinson, Valerie Cummings, Anne Stevenson, William Michael, Barry Champion, Angela Collins, Sheila Gapper, Felix McCarroll, Mary Spence, Charles Gaughran, Ted Lloyd, Thomas McCann, Michael Keeley, Carol Jones, Michael Homfray-Davis, Ellen Daly, Peter Curtis, Norman Blackwell, Paul Healy, Colin Reddy, Mary Abley, David Barratt, Betty Pendlebury, Michael Bretherton, Matt Corcoran and June Lea, Stella Farrell Rest in Peace 
Parish Information and Contacts
SVP: svpchester@gmail.com Countess of Chester Chaplaincy: 01244 364543.
St Werburgh's is part of the Diocese of Shrewsbury: Registered Charity No 234025.
Safeguarding Reps: Liz Aiello (email: elizabeth.aiello20@btinternet.com, tel: 07813743723) and
Chris Proudfoot (email: chrisproudfoot.stwerbughs@btinternet.com, tel; 07711495070)
Parish events
Returning to the Chalice: Your Views Received!
Many thanks to everyone who gave us their views last Sunday: 343 of you, out of a total Mass Attendance last weekend of 480 was 71%. Allowing for children and wizziters, that almost everybody. 41% voted (a): yes, we should restore the Chalice and I personally would receive from it. 33% voted (b): yes, we should restore the Chalice, but I personally would not receive from it. 26% voted (c): we should not restore the Chalice. So, three-quarters of you believe we should return to the Chalice at Sunday Mass, but only forty per cent would receive from it. Really helpful results, as we plan the next stage of our Eucharistic Life together, the heart of our Parish. 
Chester Bach Singers: Concert Here Next Saturday
21st October at 3.00 pm: "Autumn Inspirations" – Duruflé Requiem and a selection of choral works for this time of year from 20th and 21st Century composers. Tickets: £16.00.
2023 Yearbooks and Ordos: Now £3 each
A few of this year's copies left, before the new ones arrive at the start on Advent. So, reduced price, from £5 to £3. What a bargain!
Two Bedroom House in Caldy Valley Available
Still looking for a tenant, it's been recently refurbished to a very high standard, and it's a highly efficient little house, Let FP know if interested – and no, I'm not the Landlord!
Healing Mass: Sunday 15th October, 2.30 pm
"Come to me, all you who labour and are overburdened and I will give you rest" (Matthew 11).
An invitation to pray, meditate and reflect.
Stay and chat after Mass - refreshments will be provided by the SVP.
Newsletter Items
Please: by Thursday each week if you can. Really hard to squeeze them in when  they arrive on Friday! And please head them up "Newsletter" in your emails, so I don't miss them.
"Assemble at Chester Cathedral"
'Can we "Just Stop Oil"?' Join us for the first meeting of our new series tackling the BIG topics in our society with speakers from across the country. Hear debates, ask questions, engage with different points of view, and experience Chester Cathedral in a new way. South Transept, Chester Cathedral
Thursday 26th October, 6.45 pm (Refreshments available from 6.15 pm). Book your free tickets to Assemble at chestercathedral.com
November – Month of the Holy Souls
Not too soon to get those names in for the Holy Souls Book! Please send us emails in the usual way.  
CathSoc Tonight
Great British Bake-Off! All students welcome to come along and find out what it's all about.
Shrewsbury Diocese Catechetical Conference
Saturday 21st October beginning at 10.00 am. 'A Witness of Faith and a Keeper of the Memory of God' will be held at St Columba's Church Hall, presented by the Dominican Sisters of St Joseph and the Mission for Catechesis Team. All catechists from Shrewsbury Diocese are warmly invited to attend. To book please follow:  Shrewsbury Diocese Catechetical Conference Tickets, Sat 21 Oct 2023 at 10:00 | Eventbrite
Fair Trade Autumn Fair
At the Wesley Methodist Church Centre next Saturday 21st October in support of Fair Trade.
2nd Collection Church Students. Result Next Week.
House Mass on Tuesday 24th October
7.00 pm – Many thanks to Liz and Mike for hosting, out at Clotton. Do sign up if you'd like to join us!
Concert Last Friday in St Werburgh's
Concert by the Advent Singers from Malpas. Super music, choral, organ and soloists, and an excellent turn-out. Well done, everyone!
Last Readers' Review Meeting
Monday 23rd October at 7.00 pm
New Readers also very warmly welcome!
Friday 10th November 7.45 pm at St Werburgh's  'Music for a Remembrance and Reflection'
Chester Cathedral Nave Choir will be singing a concert of Remembrance-themed music.
Catholic Enquiry Course 2023-24
Excellent launch, with seven new enquirers signed up so far! Next meeting: Wednesday 25th Oct, 7.00 pm.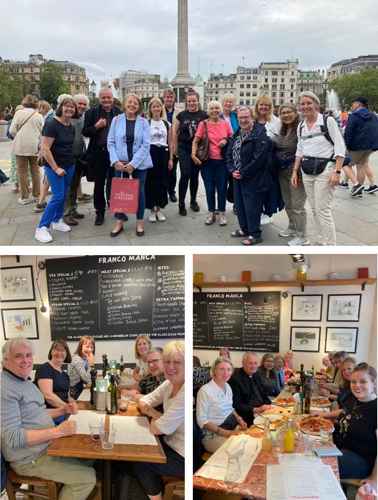 Parish Renewal: This Week's Update
Youth Art: Thanks to " The Judges", Marian Curtis, Judith Done and Gerry Tighe. And thanks for the wonderful entries which are on display in the Day Chapel. Do come along today and see for yourself. You can get to the Day Chapel either through the Sacristy or via the passageway by the organ.
Youth Meeting: after 6.00 pm Mass on Sunday 15th. If you are in years 10 -13 and haven't signed up you are welcome to come. Please sign up at the back of Church or just turn up !
Gardening Wolunteers: Sign up for an hour or so on a Thursday 4.00 pm or just turn up.
Day Chapel: excellent meeting last Wednesday evening, so many first-rate views shared on how this wonderful space can be better utilised. We open the Day Chapel for our first Welcome Wednesday coffee morning on 25th. All welcome!
Photo of the Week: Our Trip to London
Some lovely reminders of our visit to the St Francis Exhibition at the National Gallery in July. Here we are in Trafalgar Square, and then our Bread and Water supper at Franco Manca's afterwards…