Parish Newsletter
SUNDAY 20th JUNE: TWELFTH SUNDAY IN ORDINARY TIME (YEAR B)
Liturgical
Job 3, 1-11; Psalm 106; II Corinthians 5, 14-17; Mark 4, 35-41
9.00 am: St Werburgh's: Pat and Gerry Cummins (55th Wedding Anniversary Remembrance)
10.00 am: St Werburgh's: Intentions of Paula Scott's Family
11.00 am: St Werburgh's: Maureen Ann Birukowska (5th Anniversary)
12.00 noon: St Werburgh's: John Egan Birthday Intentions (72)

Monday 21st June: St Aloysius Gonzaga: Genesis 12, 1-9; Psalm 32; Matthew 7, 1-5
Fr Paul's Private Mass Intention today: John and Shirley Cunniffe (35th Wedding Anniversary)

Tuesday 22nd June: SS John Fisher & Thomas More: II Maccabees 6, 18-31; Psalm 30; Matthew 24, 4-13
Fr Paul's Private Mass Intention today: Intentions of BM

Wednesday 23rd June: Ferial: Genesis 15, 1-18; Psalm 104; Matthew 7, 15-20
Fr Paul's Private Mass Intention today: Special Intention (MP)

Thursday 24th June: Birth of St John the Baptist: Isaiah 49, 1-6; Psalm 138; Acts 13, 22-26; Luke 1, 57-66
Fr Paul's Private Mass Intention today: Margaret Sproston (3rd Anniversary)

Friday 25th June: Ferial: Genesis 17, 1-22; Psalm 127; Matthew 8, 1-4
10.30: Christ Church, Newtown: World Day of Prayer Service
Fr Paul's Private Mass Intention today: Private Intention (GLS)

Saturday 26th June: Ferial: Genesis 18, 1-15; Luke 1; Matthew 8, 5-17
Fr Paul's Private Mass Intention today: Jacqueline Margaret Whitely (L.D.)

SUNDAY 27th JUNE: THIRTEENTH SUNDAY IN ORDINARY TIME (YEAR B)
Wisdom 1,13 - 2,24; Psalm 29; II Corinthians 8, 7-15; Mark 5, 21-43
9.00 am: St Werburgh's: Intentions of Christine Lawton
10.00 am: St Werburgh's: Denis Hickey (14th Anniversary)
11.00 am: St Werburgh's: Dorothy McCormick (1st Anniversary)
12.00 noon: St Werburgh's: Gregory Phillips
12.45 pm: St Werburgh's: Baptism of Theodore Patrick Loughnane
1.30 pm: St Werburgh's: Baptism of Nella Sciarillo
Prayer intentions
Your prayers are asked for the following who are sick: Brian Boardman Jnr, John McMahon, James Convey, Pauline and Bill Hackett, Laura Chadwick, Elisabeth, Stuart Clark, Keith Hayes, Sheila Winder, Joe and Ruth O'Kane, Garth Stocking and Kevin Maguire; and for all the sick of the Parish; and for those who have died recently, especially James Graham and Helen Mary Jones; and for those whose anniversaries occur about this time: Michael Carroll, Denis Hickey, Cecilia Parker, Peter Jezek, Marjorie Harvey, Frank Hughes, Brian McElmeel, Annie Egan, Pauline Kelly, Corinne Mashiter, Vincent Mapp, Brenda Thomas, Frank Miciah, Rebecca Halsall, Mary McCleary, John Atkinson, Patricia Smith, Liz Allison, Pearl Corken, Susan Cross, Dorothy McCormick, Eileen Peover, George Tabberner and Lana Preston-Heyes. May They All Rest in Peace.
Parish events
Masses on Sundays: No Change on 21st June
As we've all seen, the announcement last Monday amounted to "another four weeks of present restrictions". That wasn't unexpected, was it? The one change that affects us is that numbers for Weddings and Baptisms can be more relaxed but must not exceed the socially-distanced capacity of the church, which in our case we are declaring to be 80. Sunday Masses for the foreseeable future will continue at 9.00, 10.00, 11.00 and 12 noon. Total attendance last Sunday was 308. Bearing our mind that our social distanced capacity is approximately 80, over four Masses that would give a grand total of 320. So, 308 is getting very close? Last Sunday, it was 87 at 9.00 am, 86 at 10.00 am, 70 at 11.00 am and 65 at 12.00 noon. Until restrictions are lifted and we are back to "normal", the message is a clear one: if you want to be sure of a place at Sunday Mass, please don't come at the last minute!
Return of Public Weekday Masses and Confessions
Because we no longer need to Steward weekday Masses, we feel confident in reintroducing them, beginning Monday 5th July. For the time being, they will be at 10.00 am, while we hold our major Parish Consultation (see below) on permanent weekday Mass times. Confessions initially will be on Saturday Mornings 10.00 am - 11.00 am, starting Saturday 10th July. Watch this space for details!
Sacrament of Confirmation
The long-awaited next Chester Parishes Confirmation will be on Wednesday 23rd February at St Columba's. To be Confirmed then, you must already be in High School now; however, there is no upper age limit. If you wish to be Confirmed then, want more information or have any questions, please email stcolumbatheresaconfirmation@hotmail.co.uk or contact Denise Lusk on 01244-379742. If you wish to join the adult preparation group, please also introduce yourself to Fr William.
CAFOD News
Thanks to your support, CAFOD has been helping communities around the world to cope with the pandemic. Just in Zambia in the past year, our reports show that we've been able to reach 1,234,200 people with messages on Covid-19, provide 13,312 people with access to safe water, train 392 frontline health workers from Zambia's 11 Dioceses to prepare and respond to Covid-19 in their local communities and donate over 1,000 handwashing hygiene stations in communities to support cleanliness. Thank you for standing alongside people in Zambia and for supporting people in more than 30 other countries worldwide.
Primary School and High School
For the next Half Term, up to the Summer Break, I am planning to go into each school on a weekly basis, spending a morning or afternoon in each. It's the least I can do to support the excellent work they are doing in these very difficult circumstances. Starting with the High School this week on Wednesday afternoon.
World Day of Prayer: Friday 25th June
This very popular annual event is coming again soon. It used to be called the Women's World Day of Prayer and then someone abolished women. Not to worry, come along anyway: Christ Church Newtown (where my kid brother Graham is the Vicar). By the Fire Station and Salvation Army in Newtown. Friday 25th June at 10.30 am. Good to see you all there!
Photo of the Week: Church Rededication 2002
As you probably know, for all sorts of interesting reasons, we were one of the last Churches of the Diocese to be reordered following the Liturgical Reforms of Vatican II - the new Forward-Facing Altar, for example. Our photo shows Bishop Brian at the Rededication Service. Recognize the Altar Server's ponytail? Some of the Priests in the background? Amazingly, that is almost twenty years ago now. Tempus fugit! (As they say in German).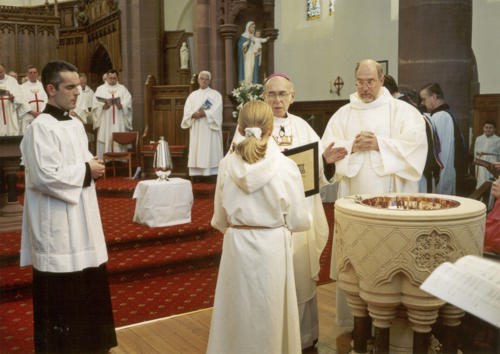 New White Altar Cloth from Stanbrook
The beautiful new cloth woven for us by the Sisters of Stanbrook has gone away, to be replaced by the green of Ordinary Time. We'll see it again for the Assumption on 15th August.
Traidcraft Week: 21st - 27th June 2021
To help to highlight the tremendous work Traidcraft does in promoting the principles of Fair Trade around the globe and making so many products available to shoppers here in the UK, the Fair Trade shop in Wesley Methodists, St John's Street, will be holding a special sale, offering 50% reduction on some Fairly Traded items. We are open Tuesday to Saturday, inclusive, 11.00 am - 2.00 pm. We'd love to see you!
Message from Caritas Diocese of Shrewsbury
Caritas would like to express their sincere gratitude for the generous donation of £420.68 which has been sent to them over the past 6 months from St Werburgh's box holders. 2020 was a challenging year for everyone and Caritas really appreciate the support that parishioners have given them, which will enable them to continue their work with children, families and communities in the most challenging situations across the diocese. Until box collections can resume as before, please consider other ways of getting your donations to Caritas, e.g. by setting up a Standing Order. Forms can be obtained by contacting Dominique Gresty at dmgresty0620@gmail.com, or use this email address for any query you may have. Thank you.
SS Peter and Paul - Holyday of Obligation
Just a reminder that for this Holyday, on Tuesday 29th June, we will have two Masses here in church at 10.00 and 11.00 am. See you all there!
Consultation on Weekday Mass Times
Not having had public Weekday Masses for the past 18 months allows us to revisit the question of time. Throughout July and August, we're going to have a major Consultation Exercise: do you think we should have Weekday Mass at the same time every day (in which case, when) or different times on different days (in which case, when?) You can give your views on-line or by paper Questionnaire. We really do want to hear from you!