Parish Newsletter
SUNDAY 18th MARCH: FIFTH SUNDAY OF LENT (YEAR B)
Liturgical
Jeremiah 31, 31-34; Psalm 50; Hebrews 5, 7-9; John 12, 20-33

Saturday 6.00 pm: Rowton Methodists: Sean Brosnan (L.D., Michigan)
Sunday 9.00 am: St Werburgh's: Ken Jones (Birthday Remembrance)
Sunday 10.45 am: St Werburgh's: Margaret Strong (L.D.)
Sunday 12.30 pm: St Werburgh's: Baptisms of Henrietta and Hermione Besga Saenz de Magarola
Sunday 6.00 pm: St Werburgh's: Rachael Andrews
Monday 19th March: St Joseph: II Samuel 7, 4-16; Psalm 88; Romans 4, 13-22; Matthew 1, 16-24
12.15 pm: St Werburgh's: Jacques Thierry (L.D., Versailles)
1.05 pm: University Chapel: University Mass - All Welcome!
Tuesday 20th March: Ferial: Numbers 21, 4-9; Psalm 101; John 8, 21-30
8.00 am: Poor Clares Hawarden: Special Intention
12.15 pm: St Werburgh's: Mrs Milner (L.D., Cork)
Wednesday 21st March: Ferial: Daniel 3, 14-95; Psalm Daniel 3; John 8, 31-42
12.15 pm: St Werburgh's: Colette Cryar (L.D.)
Thursday 22nd March: Ferial: Genesis 17, 3-9; Psalm 104; John 8, 51-59
12.15 pm: St Werburgh's: Rebecca Coriam - Seven Years
Friday 23rd March: Ferial: Jeremiah 20, 10-13; Psalm 17; John 10, 31-42
11.00 - 12.00 noon: St Werburgh's: Adoration of the Blessed Sacrament
12.15 pm: St Werburgh's: Mary Zdrenka (L.D.)
7.00 pm: St Werburgh's: Stations of the Cross
8.00 - 9.00 pm: St Werburgh's: Adoration of the Blessed Sacrament
Saturday 24th March: Ferial: Ezekiel 37, 21-28; Psalm Jeremiah 31; John 11, 45-56
9.30 am - 10.30 am: St Werburgh's: Confessions
6.00 pm: Rowton Methodists: Gerardina Vitelli (L.D.)

SUNDAY 25th MARCH: PALM SUNDAY (YEAR B)
Mark 11, 1-10; Isaiah 50, 4-7; Psalm 21; Philippians 2, 6-11; Mark 14,1 - 15,47
Saturday 6.00 pm: Rowton Methodists: Gerardina Vitelli (L.D.)
Sunday 9.00 am: St Werburgh's: Marie & John Keegan; Brendan Keegan
Sunday 10.45 am: St Werburgh's: Garry Nelson (1st Anniversary)
Sunday 1.00 pm: St Werburgh's: Baptism of Holly May Robertshaw
Sunday 6.00 pm: St Werburgh's: Jo McCann (L.D.)
PRAYER INTENTIONS
Your prayers are asked for the following who are sick: Wendy O'Brien, Ruth O'Kane, Iris Philp,
James Donovan, Garth Stocking, Ann McGowan-Scanlan, Mary Lyons, Kevin Maguire, Christine Davies, Michael Morton; and for all the sick of the Parish; and for those who have died recently, especially
Kathleen Ward and Margaret Thornton; and for those whose anniversaries occur about this time:
Barbara McClean, Annie Owens, Essie Lawrie, Daniel Hogan, Frederick Mercer, Linda Wynne,
Oscar Dubussy-Durgan, Dolly Huxley, Rita Williams, Patrick Walsh, Thomas Smith, Maria Bannister, Donald Tilston, William Paton, Arthur Hedges, Mary Partington, Arthur Wright, Ted Finney, James Moore, Sarah Chamberlain and Peter Heaney. May They All Rest in Peace
Parish events
Easter Service Times Cards
Out today! Please, everyone, do your usual fantastic job distributing them far and wide. You have no idea what a difference it makes.
Sunday 9.00 am Choir
Having a little break for a few weeks while we all - James, Choir, Parish Council, FP - decide the direction in which we'd all like to go. Back soon, I promise you! Next Choir Practice: this coming Thursday, 22nd March 7.30-9.00 pm. Three Line Whip on this one please if you wish to be part of the Choir for the Easter Triduum.
Palm Sunday 2nd Collection Easter flowers
Next weekend, ready for our usual burst of colour on Easter Sunday!
Compulsory Meeting for Triduum Readers
If you are reading over the Triduum, from Palm Sunday to Easter Sunday inclusive, then you must come to an essential Preparation Meeting for half an hour on Wednesday evening, 21st March at 7.00 pm. This preparation makes the world of difference to how we actually read on the day.
Parish Day Out to Cheadle on Monday 21st May
Fully Booked Now - thanks everyone! Make sure that all Menu Choice Forms and full remittance is forwarded to the Church Office by Sunday 25th March. Many thanks.
Lent Friday Devotions and Stations at 7.00 pm
Thanks, Joe-Joe and CathSoc for a lovely Lent Devotion last Friday, based on the Five Sorrowful Mysteries. Final Friday is next week, when I will lead Stations, based on those of St John Paul II.
Mental Health Support Group
Meeting Tuesday night, 20th March, 7.00 pm in the House. I'd like us to plan our Summer Programme and think about forming a small committee to think how we take this wonderful new Parish Group forward. All welcome.
Last Dickens Production - Hard Times
Liverpool Playhouse on Tuesday 27th March. Do sign up and come along. Leaving by train from Chester at 6.15 pm - all welcome!
Christleton CT Mini-Pilgrimages: Thursdays 2.30
Great to see so many of you out at Holywell on Thursday. We finish the series at the Frodsham Prayer Garden, opposite St Luke's Church.
Holy Week Rota for All Ministries
Please sign up for the Services if you're available.
Next meeting of the Readers' Group
Monday 19th March at 7.00 pm in the Presbytery, looking at Palm Sunday, Easter, and the readings for the following two weeks. All welcome!
 Two Diocesan Job Vacancies
1) Caritas Shrewsbury want an experienced and enthusiastic person as Volunteer Co-ordinator. 28 hrs per week and expected to travel extensively across the Diocese. Contact Claire Griffiths Tel 0151 652 1281; claire.griffiths@caritasshrewsbury.org.uk
and caritasshrewsbury.org.uk. Closing date 4/4.
2) Diocesan Finance Manager: Salary £40,000-£45,000. To support and work closely with the Financial Secretary, with a significant degree of autonomy, to supervise day to day accounting functions and procedures and performance against budgets.
http://www.dioceseofshrewsbury.org/about-us/curia/vacancies
Photo of the Week: Onslow Quartet Rehearsing
April 2017, practising for David Matthews' new piece, Sunrise, given its world premier in our church. David is in the photo, and the player with her back to us is the Leader's sister. (She's the musical one of the family…)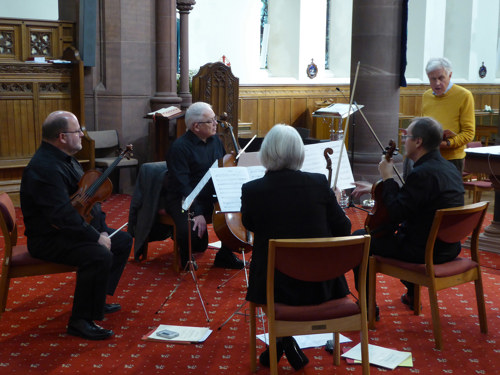 Three Important Gift Aid Notices
(1) Tax Status: Has It Changed?
If you no longer pay income tax, please let us know by 5th April. 
(2) Offertory Envelopes 2018-9: Got Them Yet?
Please take them as soon as possible. Thanks!
(3) Joining the Gift Aid Scheme?
If you are interested in joining, see Fr Paul or Denise Jones.
Forthcoming FHC Meetings
Parents' Meeting at St Werburgh's and St Columba's School in Lightfoot St on Monday 19th March at 7.00 pm. Please remember to return the slip with the date and Mass time you have chosen for your child's First Holy Communion.
Eucharistic Congress 'Adoremus'
The First National Eucharistic Congress in England and Wales for 110 years is being held in Liverpool, 7th - 9th September 2018. You are warmly invited to attend any part of this 3-day event comprising of: a Symposium day on Friday, specifically aimed at teachers, catechists, musicians and clergy; a six-hour stage led event on Saturday with key note speakers Bishop Robert Barron and Cardinal Vincent Nichols, music and drama presentations, prayer and adoration; and concluding Masses on Sunday celebrated at Liverpool Metropolitan Cathedral followed by an outdoor procession. Further details can be accessed from the diocesan website www.dioceseofshrewsbury.org
Next Saturday: Marriage Prep Day 10.30-5.00
So, earlier Confessions: 9.30-10.30 am.