Parish Newsletter
SUNDAY 4th MARCH: THIRD SUNDAY OF LENT (YEAR B)
Liturgical
Exodus 20, 1-17; Psalm 18; I Corinthians 1, 22-25; John 2, 13-25
Saturday 6.00 pm: Rowton Methodists: Tom Scally (7th Anniversary)
Sunday 9.00 am: St Werburgh's: Albert Norman (Anniversary)
Sunday 10.45 am: St Werburgh's: Denis Hickey (Birthday Remembrance)
Sunday 6.00 pm: St Werburgh's: Kevin and Dolores Coriam (Anniversary 1992)
Monday 5th March: Ferial: II Kings 5, 1-15; Psalm 41; Luke 4, 24-30
9.00 am: St Werburgh's: Bob Turner (L.D., Droitwich)
12.20 pm: Lawnswood Crematorium, Leeds: Funeral Service for Colin Dixon, late of Shadwell
[No University Mass today - apologies.]
Tuesday 6th March: Ferial: Daniel 3, 25-43; Psalm 24; Matthew 18, 21-35
8.00 am: Poor Clares Hawarden: Private Intention
10.00 am: Primary School Reconciliation Service
12.15 pm: St Werburgh's: James Barlow (L.D., Lewisham)
Wednesday 7th March: Ferial: Deuteronomy 4, 1-9; Psalm 147; Matthew 5, 17-19
12.15 pm: St Werburgh's: John Thomson (Anniversary 1997)
3.20 pm: Blacon: Funeral Service for Jeremy Cracknell, late of Stevens Court
Thursday 8th March: Ferial: Jeremiah 7, 23-28; Psalm 94; Luke 11, 14-23
12.15 pm: St Werburgh's: Intentions of Ciara Micks
Friday 9th March: Ferial: Hosea 14, 2-10; Psalm 80; Mark 12, 28-34
7.00 pm: St Werburgh's: Lenten Devotions
8.00 pm: St Werburgh's: Intentions of CathSoc
8.30 - 9.00 pm: St Werburgh's: Adoration of the Blessed Sacrament
Saturday 10th March: Ferial: Hosea 6, 1-6; Psalm 50; Luke 18, 9-14
10.30 am - 12.00 noon: St Werburgh's: Confessions
6.00 pm: Rowton Methodists: Deceased Members of the Boulton and Fazey Families
SUNDAY 11th MARCH: FOURTH SUNDAY OF LENT : LAETARE SUNDAY (YEAR B)
II Chronicles 36, 14-23; Psalm 136; Ephesians 2, 4-10; John 3, 14-21
Saturday 6.00 pm: Rowton Methodists: Deceased Members of the Boulton and Fazey Families
Sunday 9.00 am: St Werburgh's: Janette Doherty (L.D.)
Sunday 10.45 am: St Werburgh's: Mary Morrison and Family (Ireland)
Sunday 6.00 pm: St Werburgh's: Mick Fields
PRAYER INTENTIONS
Your prayers are asked for the following who are sick: Wendy O'Brien, Ruth O'Kane, Iris Philp, James Donovan, Garth Stocking, Ann McGowan-Scanlan, Mary Lyons, Kevin Maguire, Christine Davies, Michael Morton; and for all the sick of the Parish; and for those who have died recently, especially Ray Harper, Colin Dixon, Jeremy Cracknell and Kathleen Ward; and for those whose anniversaries occur about this time: Ken Warburton, Annie Connolly, Elizabeth Tierney, John Thomson, Mary Ivory, Mary Pink, Mary Smythe, John Doolan, Margaret Rees, Margaret Everett, Mary Gough, Jean Dean, Albert Thomas, Tom Boulton, Kasimierz Dabrowski, John Burns, Len Whittle, Mary Evans, Maurice Murphy, Cyril McLoughlin, Reginald Sweeney and John Beatty.  May They All Rest in Peace
Parish events
Liturgy Group Meeting on Tuesday at 7.00 pm
When we tie down the details of all the Services for Holy Week and Easter. All welcome!
Lent Friday Devotions and Stations at 7.00 pm
Many thanks to Neill for a very thoughtful and scriptural Meditation on the Name of Jesus last Friday. This coming Friday, 7.00 pm, Gerry will lead us all in Stations of the Cross. Mass will be at 8.00 pm, and Exposition until 9,00 pm.
Great War Group Next Meeting
2.00 pm Monday 5th March in the Parish House.
NW University Chaplains Conference
This coming Friday, I shall be at the NW Conference held this time at Holy Name, Manchester, when all the Catholic Chaplains from Bangor, Wrexham, Chester, Liverpool, Manchester, Lancaster, Preston and Cumbria get together for their six-monthly Regional Catch-up.
Photo of the Week: CathSoc Entertain USA
A memory of last June, when we welcomed students from the University of Steubenville, Ohio, staying in our Diocese for a month, for our end-of-year Chinese Banquet.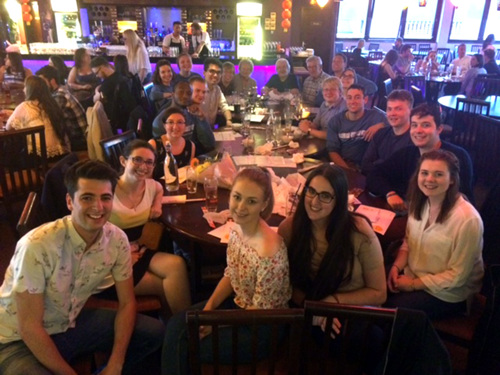 Dickens Productions Coming Up Locally
Excellent Nicholas Nickleby at King's School on Wednesday last: amazing to think all these actors were still at school! Congratulations to Ann Marie and all her team. Great Expectations at Theatr Clwyd on Saturday 3rd March and Hard Times at Liverpool Playhouse: Tuesday, 27th March. Not too late to sign up if you'd like to come with us.
Christleton CT Mini-Pilgrimages: Thursdays 2.30
Last Thursday afternoon we were at Sisters of Jesus Way, West Kirby. They couldn't have made us more welcome, a beautiful liturgy led by the Sisters first, and then tea and tab nabs. This coming Thursday, we visit Saughall Methodists.
Access to the Church and House
Thanks, everyone, for all the work you do in our hundred-and-one Parish Activities. If you need to come into the House or Church for any purpose, please let myself or Syd know well in advance.
Antique Handrails
We would like to fit antique (Victorian) hand rails to the front door of the House: could you all keep your eyes open for any such that you see for sale?
Holy Week Rota for All Ministries
Now out - and not too early to sign up for the Services where you will be available to help out.
Deanery Lenten Penitential Services
St Columba's, Chester, Monday, 12th March
7.00 - 8.00 pm. Our Lady's, Ellesmere Port, Thursday, 15th March 7.00 - 8.00 pm.
Chester Theatre Club - Youth Theatre - Today
The Man Who Disappeared - The Story of Private Harry Farr. Harry was shot at dawn on 18th October 1916 for "cowardice". The Youth Theatre are presenting a dramatized version of his story here in St Werburgh's, Sunday 4th March at 3.00 pm. Everyone warmly welcome!
SVP Afternoon Tea at the Catholic High School
For all our elderly and housebound friends, Wednesday, 7th March 2.00 pm. Transport will be provided. Contact Parish Office if required!
SVP Lenten Service of Reconciliation
Again, for our elderly and housebound: Saturday, 17th March 10.30 am. All welcome to join us at this service when there will be the chance for Confessions. Ring us if you need transport.
A Singing Retreat with Retreat House Chester
'Peace be with You: songs and reflection'. On the theme of peace, for anyone who enjoys singing, inspired by traditions such as Iona and Taize.  17th March 10.30-2.30 Wesley Church Centre.  £20 including simple lunch.  Booking closes 12 March www.retreathousechester.co.uk or 07514 357427.
Parish Day Out to Cheadle - 21st May 2018
Booking opens TODAY for what will be a very popular visit to the magnificent Pugin designed Church of St. Giles in Staffordshire on Monday 21st May 2018 where Holy Mass will be celebrated by Fr. Paul. The cost of the day which includes travel and a two-course lunch at The Manor House Hotel in Cheadle is £27.00 per person and priority is given to St. Werburgh's parishioners. Book by signing name on Booking Chart at rear of Church and complete individual Booking Forms with menu choices for lunch. These Forms and full remittance to be returned to Church office by Sunday 25th March. Don't delay, book today!
Three Important Gift Aid Notices
(1) Tax Status: Has It Changed?
If you no longer pay income tax, please let Fr Paul or Denise Jones know by 5th April, otherwise it will be assumed that you have paid sufficient income tax for the Parish to claim Gift Aid on your donations for the tax year 2017/18. Thanks.
(2) Offertory Envelopes 2018-9: Got Them Yet?
If you have not yet collected your box, please take it as soon as possible. Thank you.
(3) Joining the Gift Aid Scheme?
If you pay income tax, joining the Gift Aid scheme increases the value of your donations to the Parish at no extra cost to you. If you are interested in joining the scheme, please contact Fr Paul or Denise Jones.
A Little-Known Dickens Fact
A Tale of Two Cities was only published in two papers: the Bicester Times and Worcester Times.
Eucharistic Congress 'Adoremus'
The First National Eucharistic Congress in England and Wales for 110 years is being held in Liverpool, 7th - 9th September 2018. You are warmly invited to attend any part of this 3-day event comprising of: a Symposium day (7th Sept) specifically aimed at teachers, catechists, musicians and clergy; a six-hour stage led event (8th Sept) with key note speakers Bishop Robert Barron and Cardinal Vincent Nichols as well music and drama presentations, prayer and adoration; and concluding Masses on Sunday (9th Sept) celebrated at Liverpool Metropolitan Cathedral followed by an outdoor procession. To participate, book through your parish as soon as possible. Further details can be accessed from the home page link on the diocesan website www.dioceseofshrewsbury.org