Parish Newsletter
SUNDAY 26th MAY: SIXTH SUNDAY OF EASTER (YEAR C)
Liturgical
Acts 15, 1-29; Psalm 66; Apocalypse 21, 10-23; John 14, 23-29
Saturday 6.00 pm: Rowton Methodists: Mary O'Shea (Anniversary and Birthday Remembrance)
Sunday 9.00 am: St Werburgh's: Brian Boardman
Sunday 10.45 am: St Werburgh's: MER Birthday Intentions
Sunday 12.30 pm: St Werburgh's: Baptism of Zach Michael Payne
Sunday 1.00 pm: St Werburgh's: Baptism of Ruairi Oisin Brian Patrick Bowe
Sunday 6.00 pm: St Werburgh's: Gillian Ince (Birthday Remembrance)
Monday 27th May: St Augustine of Canterbury: I Thessalonians 2, 2-8; Psalm 116; Luke 10, 1-9
10.00 am: St Werburgh's: John and Vera Clyne
[No University Mass Today – Bank Holiday. Next one: Monday 3rd June]
Tuesday 28th May: Ferial: Acts 16, 22-34; Psalm 137; John 16, 5-11
12.15 pm: St Werburgh's: Intentions of Dr Michael Floate (New Zealand)
2.00 pm: St Werburgh's: Requiem Mass for Mandy Pritchard, late of Queen's Road, Vicars Cross
Wednesday 29th May: Ferial: Acts 17,15 – 18,1; Psalm 148; John 16, 12-15
12.15 pm: St Werburgh's: Lorraine McKeown (L.D., Wrexham)
Thursday 30th May: Ascension of the Lord: HOLYDAY OF OBLIGATION
Acts 1, 1-11; Psalm 46; Ephesians 1, 17-23; Luke 24, 46-53
7.30 am: Vitelli Family Intentions
12.15 pm: St Werburgh's: Betty Thomson (L.D.)
7.30 pm: Intentions of J
Friday 31st May: The Visitation of the BVM: Zeph 3, 14-18; Psalm Isaiah 12; James 3, Luke 1, 39-56
12.15 pm: St Werburgh's: Terry Collier (2nd Anniversary)
7.00 pm: Werburgh's: Priestly Ordination of Rev Neill Robb by Bishop Mark
Saturday 1st June: St Bede the Venerable: Acts 16, 1-10; Psalm 99; John 15, 18-21
10.00 am: HMP Berwyn, Wrexham: Mass for Prisoners and Staff
12.30 pm: St Werburgh's: Baptism of Celeste Dubussy-Durgan
3.00 pm: St Werburgh's: Wedding Service for Robert Sullivan and Anna Strain
5.00 pm: St Werburgh's: Service of Blessing for Amanda and Jason
6.00 pm: Rowton Methodists:  Anne Rita Timothy (Anniversary)
SUNDAY 2nd JUNE: SEVENTH SUNDAY OF EASTER (YEAR C)
Acts 7, 55-60; Psalm 96; Apocalypse 22, 12-20; John 17, 20-26
Saturday 6.00 pm: Rowton Methodists: Anne Rita Timothy (Anniversary)
Sunday 9.00 am: St Werburgh's: Jane Potter (1st Anniversary)
Sunday 10.45 am: St Werburgh's: Fr Neill Robb's First Mass: Intentions of Fr Neill and Family
Sunday 6.00 pm: St Werburgh's: Trudy Axon (5th Anniversary)
Sunday 6.00 pm: Vicars Cross URC: Praise and Worship Hour led by St Werburgh's Music Group
Prayer Intentions
Your prayers are asked for the following who are sick: Stuart Clark, Keith Hayes, Sheila Winder, Heather Lannin, James Catterson, Ruth O'Kane, Henri Diacono, James Donovan, Garth Stocking and Kevin Maguire; and for all the sick of the Parish; and for those who have died recently, especially Marian's daughter Kate, Mandy Pritchard, Bernadette O'Loughlin; and for those whose anniversaries occur about this time: Fred Sargent, Sheila Austin, Gladys Read, Trudy Axon, Mary Abbate, Christine Farr, Denis Hughes, Terry Collier, Doreen Feely, John Keegan, Simon Reynard, Stan Hughes, Peter Caswell, Denis Mannion, Baby Joseph Anderson, Joan Clarke, Winifred Sexton, Eileen Dinwoodie, Joan Bell, Vincent Lennon and Richard Brown. May they all Rest in Peace. 
Parish events
Deacon Neill's Priestly Ordination on Friday
Friday 31st May is the big day, and 7.00 pm the time for Neill's Ordination as a Priest. Thanks to everyone – Choir, Altar Servers, Readers, Bookleters – who've worked so hard to help this happen. Please keep Neill and his family in your prayers at this very special time. The Catenians have organised a Reception in the Club afterwards, to which everyone is warmly invited. Fr Neill's First Mass will be on Sunday 2nd June at 10.45, after which he will give his First Blessing to all who would like to receive it.
John and Anne Marie Curtis have mounted a fascinating display on previous Werbies Ordinations.
SVP 2nd Collection for their Summer Meal
Many thanks, everyone, for your generous response. Any more contributions on their way?
Next First Friday Recital: John Hoskings
Friday 7th June at 7.00 pm sees the welcome return of our old friend John, for another of his first-class Organ Recitals. His programme includes well-known pieces by Mendelssohn, Handel, Duruflé and Vierne, as well as a lesser-known work by Sir Walter Alcock, and two pieces composed by John himself. Alcock had the interesting distinction of being the Organist at Westminster Abbey for three Coronations – Edward VII (1902), George V (1911) and George VI (1937).
Parish Council Last Tuesday
Judith and Anne from the PC are spear-heading a review of the Minor Works List we all drew up last year and matching it with the remaining £11,500. Your views will be wanted very soon!
CathSoc Summer Term Dates
Sunday 26th May – Geoff's Canal Tour & Supper
Sunday 2nd June – End of Year Chinese Supper
All Students warmly invited!
Review Meetings for all on the Readers' Rota
Please sign up for ONE of them. Failure to do so will mean you no longer wish to be on the Readers' Rota.
Tuesday 28th May: 10.00 am
Thursday 30th May: 2.00 pm
Tuesday 4th June: 7.00 pm
Wednesday 5th June: 10.00 am
Wednesday 19th June: 7.00 pm
Friday 21st June: 2.00 pm
SVP Theatre Night 7.30 12th June - Outside Edge
Richard Harris's cricketing comedy at the Gladstone Theatre Port Sunlight. Tickets at £9 will be on sale after Masses on w/e 18/19th and 25/26th May, or by contacting svpchester@gmail.com. Proceeds to SVP District Holiday Home in Talacre. Tickets still available from Stephen Perry, (07775 781 204), via the SVP website, svpchester@gmail.com, or on the door.
Vicars Cross URC – "Sunday at Six"
On Sunday 2nd June at 6.00 pm St Werburgh's Music Group will again be leading an ecumenical Praise and Worship hour at Vicars Cross United Reformed Church on Green Lane – all welcome. Well known Hymns and some new ones. Tea and cake afterwards!
District SVP Holiday Home
The brochure circulated at all Masses details what is on offer at Talacre Beach which has been supported so generously by St Werburgh's parishioners. There are two weeks available: weeks beginning 22nd June and 19th October. If there is anyone you think would benefit from a holiday in beautiful North Wales, please contact Stephen Perry: 07775-781-204.
Caritas Boxes Spring Collection
Dominique and Nathalie will be at church between the two morning Masses on 26th May to receive the contents of your boxes. Please empty contents into a strong plastic bag or envelope, clearly marked with your name. Thank you.
St Werburgh's SVP Annual Report
This report itemises how the donations we have received throughout the year have been spent, providing vital support for the work undertaken by the SVP in our parish. Without these donations, our ability to help those in need would be restricted. Thank you for your continued amazing generosity.
Missio "Red Boxes" Summer Mass
Celebrated by Bishop Mark Davies and Fr Tony Chantry MHM. Sat 29th June 12 Noon.
St Michael & All Angels, Woodchurch, CH49 5LE.
Building Work Next Door – The Last Few Weeks!
Pazienza, tutti! The work is now underway on the paving and surfaces on the main road and then on our driveway. Meanwhile, do please take care, everyone, with the uneven flags and pathways
Canal Heritage Evening Walk – Tuesday 18th June
Booking will open on Sunday 2nd June at 9.00 am – first come, first served!
First Holy Communions Conclude Today
Today, Sunday 26th May at 9.00 am we welcome Gianluca Di Trolio; and at 10.45 am, Kelsey Bargery, Megan Hughes, Maebh Lilley, Alasdair McArdle, Ellie O'Farrell and Maribel Ortiz. Please keep them and their families in your prayers at this wonderful time. Thanksgiving Mass – Sunday 23rd June at 10.45 am.
Confirmation: Tuesday 19th November 2019
Flyer out today – and ten names have come in before the flyer was even printed! Excellent! Please take as many flyers as you want and distribute them far and wide, to invite as many as possible to join us.
Photo of the Week: Tahiti, French Polynesia
The Catholic Cathedral of Notre Dame in Pape'ete, the capital. Looks fascinating. Part of the Bury Convent South Seas Gallivant last Autumn. Must seem a lifetime ago now! Keep these photos coming!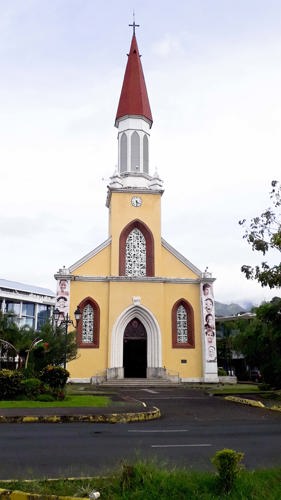 Mobile Phone Left in Church Last Weekend
Any claimants, see FP
Thursday: Ascension Holyday of Obligation
Masses at usual times: 7.30 am, 12.15 pm, 7.30 am. You must, of course, come to all three…