Parish Newsletter
SUNDAY 25th NOVEMBER: THIRTY-FOURTH SUNDAY IN ORD TIME (YEAR B): CHRIST THE KING
Liturgical
Daniel 7, 13-14; Psalm 92; Apocalypse 1, 5-8; John 18, 33-37
Saturday 6.00 pm: Rowton Methodists: John Adrian Crossley (L.D.)
Sunday 9.00 am: St Werburgh's: Anne Dudley (6th Anniversary)
Sunday 10.45 am: St Werburgh's: FHC Enrolment Mass: Intentions of our FHC Children
Sunday 2.00 – 4.00 pm: Overleigh: Blessing of Graves at Overleigh Cemetery – All Welcome
Sunday 6.00 pm: St Werburgh's: Rachael Andrews
Monday 26th November: Ferial: Apocalypse 14, 1-5; Psalm 23; Luke 21, 1-4
12.15 pm: St Werburgh's: Intentions of the De Nicolas Family
1.05 pm: University Chapel: University Mass for Students and Staff – All Welcome!
Tuesday 27th November: Ferial: Apocalypse 14, 14-19; Psalm 95; Luke 21, 5-11
8.00 am: Poor Clares Hawarden: Thanksgiving
11.00 am: St Werburgh's: Intentions of Cathy Taylor
7.00 pm: St Columba's: Deanery Confirmation for Chester Parishes
Wednesday 28th November: Ferial: Apocalypse 15, 1-4; Psalm 97; Luke 21, 12-19
12.15 pm: St Werburgh's: Ivy Bishop (L.D.)
Thursday 29th November: Ferial: Apocalypse 18,1 – 19,9; Psalm 99; Luke 21, 20-28
11.30 am: St Werburgh's: David McGlown (L.D.)
1.00 pm: St Mary's Overleigh: Funeral Service for Frances Hardy, Rob's Mother
Friday 30th November: St Andrew: Romans 10, 9-18; Psalm 18; Matthew 4, 18-22
10.00 am: Blacon: Burial of Ashes for Fred Hatton
12.00 noon: St Werburgh's: Requiem Mass for Sheila Tatler, late of Newry Park, Chester
7.00 pm: St Werburgh's: Mass of the Holy Souls – Every Name in the November Book is Read Out
Saturday 1st December: Ferial: Apocalypse 22, 1-7; Psalm 94; Luke 21, 34-36
10.00 am: HMP Berwyn: Mass for Prisoners and Staff
12.30 pm: St Werburgh's: Baptism of Jayden Joseph Baker
6.00 pm: Rowton Methodists: Eileen Law and Vera Connon (Anniversaries)
SUNDAY 2nd DECEMBER: FIRST SUNDAY OF ADVENT (YEAR C)
Jeremiah 33, 14-16; Psalm 24; I Thessalonians 3,12 – 4,2; Luke 21, 25-36
Saturday 6.00 pm: Rowton Methodists: Eileen Law and Vera Connon (Anniversaries)
Sunday 9.00 am: St Werburgh's: Dilys Ball, Emilio Pidutti and Maria Prez.
Sunday 10.45 am: St Werburgh's: Kelli Fernando (L.D., Dakota)
Sunday 12.30 pm: St Werburgh's: Baptism of Harriet Helen Steed
Sunday 6.00 pm: St Werburgh's: James and Agnes Alcock
Prayer Intentions
Your prayers are asked for the following who are sick: Lorraine McKeown, James Catterson, Ruth O'Kane, Henri Diacono, James Donovan, Garth Stocking and Kevin Maguire; and for all the sick of the Parish; and for those who have died recently, especially Sheila Tatler; and for those whose anniversaries occur about this time: Gerald Davies, John Ball, Joseph McArdle, William Logan, Patricia Gardner, Michael Fox, Mary Corr, Aida Balforth, Kevin Connolly, Bridget Jones, Gladys Howard, Jeanette Grant, Rosina Burns, Bill Butcher, Greta Morgan, Denis Fitzgerald, Peggy Jennings, Margaret Kilgannon, Evelyn Mealand and Geoff Buckley. Rest in Peace.
Parish events
On the Free Table at the back of Church
A few Booklets left over from 6th November plus the CAFOD Christmas Gift Catalogue and the free "Diocesan Voice" Magazine.
Recent Legacies
Last Sunday, we expressed grateful thanks to the late John Manifold, who remembered us in his will, and whose generous bequest will go a long way towards paying for the new Great War Memorial. This week, another small legacy, for which we are so appreciative, from Anne Hird-Jones, whose last address was Beechlands Avenue in Boughton. I don't think I knew Anne, and so would be delighted to hear from any of you who did, to tell me a little about her.
1st Sunday in Advent – New Liturgical Year
Next Sunday, 2nd December, is the First Sunday of Advent, and so the start of a new Liturgical Year – Year C in the three-yearly Sunday Cycle. Copies of the new Diocesan Ordo, which gives details for every day of the Liturgical Year ahead. £4, on the Newspaper Table.
Christmas Coffee Morning Friday 30th Nov
At Festival Church, Queen Street, 10.30-2.00 pm, to raise funds for the Hospice. Anne Collier is organising this, and she'd be very grateful for offers of help (313409). If you've never been inside the newly refurbished and renovated Festival Church, it really is well worth a look!
Items for Newsletter – Helping Me Helping You!
If you send in an Item for the Newsletter - email is the best way from our point of view – do please head it clearly "Newsletter Item". Sometimes you send them in as a P.S. to another message, and that's when they can get missed!
Waste Bin in Church
Under the Newspaper Table, for any non-renewable waste, eg used paper handkerchiefs…
Music Group – Christ the King
Playing today, Sunday 25th, for the First Holy Communion Enrolment Mass, 10.45 pm.
Liturgy Group Meeting
Moved from Wed 21st to Mon 26th, 7.00 pm, as last Wednesday I was over in Sheffield at a Graduation Ceremony for one of our former Catholic High School students. And a great afternoon it was too. Congratulations, Andrew!
Visiting Edward in Edinburgh
Excellent few hours with Edward last Thursday, in a damp and misty "Auld Reekie". He's well settled in to his specially adapted accommodation, and pushing on with the work to complete this final year at Uni. He's an amazing young man: do please keep those prayers going!
Mass of the Holy Souls on Friday, 7.30 pm
A lovely way to end the month of November, with our Mass of the Holy Souls, Friday night. Every name in our Holy Souls Book 2018 is read out, giving an opportunity for lighting a candle for that person if you would wish to do so.
CathSoc Sunday Shared Table Supper
Excellent supper last week, one of our best! Tonight, Advent Prayer and Praise. All Uni and College students warmly welcome.
Poor Clares Departure Date
At long last, they're off! Wednesday morning, 28th November. Come along at 10.00 if you'd like to wave them off in person and wish them well.
Blessing of Graves at Overleigh this afternoon
2.00 pm in the "Old" part – on your left as you head towards the Overleigh Roundabout – and 3.00 pm in the "New".
Next "First Friday" Recital
The last for 2018 – Friday 7th December 7.30 pm. We welcome back our old friend Andrew Wyatt, and his Chester Cathedral Nave Choir. Carols old and new, to get us in the mood for Christmas, by Darke, Handel, Whitacre and Nicolson, amongst others. Andrew says: "Come prepared with a good, strong singing voice to join in the congregational carols!" See you all there.
St Werburgh's Great War Books on Sale Now
£10 sb, £20 hb. Ideal Christmas Presents.
Flat Pack Music Evening of Yuletide Joy
7.30 pm Friday 7th December at Our Lady's, Ellesmere Port. Tickets £10 on sale after Sunday Masses today. Otherwise for tickets or enquiries please contact Stephen Perry on 07775781204 or svpchester@gmail.com. Proceeds from this festive performance of Christmas and Operatic favourites for the SVP District Holiday Home.
Disabled Access Last Sunday at 10.45 am
Last week, a young man with an electric wheelchair was unable to access the church for 10.45 Mass because a parked car was obstructing the entrance to the church. We've made this request time out of mind, folks: please don't block the entrance for wheelchairs and prams. From now on, we'll have to ask you publicly at the start of Mass to move your car, which is embarrassing for everyone.
Photo of the Week: Making the Memorial
Another fascinating photo from the workshop, showing how the wooden frame for the Memorial was constructed from the wood of the old Choir Stalls / Screen.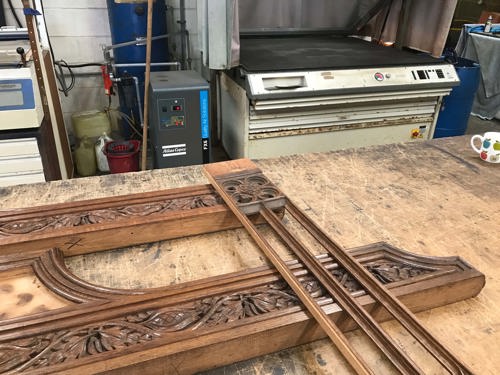 Parish Council Meeting on Tuesday
Very good meeting last Tuesday. As well as the regular bread-and-butter items we monitor on a regular basis, two special issues were raised by Parishioners for which we are very grateful: disabled access at 10.45 (see above) and how we come out to Holy Communion. This parishioner felt the way some folk in the side aisles push across the central benches rather than going to the back and coming up the centre aisle, was potentially dangerous for those sitting and kneeling in the centre benches. There was widespread support on Tuesday for this view: from now on, could we ask those in the side benches always to come up the centre aisle from the back, and not push across?