Parish Newsletter
SUNDAY 10th JANUARY: THE BAPTISM OF THE LORD (YEAR B)
Liturgical
Isaiah 42, 1-7; Psalm 28; Acts 10, 34-38; Mark 1, 7-11
9.00 am: St Werburgh's: Anne Teague (1st Anniversary)
10.00 am: St Werburgh's: Caitlin Roe (L.D.)
11.00 am: St Werburgh's: Paul Lawton (Birthday Remembrance)
12.00 noon: St Werburgh's: Fr Keith Collins (L.D.)

Monday 11th January: Ferial: Hebrews 1, 1-6; Psalm 96; Mark 1, 14-20
Fr Paul's Private Mass Intention today: Interview Intentions (AC)

Tuesday 12th January: Ferial: Hebrews 2, 5-12; Psalm 8; Mark 1, 21-28
Fr Paul's Private Mass Intention today: Peggy Power

Wednesday 13th January: Ferial: Hebrews 2, 14-18; Psalm 104; Mark 1, 29-39
9.30 am: St Clare's: Eileen O'Connor (L.D.)
1.20 pm: Blacon: Funeral Service for Malcolm Crowther, late of St Oswald's

Thursday 14th January: Ferial: Hebrews 3, 7-14; Psalm 94; Mark 1, 40-45
10.00 am: Overleigh: Interment of Ashes for the late Danny Ratchford
Fr Paul's Private Mass Intention today: Intentions of Judy Burns

Friday 15th January: Ferial: Hebrews 4, 1-11; Psalm 77; Mark 2, 13-17
Fr Paul's Private Mass Intention today: Intentions of Marcelle Niemira

Saturday 16th January: Ferial: Hebrews 4, 12-16; Psalm 18; Mark 2, 13-17
4.00 pm: St Clare's: Special Intention

SUNDAY 17th JANUARY: SECOND SUNDAY IN ORDINARY TIME (YEAR B)
I Samuel 3, 3-19; Psalm 39; I Corinthians 6, 13-20; John 1, 35-42
9.00 am: St Werburgh's: Albert Norman (Birthday Remembrance) and Sheila Norman (Anniv.)
10.00 am: St Werburgh's: Thanksgiving (Sapna)
11.00 am: St Werburgh's: John Thompson, Catenian (L.D.)
12.00 noon: St Werburgh's: Barbara Evans (L.D.)
Prayer intentions
Your prayers are asked for the following who are sick: Pauline Hackett, Laura Chadwick, Elisabeth, Stuart Clark, Keith Hayes, Sheila Winder, Joe and Ruth O'Kane, Garth Stocking and Kevin Maguire; and for all the sick of the Parish; and for those who have died recently, especially Malcolm Crowther, Luke Ellis, William Walshe and Eddie Moloney; and for those whose anniversaries occur about this time: Jane Butcher, Mary Smith, Barbara Stoppard, Beatrice Holding, Rose Hughes, Gerard Melia, George Kirby, Kath Lewis, Ellen Milner, Winifred Larkin, Maureen Hodges, Bridget Murphy, Mary Moran, Agnes Martin, Michael Kimpton, Alethea Griffin, John Beatty, Jerry McCann, Veronica Clyne, Brida Stanton, Eric Roberts, Marion Dowdall, Rocky Donnelly, Jo McCann, Patrick Nicholson, Christine Andrews, Sheila Norman, David Roberts, Mary Rowlands, Gwynneth Power, Constance Ridgway, Kathleen O'Brien and Beryl Deacon. May They All Rest in Peace.
Parish events
Lockdown Three: Churches Remain Open
I think most of us were a little surprised but very gratified that Churches were allowed to remain open for Public Worship in last week's announcement. Many of us take this as a huge vote of confidence in how well the vast majority of churches have cooperated with the Covid-19 rules and restrictions, and how conscientiously the vast majority of church-goers have followed those rules. Well done, everyone! Of course, this could all change, as the numbers continue to look grim. But, for the time being, we remain open, which, for St Werburgh's, means the four Sunday Morning Masses, half-hour each, 9.00, 10.00, 11.00 and 12.00 noon. No need to book, but please try not to turn up at the last moment as we do need to take your Track and Trace details and ensure you have hand-sanitised and are wearing a mask. And that all takes time!
Epiphany: Wednesday 6th Jan Mass at 10.00 am
Good to see 33 of you here on Wednesday at St Werburgh's, and 18 of you down at St Clare's. Well done both communities for being able to put on an Epiphany Mass: and, as we say time out of mind, that is not a question of just opening the doors, it's all about the hard-working team of Stewards and Cleaners that has to swing into action in both parishes - and thousands of similar churches and chapels all over the country. I am asked from time to time when we are going to re-introduce Daily Mass and Confessions here: and the answer is always the same - just as soon as we have Steward capacity. At the moment, they are working flat out, and I have no intention of over-taxing them. Both St Werburgh's and St Clare's owe their Stewards a huge debt of gratitude. We can't do it without you!
Baptisms, Weddings and Funerals?
Baptisms: permitted, but "Rule of Six" - maximum of six people allowed to attend. Weddings: only in exceptional circumstances such as grave illness, and, again, "Rule of Six". Funerals: permitted, with a maximum of thirty people attending.
St Clare's
Fr Emeka is on his three-week annual leave, back home with his family in Nigeria, and St Werburgh's is pleased to cover for him while he is away. (Whether St Clare's are equally pleased remains to be seen...) He is due back on 21/22 January.
SVP Christmas Appeal
You supported this Appeal sensationally, easily exceeding previous years: £2,045!! I sense many of you realised that the work of the SVP was going to be even more important this Christmas than in normal years. Thank you so much. Steve, our super SVP President, writes: "SVP Christmas Appeal - your generosity this year has been overwhelming and deeply appreciated. The total came to £2,045 which is incredible, and I only wish that I could thank each and every one of you individually for your kindness. We feel a great responsibility to use your money wisely, but with no shortage of local 'needs' I can assure you that our mutual support will be very much appreciated by all those we can help. Thanks again and our best wishes for 2021. Stephen." Well done, Steve and colleagues, and well done, Parish!
If I can touch you, we are too close!
The really important Covid-19 Regulations can be boiled down to "Face-Hands-Space". Speaking personally, I am very happy with the way we are all observing the first two in St Werburgh's. But the third sometimes gives me the heebie-jeebies (as they say in German). We are getting far too close to one another, and I never thought I'd have to say that! Seriously, everyone: this horrible virus spreads from person to person, and the major way it does that is by physical contact. So, a new rule in St Werburgh's: IF I CAN TOUCH YOU, THEN WE ARE TOO CLOSE.
The Baptism of the Lord: End of Christmastide
Today's Feast marks the beginning of Our Lord's Public Ministry and is a lovely note on which to put away the church's liturgical Christmas decorations and start focusing on the year ahead.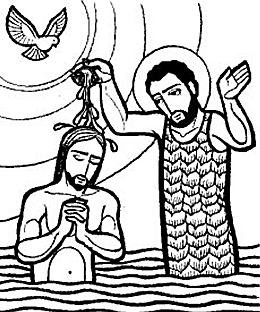 Photo of the Week: Junior Legion of Mary 1949
Wonderful memory from yesteryear. So, who are these four, and where are they now? Sage of Ingham, get your thinking cap on! If you don't know them, then no-one does. Yes, I know you weren't in the Legion of Mary yourself, Geoff, but at 108, you are easily the oldest living parishioner. Get racking your brain and see what you can do!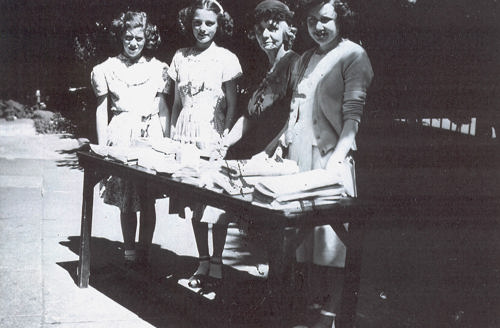 And finally: Great News on the Vocations Front
Lovely to have some good news from Bishop Mark in the week, in the midst of all this doom and gloom - how well we are doing on the Vocations Front! He writes:
A SPRING-TIME IN VOCATIONS.
The Diocese continues to see a small yet genuine springtime in vocations. This year I hope to ordain four men to the Priesthood and two to the Permanent Diaconate. The fruitful work of the Shrewsbury Discernment House has been able to continue amid the difficulties, uncertainties and restrictions of this past year. Since the summer, three men have already been able to share in this discernment and three more young men are due to begin at the start of this year when Covid restrictions allow. We also have two further applications for the Priesthood from mature men, together with one candidate accepted into training for the Permanent Diaconate; one man entering the propaedeutic programme for the Diaconate and two other applications and enquiries amid the difficult conditions of the pandemic. Thank you for your continued prayer - and for the support and encouragement for this vital work for the promotion, discernment and formation of those vocations which will provide for the service of the whole Diocese in the century ahead.
So, let's keep all those seminarians and possible seminarians in our prayers. They are our future! Four Ordinations this year: when was the last time that happened?