Parish Newsletter
SUNDAY 3rd JUNE: CORPUS CHRISTI – THE BODY AND BLOOD OF CHRIST (YEAR B)
Liturgical
Exodus 24, 3-8; Psalm 115; Hebrews 9, 11-15; Mark 14, 12-26
Saturday 6.00 pm: Rowton Methodists: Freda Lloyd
Sunday 9.00 am: St Werburgh's: Mary Carey (Anniversary)
Sunday 10.45 am: St Werburgh's: Maureen Burke (Birthday Remembrance and L.D.)
Sunday 1.00 pm: St Werburgh's: Wedding Service for John Harrison and Emma Mitchell
Sunday 6.00 pm: St Werburgh's: Rachael Andrews
Monday 4th June: Ferial: II Peter I, 2-7; Psalm 90; Mark 12, 1-12
12.15 pm: St Werburgh's: Birthday Intentions - Sam
1.05 pm: University Chapel – University Mass. All Welcome!
Tuesday 5th June: St Boniface: II Peter 3, 11-18; Psalm 89; Mark 12, 13-17
8.00 am: Poor Clares Hawarden: Private Intention
10.00 am: Blacon: Funeral Service for James Turrell, late of Canberra Way, Blacon
12.15 pm: St Werburgh's: Paul Flannery and Harry McKenna
7.00 pm: St Clare's: Mass with Bishop Brian, followed by Talk on the Eucharist. All welcome!
Wednesday 6th June: Ferial: II Timothy 1, 1-12; Psalm 122; Mark 12, 18-27
12.15 pm: St Werburgh's: Maureen Ann Birukowska
Thursday 7th June: Ferial: II Timothy 2, 8-15; Psalm 24; Mark 12, 28-34
12.15 pm: St Werburgh's: Nora O'Meara (L.D.)
1.20 pm: Blacon: Funeral Service for Patrick Anthony White, late of Sandon Road, Newton
Friday 8th June: The Most Sacred Heart of Jesus: Hosea 11, 1-9; Ps Isaiah 12; Eph 3, 8-19; John 19, 31-37
12.15 pm: St Werburgh's: Intentions of Kathy Craggs
Saturday 9th June: Immaculate Heart of Mary: Isaiah 61, 9-11; Psalm I Samuel 2; Luke 2, 41-51
10.30 am – 12.00 noon: St Werburgh's: Confessions
12.30 pm: St Werburgh's: Baptism of Clemency Jane Thomas Adams
1.00 pm: St Werburgh's: Baptism of Phoebe Mollie Mayo
6.00 pm: Rowton Methodists: Intentions of JB
SUNDAY 10th JUNE: TENTH SUNDAY IN ORDINARY TIME (YEAR B)
Genesis 3, 9-15; Psalm 129; II Corinthians 4,13 – 5,1; Mark 3, 20-35
Saturday 6.00 pm: Rowton Methodists: Intentions of JB
Sunday 9.00 am: St Werburgh's: Harry Teague
Sunday 10.45 am: St Werburgh's: Elsie and Bill Wilson
Sunday 12.30 pm: St Werburgh's: Baptism of Jonathan Charles
Sunday 1.00 pm: St Werburgh's: Baptism of Xavier Xadie Vevar
Sunday 6.00 pm: St Werburgh's: David Foxley
Prayer Intentions
Your prayers are asked for the following who are sick: Matt Corcoran, Freda Lloyd, Henri Diacono, Wendy O'Brien, Ruth O'Kane, Iris Philp, James Donovan, Garth Stocking, Kevin Maguire, Christine Davies, Michael Morton; and for all the sick of the Parish; and for those who have died recently, especially Eileen Doran, James Turrell, Patrick White, Christopher Rose and Fred Sargent; and for those whose anniversaries occur about this time: Henry Friend, Winnie Micklethwaite, Anthony Whelligan, Fred Morton, Peter Pickering, James Burke, Margaret McKeegan, Mary Harris, Agnes Moore, Keith McAlea. William Macaulay, Michael Banks, Brenda Wallace, Joseph McCoy and Kevin Scanlan. Rest in Peace.
Parish events
CathSoc End-of-Year Chinese Meal
Our CathSoc Year comes to a close this evening, Sunday, with our traditional Chinese Meal together. Best wishes to all our Students for the Summer Hols – next stop Freshers Fair at the end of September!
Bishop Brian Visiting St Clare's on Tuesday
Bishop Brian will be coming to St. Clare's for a brief talk on the Eucharist on Tuesday 5th June. Mass at 7.00 pm and then the talk at 7.30 pm. Thank you, St Clare's, for inviting the Werbies!
June and July's 'First Friday' Recitals
Super Organ Recital from Andrew Wyatt on Friday, a real "Classical to Romantic" tour de force, as they say in German. With a couple of English lollipops thrown in! Friday 6th July we welcome that lovely Soprano, Catherine Fahy: get the date in your Diaries!
Come and Join the Choir!
Thursday 7.30 pm – we're looking for new members, so if you enjoy singing, why not come along and join us? Everyone very welcome.
SVP Second Collection for the Summer Meal
Last chance to contribute this weekend
Newsletter Sick List Names to Identify
Just Christine Davies and Michael Morton left.
Diocesan GDPR Data Protection Training
23 checkpoints for every Parish which I'll be unveiling, 4 at a time, over the next 6 weeks.
We must be seen to take GDPR seriously – because we are taking it seriously;
There will now be Diocesan Pro Formas for all Parishes (Baptisms, Confirmation, Accidents, 'New' to the Parish' etc), so that we're all using the same 'data capture' forms.
Registers must be kept in a locked safe.
Try not to keep them in empty buildings.
Work on the Roof
Our two Steeplejacks have been performing amazing feats all week, mending and fixing the roof. We've captured them on some good photos! They offered me the chance to go up to the top ridge, but I had a bone in my leg at the time…
Children's Liturgy Younger (Group 4-7 yrs old)
Please can we ask that parents/carers take responsibility for their children and remove them if they become too disruptive? We also accept that sometimes you have to bring a younger child in but again ask that you take responsibility as not to disrupt the rest of the group? Thanks, all!
Great War Group Meeting
Monday 4th June 2.00 In the parish house followed by an examination of suggestions connected with the format and wording of the plaque sent in by parishioners.
Parish First Holy Communion Celebration Mass
Sunday 10th June. 10.45. Please can families arrive no later than 10.20 am? The children will sit together as a group. They will once again wear their First Holy Communion outfits. Please could any children with readings practise them? At the end of the Mass children will receive First Holy Communion Certificates and photos can be taken.
Chester Deo Gratias Summer Concert
All Saints Hoole Saturday 16th June 7.30 pm. Tickets £8 (£6 concessions). And again at Elton Church Hall the following night, Sunday.

"I am with you always, YES, to the end of time" (Matthew 28.20).
Speakers: Fr Eamonn Mulcahy, Michelle Moran, Gary Stephens, Fr Pat Deegan. Bookings to "Regina Coeli", 6 Warner Drive, Liverpool, L4 8US. Enquiry line is 07543 800812. Day delegates £30.00, (Saturday only £15.00). Full Board accommodation is £148.00
Photo of the Week: Flower Festival 2003
A reminder of the last time we had a Flower Festival in church, fifteen years ago.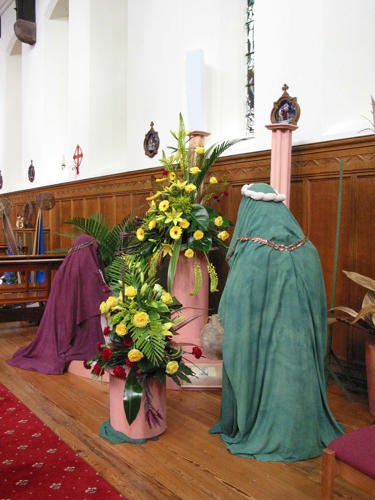 Meetings & Events This Week
Monday 7.00 pm: Music Group Practice
Tuesday 7.00 pm: Mass at St Clare's and Talk
Wednesday 7.30 pm: SVP Theatre Night
Thursday 7.30 pm: Choir
Great War Memorial
Monday afternoon we start examining all the wonderful suggestions you sent in concerning the wording and format.
Music Group
Playing at 10.45 am FHC Celebration Mass next Sunday. Practice in church Monday 4th June 7.00.
Chester Heritage Festival: 22nd – 30th June
Sunday 24th June at 3.00 pm: A Talk on Chester 1918 and the Story of the remarkable Joseph Chambers (Rector of St. Werburgh's 1903-1924). Wednesday 27th June at 200 pm: A Talk on Cosmopolitan Chester 1914-1918. Both events are FREE so please come and support!
Chester Mystery Plays Tuesday 10th July at 7.30
We've 40 tickets: Booking opens next weekend!
Sat 9th June at the Retreat House, Chester
"Love was his meaning": a 'homely' approach to the spirituality of Julian of Norwich, medieval English mystic, anchorite, writer and woman of humour. Cloister Room of Chester Cathedral. 10.30 am–3.00 pm. £20. www.chestercathedral.com or 01244 500959.